Designers Present the Many Faces of Cotton
Lovely dresses, work-ready separates, denim jeans or comfy sweaters. For casual or formal attire, leisure or activewear, designers embrace the versatility of cotton fabric. And it was all on display at Cotton's 24 Hour Runway Show, held earlier this month.
U.K.-based retailer Superdry presented 10 looks for the South Beach, Miami event. Leigh Grossman, spokesperson, says the store was able to showcase a full range of men's and women's looks.
Most people have cotton as a staple fabric in their wardrobe. It has no boundaries.

Leigh Grossman
Superdry
"Cotton is always used in our collections," Grossman says.  "Its versatility is found in all our styles as it's soft, wears and launders well, and is a great fabric for all seasons. Layering is a key element of the Superdry brand and the ease of cotton fabrics lends itself to this aspect.  Our customer loves the fact that our styling can be worn for running around in the day, going to the beach or even dressing up for a night on the town."
Hands down, the naturally grown fabric has fans everywhere: 82% of consumers say cotton and cotton blends are their favorite fiber or fabric to wear, according to the Cotton Incorporated Lifestyle Monitor™ Survey. Following behind are silk (3%), polyester (2%), wool (1%) and rayon (1%).
Cotton's ability to adapt to virtually any category took some by surprise at Cotton's 24 Hour Runway Show. Jorge Perez, president and head designer for Betsy Moss, was in attendance and says he noticed the audience became wide-eyed when certain items appeared on the runway.
"They would have never guessed it was made from cotton," he says. "It was awesome seeing the reaction from women who saw a super chic and glam outfit, but whose attitude was, 'I won't even try it on because it won't fit my on-the-go lifestyle.' But once they realized it was cotton, they immediately wanted it because they knew it was going to be super comfy."
Nearly 8 out of 10 consumers (79%) say cotton and cotton blends are the fibers best suited for today's fashions, according to the Monitor.
That kind of widespread appreciation is reflected in the offering at Splendid. The brand/retailer brought a wide variety of both men's and women's spring and summer looks to the event.
"We showed lots of color, tons of stripes and, of course, supreme comfort," says Splendid's Julia Austin, spokesperson.
Cotton's 24 Hour Runway Show allowed Splendid to showcase its wide assortment.
"Amazing T-shirts have always been the core of the Splendid brand," Austin says. "Based on the success of our tee business, we recognized people love the softness and comfort of cotton. So we expanded our assortment to include jackets, sweaters, dresses and pants. Our customer loves Splendid's approach to casual, effortless style, which is achievable largely in part to our use of cotton."
On average, consumers say they own about 18 pairs of underwear, 16 T-shirts, 12 casual shirts, nine bras and seven pairs of denim jeans, according to the Monitor.
"Most people have cotton as a staple fabric in their wardrobe," Grossman says. "Superdry incorporates cotton fabric in every collection and all product categories, whether it be tees, woven shirts, fashion tops, dresses, pants and denim jeans, along with sweaters and outerwear. It spans the vast ages of all who shop with us, whether younger or more mature, male or female. It has no boundaries."
Superdry's runway assortment included men's casual bottoms, vintage-inspired graphic tees, oxford shirts and its classic Windcheater jackets. Women's included easy cotton dresses, the lightweight Trails bomber jackets and logo bikini.
No matter the category, the predominating opinion among 77% of consumers is that better quality garments are made from all natural fibers such as cotton, up from 74% in 2011. That figure jumps to 82% among consumers aged 13-to-24, according to Monitor data.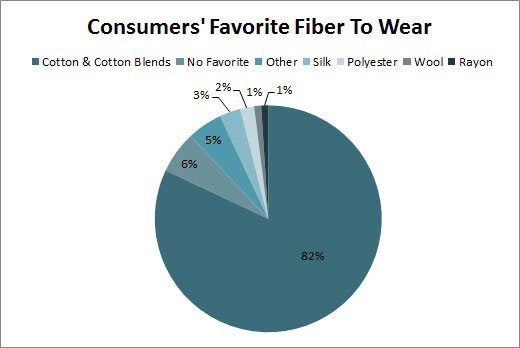 Brands and retailers should also note that even post-recession and in today's new economy, 55% of consumers say they are willing to pay more for apparel made from natural fibers. In fact, 61% report to the Monitor survey that they are willing to pay a slightly higher price to keep cotton from being substituted with synthetic fibers in their underwear, followed by their denim jeans (55%), T-shirts (57%), sweatshirts (45%) and dress shirts (43%).
At the runway show, Betsy Moss showed pieces from its 2013 spring/summer women's line. Its men's collection, Moss Homme, will be available next spring.
"We brought some of our favorite cotton pieces, like our amazing slit jumpers that make you feel extremely glamorous, but yet so comfortable because they're made from a great pima cotton," Perez says. "We also brought some great cotton mini dresses with a chiffon overlay in gorgeous spring colors like emerald green and magenta."
Perez says the fabric's versatility is "a huge factor" when designing the Betsy Moss collection.
"All our favorite weaves and knits have cotton in them, which is what makes the clothes feel so comfortable, even though they look so glamorous," Perez says. "You can truly wear the outfit throughout the day and then transition into date night or an evening out with the girls — and still be comfortable. From a chic oversized fall cardigan to a flowy pima cotton jump suit in the spring, for us, cotton is about year-round comfort with effortless style."