In a pivotal scene from Mad Men, between young upstart Pete Campbell, creative director Don Draper and their firm's founding partner Bert Cooper, Cooper advised Draper, "I'd keep an eye on him. One never knows how loyalty is born."[quote]
The same could be said of marketers, trying to crack the code for reaching male and female fashion customers. Using unprecedented amounts data, brands are keeping their eyes on consumers like never before in an attempt to personalize their approach to each shopper and, thus, increase the chances of brand loyalty. But marketers realize purchasing preferences often have less to do with brand name and more to do with price or quality. And they also acknowledge a woman's opinion carries a lot of weight.
"Data is allowing us to address individuals by gender," says Barb Olson, senior vice president, loyalty and 1:1 solutions, at the Illinois-based marketing firm Congensia,   "Of course, the approach does vary by brand and certain brands have more power with men than women. But — especially when you look at a household — women still make most of the decisions. If I had a male brand, I would market to males, but know that women have an influence on those purchases, too."
At first look, it would seem apparel brands are facing an uphill battle. Among both men and women, nearly 7 in 10 consumers (69 percent) overall say they don't feel an emotional connection to any apparel brand. And 47 percent admit they're less loyal to apparel brands than they were just a few years ago, according to the Cotton Incorporated Lifestyle Monitor™ Survey.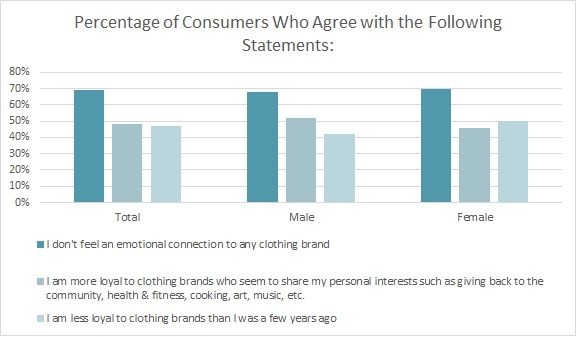 However, nearly half (48 percent) say they're more loyal to brands that "seem to share my personal interests such as giving back to the community, health and fitness, cooking, art, music, etc.," the Monitor™ survey shows. That percentage is higher among Millennials (53 percent) and Gen X (48 percent) shoppers than Boomers (41 percent).
Blue Fountain Media's Oleg Vasertriger, account director, says young consumers grew up in an atmosphere where they don't feel peer pressure to buy certain brands. Rather, he says, they are a lot more open minded and willing to go after a specific style they like than a specific brand.
"I think the new generation is very interested in sustainability and other kinds of environment-based things as opposed to being reached in a certain way, or some of the older ways of digital marketing, which was just about getting the name out," Vasertriger says. "Now it's kind of become more about, 'Is this company's core values or mission statement similar to what I feel about things?' People are very interested in the environment, making sure clothing is sustainable or made in the U.S. These factors have become a little bit more important than the actual brand itself and companies are using that to reach out through influencers and sponsorship/partnership marketing."
Vasertriger's claim is supported by the Monitor™ research that shows 63 percent of consumers are "very or somewhat likely" to feel more connected or loyal to a clothing brand that offers apparel made of natural fibers like cotton, wool, etc. That's followed by 45 percent who would be more loyal to those offering sustainable clothes and 37 percent who would feel compelled by a brand that holds community activities in their stores or sponsored community events.
In an age when shoppers are hit from all sides with new products and messages, brand loyalty is perhaps more elusive than ever. Among apparel buyers, just 50 percent cite brand name as an "important factor" in their clothing purchase decision, according to Monitor™ data. However, men (59 percent) were significantly more brand loyal than women (44 percent).
Conversely, the Monitor™ research shows brand is much less important to both men and women when compared to primary factors, such as fit (97 percent), comfort (96 percent), price (94 percent), and quality (93 percent).
At Kobie Marketing, Nancy Berg, chief client officer, agrees that women are more motivated by price, while men are more concerned about the convenience of meeting immediate needs.
"As brands develop their loyalty programs, they should consider rewards that appeal to both genders," Berg says. "In our experience with brands in all industries, women tend to be more price conscious, and therefore, they value monetary offers like percentage off and free shipping. Research shows they also look for increased personalized service. Men, on the other hand, are more motivated to reach an elite status within a program."
Berg cited airline frequent flyer programs that reward members with private lounges, seat upgrades and boarding privileges. Apparel brands and retailers might keep this in mind with their male shoppers.
The Monitor™ research supports Berg's assertion. Nearly 3 in 5 females (59 percent), significantly more than men (52 percent), say they are less loyal to brands that do not offer sales, discounts and promotions. That gap widens even more when looking at Millennial women (62 percent) versus Millennial men (48 percent).
Baesman Insights & Marketing's Evan Magliocca, brand marketing manager, says in today's marketing world, data will help shape how marketers should approach the genders.
"Data tells a narrative and marketers are just writing the next chapter," Magliocca says. "Successful brands and agencies are taking a much more granular approach to the subtle differences in men and women. For instance, there could be five different segments of female buyers based on age, income, purchase history, product affinity and loyalty tier. I think we are trying to turn the industry into more of a science than an art form. Without data and insights as a foundation, marketing often misrepresents some gender stereotypes."