For years now, U.S. apparel makers have off-shored their manufacturing, affecting not only apparel workers in the States, but also entire local economies.
Today, just 2% of apparel in U.S. stores is made in the country, according to the Cotton Incorporated Retail Monitor™ survey. Compare that to 1960, when American manufacturers produced 95% of all apparel sold here, according to the trade group Save The Garment Center.
[quote]TS Designs' Eric Henry, president, points to the 1993 signing of the North American Free Trade Agreement to paint a before and after picture of his North Carolina-based T-shirt business.
"Prior to NAFTA, we had over 100 employees," Henry recalls. " We were a contract screen printer for big brands like Nike, Tommy Hilfiger, Gap and Polo. And we were a very successful business with profits every month, paid benefits, a retirement fund. Then NAFTA hit and over the following three to four years, we were on a downhill spiral. We laid off 80 employees and lost 90% of our business. For over two years my business partner (Tom Sineath) and I didn't take a paycheck. It came very, very close to putting us out of business."
Today, TS Designs runs a smaller operation, selling durable, sustainably sourced T-shirts, 90% of which are made in the U.S. — and 80% of those in North Carolina. "Our whole supply chain from farmer to ginning to knitting to cut-and-sew is about 600 miles," Henry says. "I can see all my suppliers in one day. And by keeping my business here in the U.S., we're helping to support 700 jobs. To me, there's a lot more to community than saving my money. I want my neighbors to have an opportunity and not be beaten down for every last dime."
That sentiment is shared by a growing number of people in the U.S. About half of all consumers (51%) say it is "very or somewhat important" that the clothes they buy are made in the USA, according to the Cotton Incorporated Lifestyle Monitor™ Survey.
Knock Out!™ Panties' Angela Newnam, founder, says she has seen the change firsthand.
"I'm finding our retailers are more interested in finding out where products are made than they used to be," Newnam says. Knock Out! Panties, which launched at retail in 2011, uses American cotton for its garments, which are all made at factories in South Carolina. The line, which includes Smart Panties with No Trace wicking technology, is sold online as well as throughout the U.S. and Canada at close to 350 department and specialty stores.
Specialty stores offer the largest selection of U.S.-made apparel (3%), followed by department stores (2%), chain stores (1%) and mass merchants (1%), according to the Retail Monitor™.
"Real change is happening, because there's an understanding that making things here creates more jobs, and we need more here in America," Newnam says.
Among consumers who say it is important that the clothes they buy are made in the USA, 84% say it is because they prefer to support the U.S. economy, the Monitor shows. Another 25% believe apparel made in the U.S. is better quality, and 25% say it is more environmentally friendly.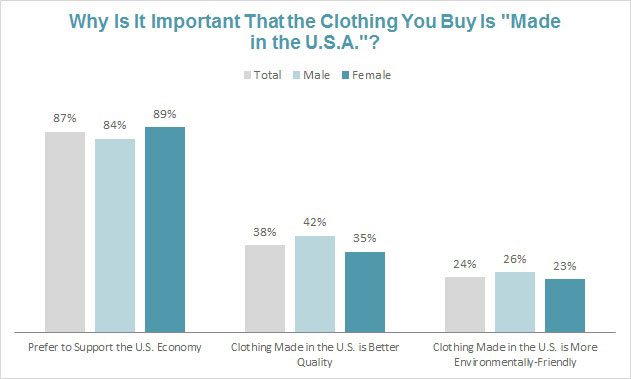 Newnam says her father spent his whole career in textiles, so she grew up hearing about the value of products made in the U.S., as well as the importance of having a manufacturing base here. "I saw the changes that occurred, particularly in cut-and-sew, when those jobs were all off shored," she says. "So when I got the opportunity to make something, I wanted to do it here. We have more flexibility and we can make decisions much faster. We produce as needed so we don't have to guess which style and color will sell the best. The response from the factory is incredible compared to if I was doing this off shore."
China's less expensive labor costs, though, have attracted many apparel firms. The National Council of Textile Organizations puts U.S. mill closures at 1,300 since the mid-1990s. After China entered the World Trade Organization, the Economic Policy Institute put U.S. job loss at 178,700 for apparel and accessories, and 92,300 for textile fabrics and products between 2001 and 2010.
But the industry may be poised for a turnaround. A study by The Boston Consulting Group sees the U.S. wage gap with China shrinking by 2015 as paychecks there climb. Meanwhile, flexible work rules and a host of government incentives will put the U.S. market back in play.
That is the future envisioned by Claudine DeSola, founder of Caravan Stylist Studio a full-service hair, makeup and wardrobe studio in the heart of New York's Fashion District. "We act as a creative loft for fashion designers, editors, talent and bloggers," DeSola says. "Most of our work is introducing talent (actresses, musicians, bloggers) to other talent (fashion designers)," DeSola says. "Through our work we try to encourage designers to produce more in New York and in the U.S. when possible. More production means more jobs."
And more quality, too — 6 of 10 consumers say apparel made in the USA is higher quality than clothing imported from other countries, according to the Monitor. "I have met a lot of designer friends – Marti, Primary NY, Rae, Michelle Vale, Dana Maxx, Tucker — who make their collections in New York City and I love that," DeSola says. "They produce everything in New York; they have control over their product. We need to be proud and encourage creativity and production on our own shores."