Cotton LEADS™, the program launched last year to raise awareness regarding the responsible growing practices among cotton producers in the U.S. and Australia, now has more than 100 textile business signatories, including Brooks Brothers, Fruit of the Loom, and Central Textiles.
[quote]As sustainability becomes more seamlessly integrated into the cotton supply chain, programs like Cotton LEADS assist businesses in achieving their sustainability goals.
"Apparel brands, retailers and manufacturers require large volumes and a reliable supply of responsibly-produced fiber, as well as proof of responsible production," says Berrye Worsham, president and CEO of Cotton Incorporated. "Through Cotton LEADS, we demonstrate how cotton grown in the United States and Australia can help meet these requirements."
The apparel industry should note that while just 33% of consumers seek out environmentally friendly clothes for themselves, 69% would be bothered if they found out they purchased something that wasn't produced sustainably, according to the Cotton Incorporated 2013 Environment Survey. And 40% would hold the manufacturer responsible, followed by the brand or store (20%), and themselves (12%).
Sandy Black, professor of fashion and textile at London College of Fashion and author of The Sustainable Fashion Handbook, says the Cotton LEADS program is to be welcomed as another strategy in meeting environmental goals.  She says even though the apparel industry was slow to respond to the industry's large, complicated environmental and social issues, efforts by many brands are now not only being taken, but are also highly visible.
"The global brands can be significant as their actions have wide impact," Black says.  "Some who were criticized — Nike, H&M — have helped to develop solutions now.  For companies there is an immediate cost benefit when tackling resource issues due to savings gained by reducing waste and energy.  I think there has now been a sea change."
The Cotton LEADS program is validated by the national-level oversight, regulatory enforcement, and transparency practices that are common to both the U.S. and Australia.  Combined, the two countries account for about 17% of global cotton production.
"Cotton producers in Australia and the U.S. pioneered practices that have resulted in impressive, country-wide environmental gains," explains Adam Kay, CEO of Cotton Australia.  "Both countries approach improvement on a national level. This includes reporting and regulatory enforcement, but also facilitates the implementation of best practices and the ability to collect data on a national level."
Fruit of the Loom was among the first signatories to join Cotton LEADS.
"The program provides us with confidence that the cotton used in our products is responsibly produced and identified," says Fruit of the Loom's Robert Parsons, vice president of engineering.  "We believe in Cotton LEADS' five core principles of commitment, recognition, understanding, belief and confidence."
Fruit of the Loom's participation in Cotton LEADS is the latest in the company's sustainability efforts that began a decade ago and have been formally tracked since 2007.  Parsons says the company's intent is to do the right thing while making good business decisions that keep sustainability at its core.  Customers are taking note of their work, too.
"Many of our major customers have sustainability scorecards and questionnaires that we routinely provide information for," Parsons says.  "We have definitely received positive feedback with respect to our sustainability initiatives."
Brooks Brothers, too, is committed to sustainability. Joe Dixon, SVP of Production and Technical Services for Brooks Brothers, explains how the Cotton LEADS program aligns with their sourcing needs:
"Brooks Brothers is enthusiastically committed to sustainable sourcing," Dixon says. "Because cotton continues to be a mainstay of Brooks Brothers' product offerings, we require significant amounts of high quality, responsibly-produced cotton fiber.  We look to a range of opportunities that, like the Cotton LEADS program, can demonstrate best practices, reduced environmental impact, and make a commitment to ongoing improvement and traceability."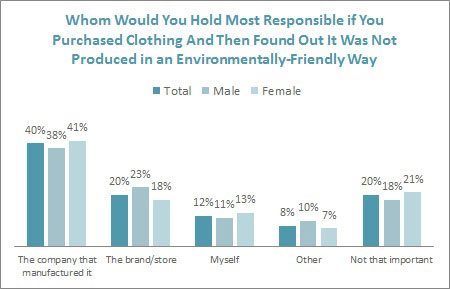 It's notable that while the industry acts as an environmental steward, it's not an overwhelming consumer demand.  The average shopper cares more about fit (98%), comfort (97%) and price (93%) than environmental friendliness (46%), according to the Cotton Incorporated Lifestyle Monitor™ Survey.  And just 35% would pay more for clothes labeled "environmentally friendly" or "sustainable."
On the other hand, 78% of Monitor respondents are influenced by products marketed as "100% cotton."  Further, 72% of consumers say natural fibers are better for the environment than synthetics (3%), and more than nine out of 10 (91%) say cotton is safe for the environment.
Fruit of the Loom takes such consumer opinions seriously.  The company has documented more than 1,000 sustainability projects whose focuses range from improvements to its manufacturing processes to refining products and packaging to minimize waste.   Now, Cotton LEADS can satisfy Fruit of the Loom's interest in sustainable cotton sourcing.
Says Parsons, "Our methods and approach have centered on evaluating everything we do to make our company better and more efficient, while at the same time, being as environmentally friendly as possible."