When companies have one product that stands as the cornerstone of their business, they often do not want to stray too far for fear of losing loyal customers.  But in the denim industry, where innovation keeps the machine humming, makers are forced to examine their heritage category and figure out how they can keep it fresh for the next generation — whether through eco-friendly jeans, metallic finishes, or even 3-D effects.
[quote]The Doneger Group's Roseanne Morrison, fashion director, says brands take into consideration a lot of elements when choosing how to move forward, not the least of which is what is trending on the fashion level.
"This season it was colors, but it could also be technological advances like stretch, coating, synthetic zippers — anything that's moving the bar a little forward," Morrison explains.  "People have to keep an eye to the future to keep engaging new, younger customers — and whoever walks into the store. But the foundation of their business is what's so important."
Denim's regular tweaks and changes ensure consumers return for more.  Last year, the NPD Group reports U.S. shoppers spent nearly $16 billion on denim.   While half of consumers (50%) say they purchase new jeans out of need, meaning their old jeans were worn out (30%), their old jeans no longer fit (10%) or they just needed new jeans (10%), consumers also say they bought them because they "just like jeans" (24%), jeans are comfortable (11%), and stylish (10%), according to the Cotton Incorporated Lifestyle Monitor™ Survey.
On average, consumers spend about $35 on a pair of jeans, slightly higher than in 2011 ($33), according to the Monitor.  Those earning $75,000 or more say they will spend $45, on average.
And even though analysts spent much of 2012 describing the economy as sluggish, sales of premium denim jumped in the last year.  The NPD group characterizes premium as jeans priced $50 and up, and this sector increased 27.5%, to $3.28 billion for the 12 months ending in June 2012.  The industry, however, sees premium as denim priced from $100 to $200, with super premium priced up to $1,200 for Roberto Cavalli rhinestone-studded jeans.  The Monitor finds 12% of consumers have ever purchased jeans that cost $100 or more, and 6% plan to buy such a pair this year.
At Williamsburg Garment Company, the premium-priced jeans are not simply the main   product; they are almost the only product for this Brooklyn, NY-based firm.
Maurice Malone, owner and designer, says he started the label as one that emphasizes quality at a good price (from $102 to $138 retail).  He uses mainly Cone Denim, contrast stitching and branding on the inside of the jeans, and puts a focus on modern fits and washes.
More than 8 out of 10 consumers (84%) say fit is very important to their denim jean purchases, followed by comfort (76%), makes me look good (64%), and price (59%), according to the Monitor.
"I said no to crazy or trendy washes that could turn off the consumer," Malone says. "I said, 'My consumer thinks like me and doesn't want fast fashion in his jeans.'"
Malone may not embrace fast fashion, but he does not completely eschew trends either.  Innovations for next spring will include '70s inspired light blue rinses, men's skinny stretch in color options besides raw indigo, as well as pastel twills.  Women's will include a boy fit and new raw, standard straight jeans. "And our high waist has been a consistent booker," Malone says.  "We also expanded that into pastel twill colors."
Morrison says the excitement that came from colored denim should last for some time.
"Color was so successful this year, and if you see what's coming down the pike, you realize that a lot of creativity went into building a denim mindset again," she says.  "We're seeing washed denim, jackets, vests, dresses, trench coats.  So the denim category is coming back with a vengeance."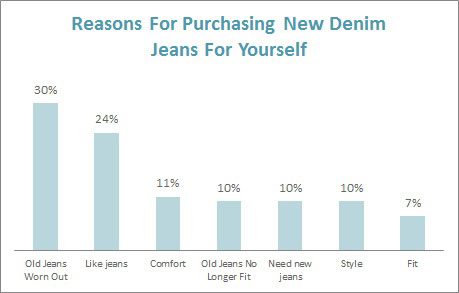 As hot as colored denim was and continues to be, less than 5% of consumers say they would buy denim in colors like green, silver, yellow, pink, gold or orange, according to the Monitor.  Most (79%) say they would buy dark blue.
Perhaps that is why manufacturers are taking tints a step further.  Lines rooted in traditional blue denim are experimenting with colors, prints and patterns.  Shoppers can find blended hues such as Buckaroo Jean's dimensional red over black, Seven For All Mankind's gold rococo foil print, J Brand's coated metallics and Citizen of Humanity's floral jeans.
And in keeping with the green push that is happening in all areas of the apparel industry, innovative eco-friendly printing and finishing now comes from a new processing method from Cotton Incorporated's Digital Printing Laboratory.  The technique creates the textural appearance of denim, along with finishing effects like whiskering, using computer graphics software and a textile printer. The process uses no indigo, water or other chemicals except the textile printing dyes.  The process has also been used to achieve 3-D finishing effects, visible with 3-D glasses.
"Eco-friendly denim is an overriding point that's happening on a grass roots level," Morrison says.  "How much water and the dyeing process they use — that's happening behind the scenes.  But it will get bigger."