Denim has always been a strong commodity in the U.S. That's no surprise given California is its birthplace. In recent years, though, it faced stiff competition from the athleisure market. But product newness and an increasing global customer proves denim is growing in popularity everywhere from South America to Asia.[quote]
"In an effort to compete against athleisure, jeans manufacturers are innovating and adapting to evolving consumer needs," states Euromonitor's Lorna Hennelly, fashion and beauty analyst, in a report, "Spotlight on Jeans: Denim Bounces Back.
In the U.S., almost six out of 10 consumers (59 percent) say they "love or enjoy" wearing denim, according to the Cotton Incorporated Lifestyle Monitor™ Survey. And nearly two thirds (61%) say they wear denim jeans or shorts at least three times a week. American women are even more likely than men to wear denim so often (63 percent versus 57 percent). North America is the world's largest denim market, contributing more than 30 percent of the revenue to the global market in 2016, according to Market researcher Prescient & Strategic (P&S) Intelligence.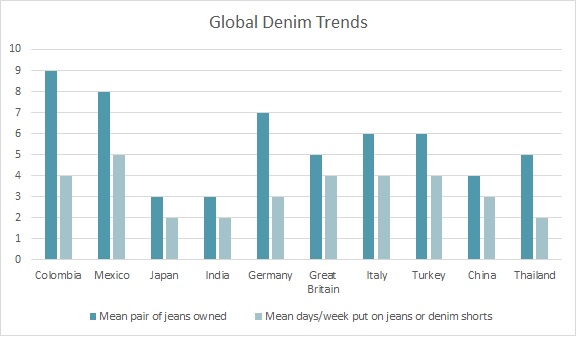 Globally, the denim jeans market is growing due to a number of factors. Statista research shows sales are being spurred by expanding urban populations, increases in the number of white-collar employees, changes in perceptions about "executive wear" and the resulting acceptance of jeans as business casual attire for men. The research firm adds that the women's denim market has benefitted from a growing base of women in the workforce, which has led to innovation in material design and style, including digitally printed jeans and sophisticated weaves.
Affinity for denim is highest in Colombia (82 percent), Germany (81 percent), Turkey (72 percent), Mexico (71 percent), and Great Britain (68 percent), according to the Cotton Council International (CCI) and Cotton Incorporated's Global Lifestyle Monitor Survey.
The two most heavily populated countries in the world, India and China, have come to appreciate denim jeans more than ever. The number of people in these Asian countries who say they "love or enjoy wearing denim" has grown significantly between 2003 and 2018, from 22 percent to 53 percent in India, and from 39 percent to 65 in China, according to the Global Lifestyle Monitor Survey.
On average, men and women in the U.S. own 6 pairs of denim jeans, according to the Monitor™ research. In contrast, consumers in denim-loving Colombia own 9 pairs. That's followed by Mexico (8 pairs), Germany (7 pairs), Italy and Turkey (both 6 pairs), Great Britain and Thailand (both 5 pairs), China (4 pairs), and Japan and India (3 pairs).
P&S Intelligence says jeans have been the largest contributor to the global denim market, and they're expected to drive future sales, as well.
"The popularity of pants among teenagers and adults is the prime reason for its larger market, as compared to other products," P&S Intelligence states in a report. "Also, the availability of numerous styles of jeans, such as skinny, stretch, ultra-low-rise, mid- and high-rise denims, boyfriend, straight/cigarette jeans, flared, wide-legged, capri, cropped, and cuffed jeans provides multiple options for buyers to choose according to their preference."
However, P&S says the denim market is restrained by fiber substitution in denim.
"To lower the overall cost of the mass jeans market and other wear production, many manufacturers are now replacing cotton with polyester and other blends. This has led to decrease in the sale of complete cotton based denims," the firm states. "The introduction of different fibers and polyester blends is hindering the growth of the global market currently."  This reflects the Monitor™ data that finds three in four U.S. consumers (74%) say they prefer their denim jeans be made from 100 percent cotton or cotton with stretch.
Globally, consumers want quality denim that wears well because they're usually wearing it out in public. The Global Monitor finds denim is worn to run errands (48 percent), to work (35 percent), to go out to dinner (33 percent), to be stylish or fashionable (28 percent), and to "look and feel good in your outfit" (27 percent).
So what can the industry expect to be trending for Spring/Summer 2019? Alexandra Van Houtte, founder of Tagwalk, a B2B fashion search engine that specializes in runway referencing, explained during Denim Première Vision in June that denim will be interpreted in a number of different ways come next year. Both major brands and emerging designers will tweak some of the denim trends that consumers will see beginning in Fall/Winter 2018.
Consumers can expect to see embellished, destroyed and bleached denim. Houtte also says they should expect to see oversized denim, although the younger designers and emerging brands will use overly exaggerated silhouettes and more street-style looks. Spring/Summer 2019 will also see a strong usage of raw denim. Houtte predicts the major designers will use it for utility wear and "city uniforms," while the young talents and emerging brands will use sophisticated and elegant pieces to highlight the feminine side of raw denim.
Euromonitor's Hennelly says the novelty of athleisure is wearing off, and consumers are looking to their fashion favorite for newness in their wardrobes. "Consumer demand for leggings is slowing, giving rise to a rebound in rigid, retro-style denim. The resurgence in demand is driven by Millennials and grows in line with the industry-wide revival of '90s-style fashion and nostalgic Americana, after over a decade of ultra-stretch skinny jeans saturating the market."