Denim jeans have been around in some form for more than 100 years.  Will consumers ever tire of wearing it?  Only if designers stop being so innovative.
Erin Barajas, director of the Kingpins Show for denim supply chain exhibitors, describes a pair of jeans as being "a very unique beast" that inspires devotion for many different reasons.
[quote]"You can love denim for the fit, the quality, the fabric, the rips and tears and patches, the grommets or the back pockets," Barajas explains. "People might also love it for the label, the personal history, the trendiness or timelessness of it, the ease or difficulty in acquiring it, the look, the feel, the cache. Very few things inspire that level of passion and dedication from consumers."­­
On average, U.S. consumers have seven pairs of jeans in their wardrobe, according to the Cotton Incorporated Lifestyle Monitor™ Survey.  That number has remained steady for five years, even through the economic downturn.  And more than seven out of 10 wearers say they plan to purchase the same amount of jeans in the next year.
The global jeans market is projected to reach $56 billion by 2018, according to research firm Global Industry Analysts, Inc.  In the U.S., the NPD Group reported U.S. shoppers spent nearly $16 billion on denim in 2011.
NPD recently reported that total dollar sales for denim have increased in the U.S.  In the past 12 months ending November 2012, men's was up 2%, while women's rose 8%.  Marshal Cohen, chief industry expert, states denim at the mid- and high-end levels is doing well.
"Finding the perfect pair of jeans is in vogue again — for both men and women," Cohen says.  "Pent-up demand plus new styles — colors for women and textures for men — are giving retailers a lift.  Denim developers are smiling again but they still have their work cut out with an over-saturated market.  Consumers will choose based on fit, quality, and brand, but price remains a key driver."
More than 8 of 10 consumers (84%) say fit is very important to their jean purchases, followed by comfort (76%), "makes me look good" (64%), and price (59%), according to Monitor data.  On average, consumers say they spend approximately $35 on a pair of jeans, slightly higher than last year ($33).  Unsurprisingly, consumers younger than 35 tend to spend more on jeans ($40), as do those making $75,000 or more per year ($45).
Meanwhile, the premium market is growing, according to NPD, with those willing to spend more than $75 for jeans increasing 11% among men and 22% among women.  In the next year, 6% of consumers plan to purchase a pair of denim jeans that cost $100 or more, according to Monitor statistics.
Most consumers purchase new jeans for themselves out of need, meaning their old jeans were worn out (30%), did not fit (10%) or they "just needed new jeans "(10%), the Monitor survey shows. Consumers also bought new jeans because they "just like jeans" (24%), "jeans are comfortable" (11%) and because they are stylish (10%).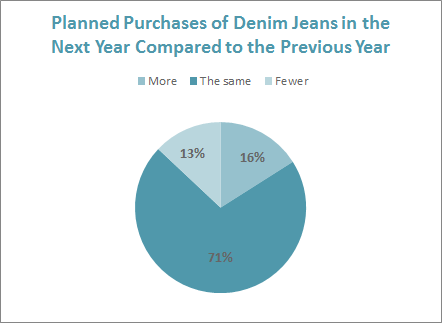 Innovation remains one of the keys to denim's success.  Be it the silhouette, the color, embellishments or tech-driven changes to the fabric, designers continually bring fresh ideas to a heritage-driven category.
The Kingpins Show, a denim trade event begun in 2004 as a "tiny denim supply chain show," runs in New York Jan. 15-16, and in Los Angeles Jan. 22-23.  From there it moves to Hong Kong Feb. 20-21.  Barajas says the New York show has grown to 50 exhibitors, up from 46 at its July expo.
"Our exhibitors focus on providing designers with the best fabrications, whether they be super traditional 100% cotton raw indigo denim or fabrics that incorporate the latest technologies in stretch as Lycra always does, recycled fibers as Cone has been championing or the recycled cotton and indigo that Central offers," Barajas says.
When a number of brands started substituting other fibers for cotton as the price of raw cotton increased two years ago, consumers took umbrage, especially those likely to spend more on their jeans.  More than six out of 10 (63%) of consumers are bothered that brands and retailers may be substituting synthetics for cotton, and that rises to 67% among those making $75,000 or more per year, according to the Monitor.
Despite new fibers and technologies, the Monitor shows 96% of shoppers prefer their jeans be made of cotton and cotton blends.  Significantly, 56% would actually pay more to keep cotton from being substituted with synthetics in their denim jeans.
Barajas says all of the exhibitors at the upcoming shows are about denim's lineage, whether they are a long-standing mill like Cone or a relatively new addition to the denim scene, like LST Laser, which uses ozone and lasers to age and distress denim, as well as to achieve some of the trendier effects — like all-over laser prints.
"The beauty of denim is that the more things change, the more things stay the same. Denim is always about authenticity and tradition with doses of ingenuity and creativity thrown in."