If 2020 could have a title, it might be "The Good, the Bad and the Ugly." Who knew so much could change in a year that seemed more like half a decade? And who knew so much could stay the same when everything outside the safety of our homes seemed rife with upset and uncertainty?[quote]
It's been a year since COVID-19 shut down the U.S. So, in a brief recap that starts with the Bad: America has recorded more than 500,00 coronavirus deaths since the pandemic began and more than 28.7 million total cases. Early on in this pandemic, all but "essential workers" were subject to stay-at-home orders. Schools shut down, and teachers had to learn to give lessons virtually overnight. Besides the shock and angst, these measures dissolved both the desire and need for most new clothes. And amid upsetting news stories about how unrelenting the virus was, consumers, reminded they could still shop online, also wondered, "Should we still go shopping?"
Moving on to the Ugly: Remember how COVID turned every major city and tourist destination into a ghost town? It was at once astonishing, scary, and heartbreaking. Retail store closures and bankruptcies reached depressing and record levels. An article in Fortune reported 12,200 closures, according to commercial real estate firm CoStar Group. The list of closed doors includes J.C. Penney, Gap, Macy's, Nordstrom, J.Crew, Ann Taylor, Men's Wearhouse, Francesca's, Stage Stores (including Gordmans, Bealls, Goody's and Peebles), and Victoria's Secret. As if economic and pandemic woes weren't enough, anxiety levels were further increased as thousands of protests against police violence took place across the country. While research proved the Black Lives Matter marches were overwhelmingly peaceful, heavy media coverage of looting at some stores manifested further conversation — warranted or not — about the future of downtowns.
On to the Good: 2020 was a test of the human spirit, for sure. But there were instances that helped buoy our collective resiliency: Surprising videos surfaced of wild animals around the world exploring the streets of silented cities. TikTok became embraced seemingly by everyone after Nathan Apodaca — otherwise known as @420doggface208 on TikTok — posted a video of himself skateboarding, drinking Ocean Spray juice from an open container and lip-synching to Fleetwood Mac's "Dreams." Businesses and schools began to reopen. And blessedly, COVID vaccines were approved and began to be distributed, albeit in a frustratingly labyrinthine process. Still, by the beginning of March, more than 76 million doses of vaccine were distributed, reaching more than 15 percent of the total U.S. population.
While the vaccines are certainly welcome, most Americans have already had more than a brush with the virus: 16 percent were personally infected with COVID-19, 56 percent have a family member or close friend who caught it, and 47 percent have an acquaintance or extended family member who contracted the virus, according to Cotton Incorporated's 2021 Coronavirus Response Consumer Survey (Wave 5, Feb. 28, 2021).
That would explain why, in spite of the vaccine rollout, nearly 6 in 10 consumers (59 percent) still have a high level of concern about the pandemic, according to the Coronavirus Response Survey (Wave 5). That's not much of an improvement from last year, when 58 percent were very concerned about the virus, according to Cotton Incorporated's first COVID survey — the 2020 Coronavirus Response Consumer Survey (Wave 1, March 20-25).
To cope these days, Americans continue to self-soothe as best they can, such as by wearing more comfortable clothes (74 percent), streaming movies or TV from services like Netflix or Hulu (67 percent), cooking more (62 percent), using social media sites like Facebook or Twitter (57 percent), and eating "comfort" food or snacks, according to the 2021 Coronavirus Response Survey (Wave 5).
In fact, people are dipping into the comfort food and snacks more now more than last year (52 percent), according to the Coronavirus Response Survey (Wave 1). They also weren't copping to wearing "comfortable clothes" as often in 2020 (63 percent). But, realistically, the two kind of go hand in hand.
On a positive note, almost half of all consumers (47 percent) say they're taking more time for themselves these days, to Cotton Incorporated's 2021 Coronavirus Response Survey (Wave 5). But apparently, exercise doesn't count as "me time," as just 34 percent say they're exercising more than before the pandemic and 36 percent say they're exercising less. Another thing that's taking a hit? Dressing up. While (kind of curiously) 14 percent of Americans say they're dressing up more now than before the pandemic, the majority (67 percent) admit they're dressing up less.
Whether it's pajamas or a new dress shirt for the billionth Zoom meeting, it's no secret consumers have become more accustomed to shopping online. The National Retail Federation says online and other non-store sales grew 22 percent last year to $969.4 billion. The trade association is forecasting online sales will continue to grow in 2021 to $1.14 trillion-to-$1.19 trillion.
But consumers aren't planning to buy all their clothes online. The Cotton Incorporated 2021 Coronavirus Response Survey (Wave 5) found that if shoppers know exactly clothing item they want, most (53 percent) will buy it online and have it delivered to their home. But if they're unsure of the size or what cut will fit best, 69 percent would prefer to shop in a physical store.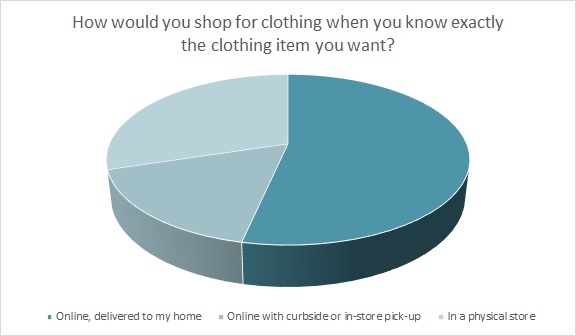 Already Coresight Research is seeing shoppers return to brick and mortar locations for their apparel purchases. The firm recently found that the number of apparel and footwear consumers who shopped in a store (19 percent) surpassed the number that shopped online (18 percent). Also, consumers aren't avoiding shopping malls like they used to, either.
"The proportion of consumers that reported avoiding shopping centers/malls (49 percent) dropped to the lowest level seen in our survey," Coresight reports. "A positive sign for retailers."