Since the start of the pandemic, proper hand washing, and sanitizing have been touted as key to reducing the spread of COVID-19. Such is the importance of clean, running water. On March 22, the international community marks World Water Day, which was established 28 years ago by the United Nations to focus on the importance of fresh and safe water. But among some in the fashion industry, it may be surprising to learn certain manmade/synthetic fabrics are major culprits in polluting the world's water supply, affecting not just drinking water, but also seafood, and agricultural food supplies.
There is global concern about microplastic pollution that stems from synthetic textiles. Researchers studied how the micro particles, described as fibers smaller than 5mm in diameter, were released into the environment through wastewater effluent produced by washing machines. But it's been discovered that manmade textiles like polyester, nylon, spandex, and acrylic — which make up 60 percent of clothes worldwide — shed fibers throughout the life of these garments. And since these materials are forms of plastic, it could be decades to hundreds of years before they truly decompose. [quote]
In a workshop presented last year by the Organization for Economic Cooperation and Development (OECD), experts said, "Microfibers are shed from synthetic textiles along the entire lifecycle: from fiber and textile manufacturing, to garment manufacturing and finishing, to garment wearing and washing, to final disposal of textile waste – via either landfilling, incineration or recycling. As such, several entry points exist along the lifecycle of textile products for the mitigation of textile-based microplastic pollution, from the design of products to end-of-pipe clean up solutions."
While pollution of any kind is never a good thing, the concern with microplastic particles is the ease with which they can be consumed. The fibers have turned up in drinking water samples throughout the world, according to a report in Orb Media. Additionally, the tiny synthetic fibers are being ingested by smaller aquatic species that are consumed by larger marine animals — which are then unknowingly eaten by humans, according to the OECD. But these particles don't just turn up in seafood. The Natural Resources Defense Council recently cited a study that showed microfibers that flow into wastewater treatment plants "wind up in sludge that treatment plants offer to farmers who spread it on their fields as fertilizer."
It follows that researchers would be interested in the effect microplastic fibers can have on humans after enough of it is ingested. A journal article from the Public Library of Science (PLOS), suggested the microplastic particles could "pass the gut barrier and translocate to other organs." The article mentions studies that have already shown plastic material used for orthopedic replacement prosthetics has produced micro particles that lodge in the liver, spleen, and lymph nodes.
According to Cotton Incorporated's 2021 Lifestyle Monitor™ Survey, over two-thirds of consumers (68%), who are aware of microfiber pollution, say that awareness will affect their future clothing purchase decisions.
For designers and manufacturers, the current environment, where consumers are already concerned about their health due to COVID, may be the best time to initiate or expand their use of natural fibers like cotton in their collections. Nearly half of all consumers (49 percent) say they have become more concerned with sustainability and environmental issues since the start of the pandemic, according to Cotton Incorporated's 2021 Coronavirus Response Consumer Survey (Wave 5, Feb. 28). Additionally, 59 percent agree it is more important than ever that their clothing is environmentally friendly. And 22 percent have already begun buying more apparel that is made from sustainable, environmentally friendly, or natural materials.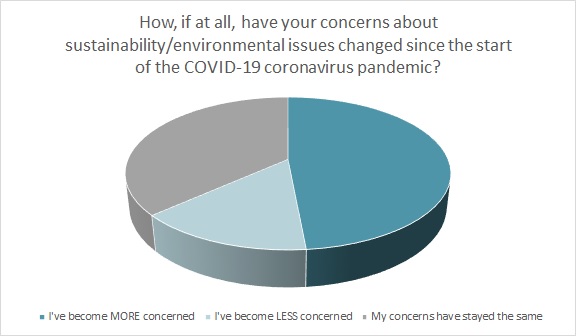 Consumers highly value their physical health, with 75 percent declaring staying free from illness and injury is very important/essential, according to Cotton Incorporated's Coronavirus Response Consumer Survey (Wave 5).
Most consumers (81 percent) consider clothes made primarily from cotton to be the most sustainable or environmentally friendly, according to the Cotton Incorporated Lifestyle Monitor™ Survey. Cotton is also overwhelmingly named as the favorite fiber or fabric to wear for 77 percent of consumers. Further, more than one-third of all consumers say they're actively looking for products or companies that have sustainable/environmental practices — or a reputation for such. That number is significantly higher among Millennials (45 percent) and Gen Z consumers (43 percent) compared to Gen X (27 percent) and Boomers (29 percent).
Consumers are right to consider cotton more environmentally friendly than synthetic microfibers. To better understand how cotton biodegrades in water, Cotton Incorporated and the Cotton Research and Development Corporation in Australia teamed up on a study with North Carolina State University. The objective was to determine the degradability of various types of microfibers in a wastewater environment, examining the path of cotton and synthetic microfibers as they shed in the wash, enter waterways, and breakdown in water.
After 243 days, cotton saw a degradation of 76 percent while the polyester fibers degraded just 4 percent. The research further shows that cotton will continue to degrade over time, unlike polyester whose degradation plateaued after the time tested.
In addition to its natural ability to decompose, U.S. cotton producers, researchers and industry organizations are committed to decreasing by 18 percent the water needed to grow cotton by 2028. This is part of the cotton industry's effort to use innovative technologies, management systems, and conservation to increase yields while leading the worldwide effort in responsible cotton production.
Quantis International's Laura Peano, senior sustainability consultant for the environmental consulting group, headed the firm's yearlong Plastic Leak Project (PLP). Working with EA, an ecodesign center, and 36 member organizations and stakeholders, Quantis helped create guidelines for businesses that want to make a difference in their environmental footprint. The PLP measures plastic (including microplastic) leakage and identify its pathways into the environment.
"Plastic pollution is one of the most critical and urgent sustainability issues of our time," Peano says. "Now that there is a science-based methodology to measure, map and forecast your leakage, it's time to move from bold commitments to ambitious action."