In a circularity panel discussion held earlier this year, moderator Robert Langkjaer-Bain of Imagine5 media informed the audience that in the time it took for them to watch a 6-minute film about circularity, 1,076 tons of clothing (or 50 shipping containers' worth) was burned or went to a landfill somewhere around the world.
"The good news is, there is a world out there of innovative people who are trying to tackle this and turn things around," Langkjaer-Bain said.
Those innovators include the participants of Cotton Incorporated's Blue Jeans Go Green™ program, which recycles worn denim for new uses. The program works with colleges, retailers, and brand collaborators who encourage denim wearers to bring their old jeans to collection boxes either on campuses or in stores. The collected denim is diverted from landfills and then recycled into natural cotton batting insulation for building efforts, pet bed inserts, thermal insulating liners for sustainable food packaging, and more. It's a win for the environment as well as for consumers: Retail participants often reward shoppers for their contribution with a discount on their next denim purchase.
Giving back was the main, overarching message of our program. We told the story of what the recycling and insulation from the program could actually do and why we're doing it. And I think that really resonated with our customer.

Catrina Gunter, Marketing Manager, White House Black Market
Since the Blue Jeans Go Green™ program began, more than 4.5 million pieces of denim have been collected, over 2,290 tons of textile waste have been diverted from landfills, and more than 9 million square feet of insulation has been manufactured.
"In 2006, we created the Blue Jeans Go Green™ denim recycling program, a call-to-action to keep old denim out of landfills and turn it into something new," says Cotton Incorporated's Andrea Samber, director of brand partnerships, consumer marketing. "The program continues to thrive over 16 years later because it has been grounded in sustainability since day one, and it helps to close the loop on cotton's circularity."
While the Blue Jeans Go Green™ program is a prime example of circular fashion, consumers have been participating without really knowing what "circular fashion" is about.
Most consumers (57 percent) admit they don't know what circularity means or have never heard of it, according to the 2021 Cotton Incorporated Lifestyle Monitor™ Survey. Of those consumers who offer a definition, about a quarter (26 percent) say circularity means styles that go in and out of fashion, while another 20 percent say it means a product has multiple uses or is recycled/reused.
While awareness and understanding of the term "circularity" is low, consumers seem to still be interested in initiatives that promote it. In fact, nearly 7 in 10 (69 percent) say they would be interested in donating old denim jeans/products to be upcycled into housing insulation that is given to programs like Habitat for Humanity. Further, more than one-third of shoppers (38 percent) are willing to pay more for apparel that is produced through a circular fashion initiative. That figure jumps to 44 percent among those aged 13-to-34 years old.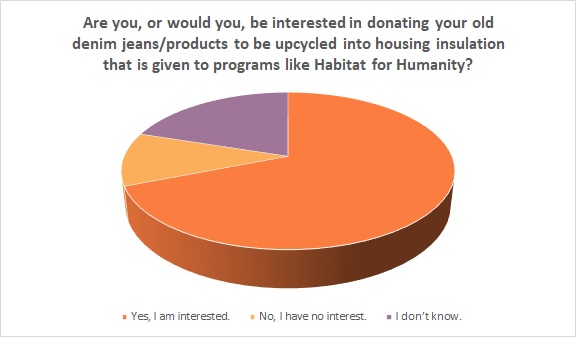 That's positive news for a brand like Madewell, which has been a long-time retail collaborator in the Blue Jeans Go Green™ initiative.
"Madewell's active participation in the Blue Jeans Go Green™ program has positively impacted both the environment and communities in need," says Madewell's Liz Hershfield, senior vice president, head of sustainability, in an interview with the Lifestyle Monitor™. "Since 2014, our denim recycling program has successfully diverted over 700 tons of waste from landfills, with over 1.4 million pairs of jeans recycled thus far.
"We continue to support circularity with our longstanding partnership with Blue Jeans Go Green™, while also ensuring any trade-in denim that can still be worn is moved to our resale site (Madewell Forever)," Hershfield continues. "This allows us to truly expand our circularity efforts by giving our denim a second, third or fourth life, while also recycling non-wearable denim into housing insulation in partnership with Habitat for Humanity."
White House Black Market has also successfully taken part in the Blue Jean Go Green™ program. Its participation in 2022 diverted 16,461 pounds (8 tons) of denim waste from landfills, which added up to 32,922 total square feet of insulation, according to Catrina Gunter, marketing manager.
"White House Black Market wanted a mutually beneficial opportunity to grow awareness for our denim and give our customers an opportunity to engage in a purposeful sustainability initiative like Blue Jeans Go Green™," Gunter says. "Giving back was the main, overarching message of our program. We told the story of what the recycling and insulation from the program could actually do and why we're doing it. And I think that really resonated with our customer."
Nearly three-quarters of consumers (73 percent) say they would be interested in clothing recycling programs that turn old clothes into new apparel or recycle clothing into new products other than clothes, according to the Monitor™ research.
In 2022, Cotton Council International and Cotton Incorporated launched a similar yet expanded program, Cotton Lives On™ in the UK. It serves as a call-to-action to recycle old cotton apparel and home textiles and give them new life by transforming them into something new. This program focuses on using old cotton, not just denim, to be recycled and ultimately make roll mats to help people get a better night's sleep. More than five brands helped launch the program, and worn cotton that would likely have ended up in landfills was turned into mattresses.
As Samber points out, recycling is a key part of the circular economy. Already, recycling has saved more than 700 million tons of CO2 emissions, a number that is expected to increase to 1 billion tons by 2030.
"Through Cotton's Blue Jeans Go Green™ program, people can better understand how their fiber, fabric and fashion choices can affect the earth, from how clothes are made to where they go once they're worn out," Samber says. "Looking forward, we hope to continue inspiring people to wear and recycle denim made from cotton."