Of all the fashion "core" looks that have come out in recent years – think Barbiecore, cottagecore, normcore – perhaps the most odd-sounding is gorpcore. The gorp portion of the word refers to "good ol' raisins and peanuts," or the trail mix popular with hikers and other outdoorsy types. Gorpcore, then, is practical and utilitarian apparel, inspired by the hiking set, but it can just as easily be adopted by the average urban dweller.
And nowhere is gorpcore more readily available than at the Outdoor Retailer show, which recently held its summer event in Salt Lake City, UT. A growing part of the gorpcore category: cotton garments enhanced for the outdoors with performance technologies.
"Cotton is a fiber that is grown from the earth simply needing soil, sunlight and water, which makes it naturally appealing for the outdoor enthusiasts.

Jennifer Lukowiak, Director of Supply Chain Marketing, Cotton Incorporated
Tapping into the outdoor apparel market poses an opportunity for apparel brands when one considers the category was worth $34.8 billion in 2022 and is expected to reach more than $45 billion by 2027, according to Statista.
A report from Technavio says product innovation is driving growth in the market.
"Manufacturers are introducing outdoor apparel that has innovative designs, quality and features," the report reads. "The rise in purchasing power, along with the increasing preference for innovative, comfortable and lightweight outdoor apparel is driving sales of such products."
Not surprisingly, sustainability is often worked into the conversation. During a panel discussion at the ISPO Munich Online trade fair a couple of years ago, panelists agreed that people who spend a lot of time outdoors are more motivated to protect nature.
"Breathing fresh air, standing on top of a mountain – the more people enjoy that, the more people want to protect that," said Christiane Dolva Törnberg, Fjällräven's head of sustainability.
To that end, cotton is an excellent fiber choice for the outdoor market, says Cotton Incorporated's Jennifer Lukowiak, director of supply chain marketing.
"Cotton is a fiber that is grown from the earth simply needing soil, sunlight and water, which makes it naturally appealing for the outdoor enthusiasts," Lukowiak says.
Data shows most consumers (71 percent) say they prefer outdoor athletic apparel that is made with natural fibers such as cotton or linen, according to the Cotton Incorporated Lifestyle Monitor™Survey.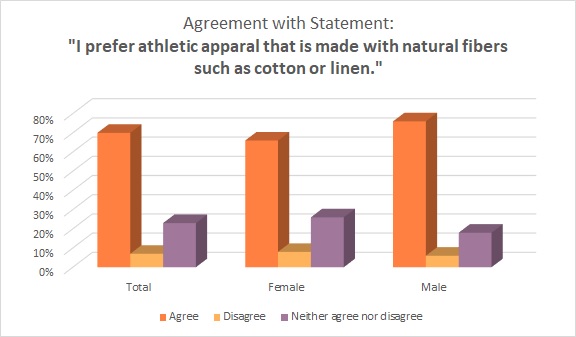 Notably, 87 percent of consumers say their fiber preference is a major factor when buying exercise clothes for outdoor activities, according to the Monitor™research. And the majority of consumers (64 percent) say cotton is one of the only fabrics they consider when shopping for outdoor activewear.
Today's shoppers are looking for outdoor apparel that goes a step (or two) beyond. The Monitor™research found that among the performance features consumers want in their outdoor apparel, the top attribute is easy care (84 percent), followed by shrink resistance (82 percent), moisture management (82 percent), odor resistance (81 percent), thermal cooling (79 percent), chafe resistance (79 percent), stain and abrasion resistance (78 percent), antimicrobial properties (76 percent), water repellency (71 percent), wrinkle resistance (70 percent), and UV protection (68 percent).
Apparel brands should note that shoppers say if outdoor athletic apparel made from cotton had the performance features they wanted – such as moisture wicking and antimicrobial properties – 82 percent would be somewhat/very likely to purchase it, according to the Monitor™ research. Further, 81 percent of shoppers say they would be willing to pay more for cotton outdoor activewear that has the performance features they are seeking.
"Uniting the natural world and the active lifestyle trend, cotton is emerging as a top contender in outdoor wear," Lukowiak says. "This isn't just about its inherent comfort or breathability, but how these qualities blend with performance technologies to meet the demands of the growing outdoor lifestyle trend. TOUGH COTTON™ technology, a testament to cotton's enhanced strength, handles all the challenges of outdoor adventures. When weather turns wet, STORM COTTON™ fabric offers much-needed resilience. And let's not forget the sweat from that uphill trek, managed efficiently by TransDRY™ fabric moisture-wicking capabilities."
A number of brands at the Outdoor Retailer (OR) show offer just such performance cotton apparel. Take Howler Brothers. Their Tidepool Tech shirt offers a quick-drying, cotton-blend fabric with a vented back yoke and a sunglass-cleaning microfiber at the hem. And Howler's Frontside 5-pocket cotton pant has triple-needle seams for ruggedness, stretch for a full range of motion and Cordura for durability.
Wrangler was also at the OR show, exhibiting pieces from its ATG (All Terrain Gear) line. The current collection includes pieces like its reinforced cotton utility pant, which features an articulated, reinforced knee, reinforced kick plate, moisture wicking and UPF 30 protection to block ultraviolet rays. Wrangler's women's cargo jogger is a pull-on cotton-blend pant that offers UPF 40 protection, a moisture-wicking finish and lots of pockets – a super exciting feature for any woman.
Berne was also at the summer OR show. The brand has pieces like its performance cotton sleeveless pocket tee, which offers moisture-wicking and stain-release technologies. The same performance features can be found in Berne's long-sleeve, cotton-blend pocket tee, which also has breathable side vents to promote air flow.
And Kavu's Welland men's shirt – cheekily described as being "Equally adept for trail dates, dinner dates and court dates" – is a cotton-blend piece that features stretch, wrinkle-resistance, UV protection and quick-drying properties.
"Our presence at the recent Outdoor Retailer show confirmed the growing enthusiasm for these innovations in cotton," says Lukowiak. "At Cotton Incorporated, we're not just observing the evolution of cotton in outdoor wear, we're propelling it forward."