It is the year of the snake in China, which could bode well for business — a rather welcome prospect for apparel retailers.  In China, a market that has enjoyed abundant growth over the last few years, the retail outlook is solid but perhaps showing some vulnerability that stores should recognize before diving in deep.
China's housing market is experiencing a price bubble and, perhaps, a quantity bubble, as well.  A worldwide economic downturn decreased its exports.  And an ongoing banking crisis is casting a shadow.
[quote]Howard Davidowitz, chairman of Davidowitz & Associates, Inc., a national retail consulting and banking firm headquartered in New York City, points out that the Chinese economic engine is still strong.  It is estimated to expand 7.5% this year.  In comparison, U.S. GDP is expected to fall from 2.2% in 2012 to 1.6% in 2013, according to the Bureau of Economic Analysis.
So despite China's slowdown, there is still plenty of opportunity in the country, whose population reached 1.35 billion last year.  In fact, more than eight out of 10 Chinese consumers (87%) are "very or somewhat optimistic" about economic conditions in their household over the next year, according to the Cotton Council International and Cotton Incorporated Chinese Consumer Survey.  Consumers are bullish about economic conditions in China overall (76% — up from 74% in 2011), followed by 56% who feel optimistic about the global economy.
But for U.S. retailers, Davidowitz says "caution is the watch word" for anyone entering or expanding their business in China.
"There's more risk in China than there had been," Davidowitz says.  "It was going to the moon.  Now if you're a rational person, you have to see there's more risk.  If your business is not there already, you should be researching it before jumping in.  It's time to slow down a little.  Open just a couple of stores at a time."
Davidowitz says the most dramatic statement about what is happening with the Chinese economy can be seen by looking at Walmart, Carrefour and Tesco. "The top three retailers in the world saw same store sales growth decline 27% on average in 2012," Davidowitz says.  "And they've all reduced their expansion plans."
Walmart generally opens between 50 and 60 stores every year in China, but will be cutting back to 100 over the next three years.   Carrefour closed six stores in China between 2010 and 2012, although it plans to open 20 outlets "in the future."  And Tesco was planning to close some stores and more slowly open others "in key business regions of the country."
Despite these trends, Chinese consumers' optimism is nevertheless expected to translate into healthy apparel sales.  While more than six out of 10 Chinese consumers (63%) plan on purchasing the same amount of clothes in the coming year, a quarter plan to purchase more, the Chinese Consumer Survey finds.   Women (28%), consumers age 20-to-29 (30%), and Tier 1 shoppers (30%) are more likely than their counterparts to plan on purchasing more clothes in the coming year.  Most (68%) plan to buy the same type of apparel in the next year, while 26% plan to trade up.
In another potential boon to apparel spending, China's per capita GDP rose 12% to $6,100, up from $5,432 in 2011.   A big slice of that, though, has gone toward housing.  The Global Times recently reported that "Ordinary people pay a heavy price for the property bubble," as explained by Yuan Gangming, a researcher with the Center for China in the World Economy at Tsinghua University.  If people can afford to buy a home, they often have to cut down on spending to pay off a mortgage.
While China's home prices have been increasing, Caixin Online recently reported that up to 65.5 million apartments may be sitting empty.  Analysts fear such an oversupply could create a quantity bubble, which has the potential to send prices crashing and bring down the economy.
But this has not yet stopped consumers from shopping. The majority of Chinese consumers shop for clothes at specialty (58%) or department (52%) stores, followed by hypermarkets (42%) and independent stores (40%), Chinese Consumer Survey data reveal.  Men are significantly more likely than women to shop at specialty (61% versus 56%) and chain (33% versus 27%) stores, while women are likelier than men to shop at independent stores (44% versus 35%) and street markets (17% versus 12%).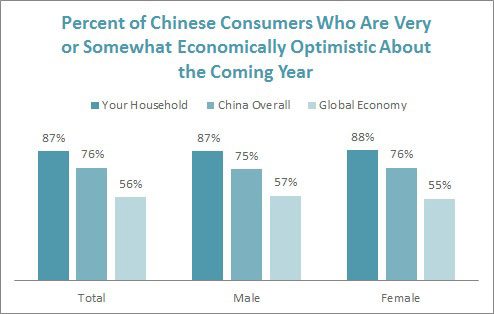 Most Chinese (70%) feel apparel from international brands is more fashionable than Chinese labels.  And 62% feel outside brands have a better overall reputation than those from China.
One U.S. brand China has taken to is Gap.  The retailer recently opened six stores in the country.  It plans to have 45 Gap and Gap Outlet stores in the country by the end of this fiscal year.  And J. Crew has re-entered the market by offering its clothes at Lane Crawford stores, with plans to open its own stores this year.
"It's a mixed bag with some doing well and others going down — although the luxury sector is clearly doing better than others," Davidowitz says.  "Still, some — like Tiffany and Burberry — are down.  But I believe China is in a steady recovery and I continue to believe in it. The brands will continue to believe in it.  But they'll all be more cautious, as well."