If online apparel shoppers look closely at a retailer or brand's website, they will often find an area devoted to sustainability or social responsibility. This goes for major U.S. department stores as much as it does for small independent designers. However, while consumers appreciate this type of transparency, they admit that they're not about to seek out this information, nor do they want eco efforts to add to the price of their clothes.
[quote]Designer John Bartlett, whose credits include multiple awards from the Council of Fashion Designers of America, including the CFDA/Lexus Eco Fashion Award, says the sustainability/responsibility conversation is interesting because it is still a fairly new one.
"I think the idea of ethical fashion is just starting to resonate with both consumer and retailer," says Bartlett, who recently moderated a panel discussion at Parsons The New School for Design entitled Real Rebels, which highlighted designers who are changing the way fashion is made by starting with sustainability, fair labor and animal rights. "More people are asking where their fast fashion is coming from and at what cost. I believe that in order for the ethical movement to make traction the major players have to get behind it in a meaningful way."
And consumers mostly agree. Nearly seven out of 10 consumers (69%) would be bothered if they found out an apparel item they purchased was not environmentally friendly, according to the Cotton Incorporated 2013 Environment Survey. Further, if they purchased a garment and then found out it was produced in a non-environmentally friendly way, 39% say they would blame the manufacturer, followed by the brand (15%), themselves (12%) and the store where they bought it (6%), according to the Cotton Incorporated 2014 Environment Survey.
Accountability is key to changing industry practices.
"I see more companies addressing the toxins used and the amount of water used for production," Bartlett says. "Companies like Levi's are making big steps with Water<Less denim, for example."
While the majority of consumers say they care about such concerns, just one third are "likely to seek out" environmentally friendly clothes for themselves, although 42% are likely to do so for their kids, according to the Environment Survey. The reality is most shoppers have other things on their minds when they're buying clothes: fit (98%), comfort (97%), price (94%), quality (95%), durability (93%) and style (89%), according to the Cotton Incorporated Lifestyle Monitor™ Survey. That compares to 50% who take environmental friendliness into consideration.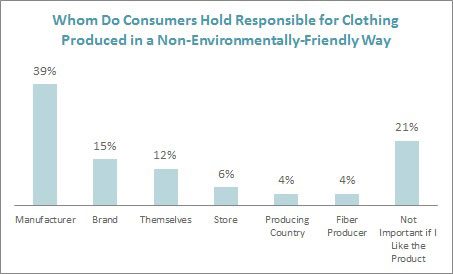 So those consumers who want to do the right by the environment are often looking to retail for answers. And rather than accepting this responsibility as a burden, many top apparel brands are rising to the challenge. To wit, Nike created and publicly shares its Environmental Apparel Design Tool, which scores and compares designs in terms of waste and use of environmentally preferred materials. And Brooks Brothers recently announced it has joined the Cotton LEADS™ program as a partner, acknowledging the joint U.S. and Australian program's emphasis on responsible cotton production and continual improvement.
More than nine out of 10 consumers (92%) say cotton is safe for the environment, followed by hemp (82%), wool (81%), and silk (81%), according to the Environment Survey.  And nearly eight out of 10 consumers (77%) say "100% cotton" claims are influential to their apparel purchases, followed by "Made in the USA" (68%) and "natural" (61%) claims.
The Real Rebels program at Parsons featured designer Karina Kallio, whose Kallio apparel is made in the U.S. using re-claimed vintage apparel that's re-sewn into children's wear.  Men's cotton shirtings are often used in her designs.
"What's really nice about using men's shirtings is that the quality of fabric is much nicer than what you find in any children's wear," she told the Parsons' audience.  Before ending her segment, Kallio said she's optimistic about the future.  "I feel like the fact that all of us here are speaking to you [students] gives me a sense that things will get better and we're starting to move forward."
Just days before the Real Rebels event, the Copenhagen Fashion Summit saw Not Just A Label — a collaboration among 15,000 emerging designers in 100 countries — introduce "Restart Fashion," a five-point sustainability plan for apparel makers. Steps include "Create More, Use Less" and "Know Your Supply Chain."
The Copenhagen Fashion Summit also featured a denim challenge sponsored by ISKO, a leading denim producer.  Designer and jurist Peter Ingwersen said the challenge presented the opportunity to educate and inspire the industry — as well as raise awareness among consumers — about sustainable materials.
Meanwhile last month, Cotton Australia chose Australian Fashion Week to unveil the Cotton LEADS™ program to Australian designers, retailers and brands. More than 100 partners have joined the program since its inception.
Bartlett sees the supply chain as integral to the sustainability discussion.
"There are so many moving parts to producing clothing," Bartlett says.  "The work force, the chemicals used, the waste, the fuel used to transport. All need to be reviewed and weighed. Ideally, as we evolve as consumers, the supply chain will also evolve."