It's that time of year when the last of the decorated Christmas cookies are eyed with ambivalence: to eat or not to eat. Of course, no sooner is the decision made to eat one (or five) of the holiday treats than a guilt-inducing exercise bike commercial comes on. Such are the scenarios that inspire New Year's resolutions to lose weight and get in shape. And this annual cycle of gluttony and guilt is as good for activewear sales as it is for the fitness industry in general — even if it's just fleeting.[quote]
As it turns out, getting more exercise is the most popular 2019 New Year's resolution, according to YouGov, the global public opinion and data company, with 59 percent of people saying they intend to exercise more. That's followed by eating more healthily (54 percent), saving money (51 percent), and losing weight (48 percent).
Stores and brands are well aware of the consumer quest to look and feel better in the New Year, says Edited's Katharine Carter, retail analyst for the data analytics firm.
"Retailers typically launch new activewear lines across the last two weeks of December and throughout January. In January 2018, there were 108 percent more arrivals across the month compared to February. This is supported by retailers' customer emails and online promotions of activewear, which peaked in January," Carter says. "January saw the highest amount of products selling out for the first time across the year. However, there was also a spike in sell outs across June and July."
The U.S. activewear market is the largest in the world, accounting for more than a third (39 percent) of activewear sales worldwide, according to Euromonitor International. The market is expected to grow to $88 billion in 2022, which is up from $67 billion in 2017. Globally, the activewear market is expected to reach $567 billion by 2024, rising at a rate of 6.8 percent CAGR during the forecast period, according to KBV Research.
While trendy pole workouts and rope classes may sound intriguing, most people go for a simpler exercise routine. More than 4 in 10 Americans (42 percent) exercise regularly by walking, according to the Cotton Incorporated Lifestyle Monitor™ Survey. That's followed by running or jogging (21 percent), cardio training such as a treadmill (17 percent), weight training (17 percent), swimming (16 percent), fishing (14 percent), hiking (12 percent), camping (12 percent), dancing (11 percent), yoga (11 percent), and bowling (8 percent).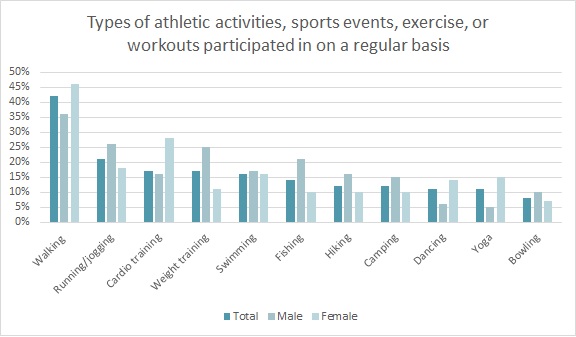 Regardless of activity, the women's active market saw an increase in one particular garment.
"Women's cycling shorts grew in popularity in 2018 and these will remain a top trend in 2019, in both fashion and activewear lines," Carter says. "There are currently 112 percent more cycling shorts in stock in retailers' activewear ranges compared to this time last year."
Consumers say fit (97 percent), comfort (96 percent), quality (94 percent), price (94 percent), and durability (91 percent) are the top factors in their apparel purchasing decisions, according to Monitor™ research. And when it comes to fabric, 4 in 5 consumers (79 percent) say cotton is their favorite fiber to wear. Nearly 6 in 10 consumers (57 percent) say they prefer their activewear to be cotton-rich. Further, more than half of all consumers (55 percent) are willing to pay more to keep cotton in their activewear.
The majority of consumers are also willing to pay more for apparel that has performance features such as odor resistance (54 percent), moisture management (51 percent), thermal regulation (51 percent), and water repellency (48 percent), according to Monitor™ research.
When it comes to style, Carter says 2019's activewear will feature neon accents and color blocking in both men's and women's collections, particularly on sneakers and coordinating leggings and tops.
"In the men's market, demand for low-impact sportswear for activities such as yoga are likely to increase, alongside more collaborations between sports brands, and streetwear and luxury labels," she says.
Carter also points out that, "Consumer demand for sustainably produced lines will continue to rise in importance, which is likely to drive further technological fabric and product innovations."
Cotton Incorporated's scientists and researchers have developed technologies that increase the performance capabilities of cotton. That's because the majority of consumers prefer cotton's comfort (86 percent), sustainability (86 percent), and softness (83 percent) to synthetic fibers, according to Monitor™ research. However cotton's natural absorbency can often be a negative in performance apparel.
Through the adoption of moisture management innovations, like TransDRY® and WICKING WINDOWS™ technologies, consumers can enjoy the fast-drying and moisture-wicking qualities touted by synthetic fabrics, but with the comfort and softness of natural cotton. The majority of consumers say they are likely to seek out moisture management in their activewear (54 percent), according to Monitor™ research.