The average U.S. shopper may well be checking her cell phone while shopping for apparel in-store.  But she's not necessarily showrooming for a better deal online.  Today's savvy retailers are enhancing the in-store shopping experience with mobile functions that can direct shoppers to specific items in a big store, send valuable instant coupons and more.
[quote]Such mobile functions make sense, considering the majority (61%) of cell phone users in the U.S. have smartphones, according to the Pew Internet & American Life Project.  But until recently, retailers had primarily viewed mobile as a separate selling channel.
But Swirl's Rob Murphy, vice president of marketing for this Boston-based retail tech company, says in-store mobile functions present a "huge opportunity" for retailers.
"In-store still accounts for over 90% of all retail sales," Murphy says.  "And with an estimated 65% of shoppers already using their phones while they shop at traditional retail stores, those who integrate mobile and in-store shopping stand to benefit."
Specifically, a quarter of consumers (25%) shop for most of their clothes at chain stores, followed by mass merchants (24%), department stores (14%), specialty stores (13%), off-pricers (8%) and online (6%), according to the Cotton Incorporated Lifestyle Monitor™ survey.
Despite the ease of the Internet, consumers continue to buy most of their apparel at traditional stores, both for the social experience and concerns about buying online. The Monitor finds 86% are "very or somewhat concerned" about shipping costs, return policies (83%), apparel quality (82%), apparel availability (76%), security of credit or debit cards (76%), and not being able to try on clothes (72%).
SAS Institute's Lori Schafer, executive advisor and author of "Branded!: How Retailers Engage Consumers with Social Media and Mobility," says retailers could take advantage of consumers who walk into their stores by developing mobile features that add value to the shopping experience.
"If my favorite activewear retailer had mobile in-store functionality that allowed me to see what outfits looked best with the new cropped pants I selected, I'd use it," Schafer says.  "And better yet, if my favorite apparel retailer knew it was me and had the analytics to push an offer down to me that was completely relevant and specific to me when I entered the store, I'd definitely use it."
While 71% of consumers browse for apparel online, they actually shop for clothes in-store more often — about twice per month versus shopping online once a month, the Monitor shows. On average, consumers spend about 100 minutes shopping for clothes both in-store and online.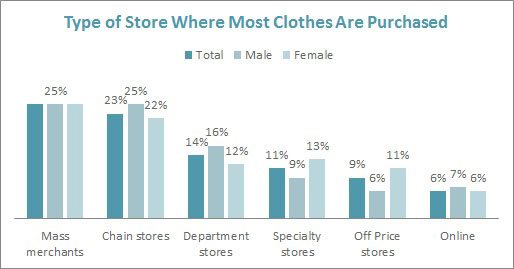 A lot of online browsing amounts to pre-shopping research.  The majority of consumers (77%) use their phone, tablet or PC to compare apparel prices online before purchasing in-store, the Monitor finds, followed by looking up coupons (73%), browsing apparel styles (71%) and reading customer reviews (58%).
RichRelevance's Darren Vengroff, chief scientist, says mobile could be doing more to personalize shopping, while keeping the store associate in the picture to provide that human interaction customers still want.
"Consumers don't necessarily want to go to a completely app-driven experience," Vengroff says.  "Opportunity lies in the middle ground where mobile devices used by store associates can turbo charge sales.  For instance, associates can scan a shopper's apparel choices before she goes into the dressing room.  Then, if she would like a different color or size, the associate can tap that feedback into a tablet and learn instantly if the item is on the floor, in the back room or at a nearby store in their chain."
Clearly, bigger retailers are better able to afford developing such platforms.  But Schafer says that does not mean small stores can't get in on the action.
"In-store mobile functionality varies from store type to store type," Schafer says.  "Each retailer has to first understand their strategy with customers and then look to what would make the customer experience better."
To that end, Swirl offers Swirl In-Store, an app that activates automatically via a Bluetooth sensor once users enter participating stores.  They then instantly receive exclusive offers and style recommendations based on their profile and specific location within a store.  There is no need to open an app, wait for a signal or check in.  Despite the ease of use, Murphy says content is key.
"First, relevance is critical," Murphy says. "Sending someone useful content or a compelling offer while they are shopping in a store is valuable.  Sending them a daily sales alert when they pass by on their way to work is annoying. Second, creating value is important.  Privacy is a major concern for smartphone owners, but our research shows consumers are very willing to share their information if they receive value in return.  In fact, 47% of women would be willing to share their location information for a $5 store credit and 83% would for a $25 store credit.  Third, consumers love things that are fun and easy.  Engaging with a mobile app shouldn't require any extra effort or thought from the consumer."
Vengroff says this technology works at all levels of retail.
"At a very large store that can't provide one-to-one customer service, this technology is raising the level of service and personalization that comes naturally with a small boutique.  And small boutiques will use it to alert customers to gifts with purchase, new collections, in-store events — to keep themselves one-step ahead."