Americans always have something to argue about, but one thing they all agree on is the importance of buying U.S-made products.  Enthusiasm for apparel that's made in the USA continues to grow, and those in the industry say the winter holidays are an excellent time to showcase it.
[quote]"If you really want to promote it, that's when people are shopping," says Erica Wolf, executive director of Save The Garment Center (STGC).  "Stores and brands are putting all this effort into getting this product made and delivered.  The holidays are the time to say, 'We have the perfect gift for your friends and family — come shop with us and share Made in the USA.'"
Stores and brands, from majors like Brooks Brothers and Walmart, to independent startups like Old School Shirt Makers, see the value in promoting American goods.  And consumers have made it clear it is something they want – especially for the holidays.
Almost half of gift givers (44%) say they plan on seeking out presents that are made in the USA, according to the Cotton Incorporated Lifestyle Monitor™ Survey.  Men (50%) and consumers ages 56-to-70 (68%) are significantly more likely than their counterparts to say they plan on seeking out U.S.-made holiday gifts.
STGC is taking advantage of the holidays for an upcoming promotion.  The organization teamed with Caravan Stylist Studio and asked 40 designers to create ornaments and dreidels for a holiday tree that will be lit in the lobby of the Carlton Hotel on Dec. 5.  Participating designers include Nanette Lepore, Nicole Miller, Ben Amun, WALTER and more.
Meanwhile, Walmart plans to play up U.S.-made holiday gifts nationwide, although apparel is not yet part of the mix. Going forward, the retail giant plans to highlight all domestically made merchandise, says Greg Hall, vice president U.S. sourcing and manufacturing
"As we move to more made in the USA products, we will be tagging private label brands with our Made in the USA logo where applicable," Hall says.
Walmart plans to buy $50 billion more U.S. products over the next 10 years in an effort to grow U.S. manufacturing and encourage the creation of U.S. jobs.  Kayser-Roth and Renfro are the first U.S. apparel companies on board. Kayser-Roth is adding 100 new jobs and investing up to $28 million in its North Carolina facilities to manufacture No nonsense® socks.  And legwear manufacturer Renfro is expanding its capacities over the next two years in Tennessee and Alabama, investing an additional $14 million and adding 195 manufacturing jobs.
"We plan to accomplish our objectives by growing business with suppliers we already do business with, attracting new suppliers and shifting existing items to U.S. production," Hall adds.
More than half of consumers (55%) say it is "very or somewhat important" that the clothes they buy are made in the USA, according to Monitor stats.  The main reason consumers says it is important is because they prefer to support the U.S. economy (87%).
"Every decision a retailer makes is a business decision," Wolf says.  "So retailers want apparel that's made here because they know consumers want it and it cuts down on certain costs.  They can cut shipping costs and keep a closer eye on product to make sure it's being done right so they don't have to pay to fix it later.  Plus, wages have increased in China, so there isn't the wage gap there used to be."
"Consumers are both aware and appreciative of merchandise that is made in the USA and we are always looking for ways to increase our offerings," Amendola notes.Brooks Brothers' Lou Amendola, chief merchandising officer, says the company's long heritage of making American apparel began with its first ready-made suit in 1849, and continues today with three factories here in the U.S.
Brooks Brothers offers men's apparel under its Own Make label and already includes Made In America links on its website. The retailer is seeking to do the same for its women's and children's collections.
"Our commitment to our customers has always been to deliver the best products for the highest value possible," Amendola says.  "We strive for innovation and are always searching to broaden our Made in America category to include our women's and children's collections.  We wish there were more U.S. manufacturers for these categories."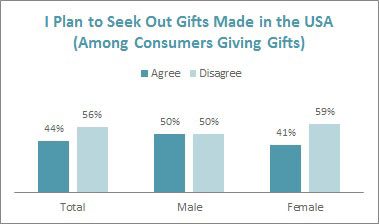 It's a wish shared by Americans: 6 of 10 Monitor respondents say clothes made in the USA are of a higher quality than imports.  But currently, just 2% of apparel in U.S. stores is made in the country, according to the Cotton Incorporated Retail Monitor™ survey.  In 1960, that figure stood at 95%, according to STGC.
Old School Shirt Makers NY proclaims on its website that not only is the product U.S.-made, but it is also made by union workers. Founder and creative director Kevin Stewart says that mantra has been good for business.
"We must make it here and export," Stewart says. "I believe the consumer understands the importance of supporting our own industries and products, made here at home.  It's the patriotic thing to do."
Stewart adds that Americans have become more aware of the negative conditions at some overseas factories.
"If nothing else, we who make our goods here will cause the bigger change to come. We all just have to do our part."