Running a fashion business is full of hard work, stress, long hours, and mental gymnastics. But it's also full of glamour. And that glamour can help attract media attention to causes and concerns that might otherwise go unnoticed by the average consumer. These days many brands are giving back on varying levels, from local to international, with focuses ranging from human and civil rights to environmental and sustainable missions. The question is, are brands serious about keeping to the cause?[quote]
Let's face it, it's easy to attend a fundraiser or give a one-time donation. But keeping it up is no easy feat. The brands that do meet the conscious criteria with consumers can get a boost in business. Call it the good karma effect. It can also lead to some questionable marketing catchphrases — like "vegan leather" (usually nothing more than old school, petroleum-based "pleather").
Kestrel Jenkins, founder, producer and host of the Conscious Chatter podcast, says there is a fine line with social good today.
"Tom's Shoes definitely sparked shopper interests in the early 2000s, and set the tone for what 'giving back' could look like through their one-for-one model," Jenkins says. "However, since then, shoppers have become far more educated, and brands must go above and beyond a simple buy one/give one model to truly make an impact. A giving company that does business without integrating sustainability and worker rights into their supply chain entirely defeats the purpose of doing good. Today, it has become more and more 'cool' to be conscious or sustainable. However, this shift also brings posers and green washing companies to the table. It's motivating to see how many brands are out there truly pushing to shift the industry, but it's become more challenging as a shopper because bigger brands see the value of attracting customers using marketing that evokes a conscious message, even when their actions don't back up their statements."
When it comes to shopping for apparel, most consumers (71 percent) are more likely to shop at a brand that fits their lifestyle, according to the Cotton Incorporated Lifestyle Monitor™ Survey. That's especially true for Millennials (79 percent).
Additionally, bigger picture concerns are important to consumers. Overall, 86 percent of shoppers say companies should address urgent social and environmental issues, according to a Cone Research Generation Z CRS study. That goes for 87 percent of Millennials and 94 percent of Gen Z consumers.
Ivory Ella is an apparel brand that began with a mission: to help save the world's elephants. It launched in 2016 and the founders vowed that at the end of that year, it would donate 10 percent of its sales to Save the Elephants. Since then, Ivory Ella has donated more than $1.6 million to the cause, as well as other charitable organizations. Its collection has grown to include cotton-rich tees, tanks, hoodies, joggers and accessories for men, women and kids, all of which feature the brand's charming elephant logo.
Parks Project is a brand that was launched with the idea of getting more people involved in protecting public lands in the U.S. It's an official business partner to the national parks, so its collections feature places such as Joshua Tree and Acadia, as well as messages like "Leave It Better Than You Found It." With each purchase, funding goes toward park conservancy projects, such as restoring trails in Yosemite or removing invasive species from the Everglades.
As weighty as these causes might be, Jenkins says brands shouldn't just rely on their "give back" messages.
"For me, it's a higher priority for brands to be looking in depth at their supply chains, asking questions, and ensuring they are reducing their environmental and human impact as much as possible," she says. "If brands want to integrate a give-back program as well, that's great, and an added bonus for the shopper."
Jenkins isn't the only one seeking more accountability from clothing brands. Worldwide, consumers are starting to look at the apparel industry's role in sustainability and the environment. When it comes to non-sustainable apparel, 73 percent of U.K. consumers blame the industry, according to the Monitor™ research. That's followed by 69 percent of consumers in Germany, 64 percent in Italy, 63 percent in India, 60 percent in Mexico and 59 percent in China. At 58 percent, U.S. consumers were least likely to blame the apparel industry for non-sustainable clothes.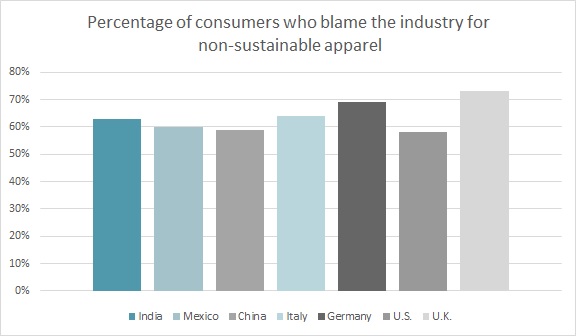 On the other hand, more U.S. consumers are becoming aware of microplastic pollution. The Monitor™ research shows 27 percent of consumers are aware of microplastic pollution, which is a 59 percent increase from the 17 percent of consumers a year ago. Further, 60 percent of those consumers say microplastic pollution will affect their future apparel purchases.
Microplastic is derived from a variety of sources, but the National Oceanographic and Atmospheric Administration (NOAA) says microfibers shed from synthetic clothes are a problematic form of the pollution. Since so much apparel is made with polyester, acrylic, nylon and other synthetics, hundreds of thousands of microscopic particles can be released into the water supply with each load of laundry. Like larger pieces of plastic, these micro particles do not disintegrate in water. Instead, they can be consumed by marine life throughout the food chain. Microplastic pollution has also been found in every level of the water supply, including tap water.
But brands should be aware that natural fibers like cotton are biodegradable. In fact, in a comparison of cotton and synthetics in water, a recent study by North Carolina State University found that cotton had a 76 percent degradation after 243 days, while polyester showed a 4 percent degradation. Brands should also keep in mind that nearly 8 in 10 consumers (79 percent) say cotton is their favorite fabric to wear, according to Monitor™ research, to the point that consumers are willing to pay more to keep cotton in their underwear (68 percent), T-shirts (59 percent), jeans (56 percent), casual shirts (54 percent) and activewear (47 percent).
Jenkins says it's possible for brands to appeal to consumers with a marketing message while also building a better business.
"Whichever the motivation, as long as companies are looking closely at the behind-the-scenes of how their products are made, I think we're moving in the right direction."