It's been more than two years since COVID-19 shut down the world and turned life, including retail, on its ear. Stores and brands scrambled to serve customers while operating within mandated restrictions or safety protocols. But now that we've gone through the virus' Delta strain and made it past the Omicron variant, restrictions are being lifted in most states. And that's good news for retailers — as long as they take the lessons learned during COVID to reset how they do business going forward.
But if you can rally the energy and really think through the behaviors you want to change, and think through how to reach people, you're never going to have a better opportunity to change the way people behave, how they think about your brand, how they use it. You're never going to have a better opportunity than right now. So this… this is it."

Bryan Gildenberg
Senior Vice President of Commerce, Omnicom Commerce Group
"It's extraordinary times," said Salesforce's Rob Garf, vice president and general manager, during an episode of the Remarkable Retail podcast, hosted by Steve Dennis with Michael LeBlanc. "What we've seen over the last two years has set a whole new baseline. We saw over the course of the pandemic, particularly in 2020, a 40 percent increase in net new digital shoppers. Those are people that hadn't necessarily clicked the buy button before. And [now] they have, and that just doesn't snap back. A lot of loyalty has been driven by health, safety, convenience and trust, which to me is, 'Let's remove the friction from the shopping process.' Again, that doesn't snap back. So, some new behaviors that have really popped up don't go away."
Most consumers (66 percent) agree with the statement, "My community has returned to normal, much like before the pandemic," according to Cotton Incorporated's 2022 Coronavirus Response Consumer Survey, Wave 10, March 10, 2022. Fully 74 percent of consumers feel "it is time for us to move on from this pandemic." And while most shoppers (64 percent), say public health measures like wearing masks should be kept in place, even as COVID-19 numbers improve, consumers are so pandemic-weary that 66 percent say even if there is still a risk, "I need things to return to normal," without masks and social distancing.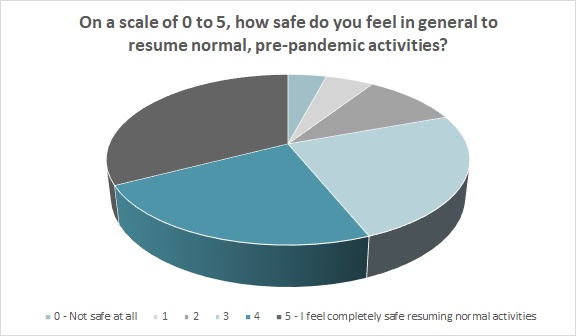 Already, the majority of consumers (77 percent) have shopped for clothes in physical stores and more than half (53 percent) have returned to spending time at malls and shopping areas, according to the Coronavirus Response Survey (Wave 10).
Going forward, the majority of consumers say they want clothing stores to continue with some of the practices that began during the pandemic. They want retailers to offer online ordering with curbside or in-store pickup (76 percent), according to the Coronavirus Response Survey (Wave 10). They also want apparel retailers to offer same day delivery (69 percent), close in-person locations when case numbers surge (66 percent), space clothing racks, display tables, etc., apart to allow for social distancing (66 percent), ensure all staff wear face masks (68 percent), require customers wear face masks (63 percent), and limit in-store occupancy (59 percent).
Despite turbulent times, consumers remain in the driver's seat, states the National Retail Federation's Jack Kleinhenz, chief economist, and the economic outlook is still strong. Sure, robust demand for product and restricted supply has brought about inflation — meaning retailers are still facing uncertainties. But he says job gains and increased wages have led the NRF to expect a 6-to-8 percent increase in retail sales in 2022 to between $4.86 trillion and $4.95 trillion. This, Kleinhenz says, "is notably above the average annual growth rate of 3.7 percent for the 10 years before the pandemic."
Apparel retailers should enjoy some of the increased spending, as consumers say they plan to pay more (36 percent) or the same amount (45 percent) for clothes in the next few months, according to the Coronavirus Response Survey (Wave 10).
Despite the positive economic outlook, Omnicom Commerce Group's Bryan Gildenberg, senior vice president of commerce, says we're living in a world of "wet cement," where nothing about the future is clear, making it crucial to remain nimble and plan for different scenarios and contingencies. He spoke during the Future Shop with WSL podcast, hosted by Wendy Leibman, WSL's founder and CEO. Gildenberg added that if retailers consider there are more options than ever for consumers to shop for "what they want, when they want it," their supply chain should be a dominant area of focus.
"I think your selling environment is going to be more complex three to five years from now in terms of the case, pack configurations, the order quantities and all of that," Gildenberg said. "So how do you introduce complexity into your model in the most cost-effective way? Usually that means you're going to have to manage that variability closer to the end customer rather than further away. You're going to need some sort of packing or repacking facility somewhere within the continental United States. And then that changes everything about your relationship with offshore sourcing, geopolitical risks. I think there's a gravitational pull toward supply chains that are shorter, safer and smaller."
"Then, what does that mean for me as a brand in terms of how I need to think about my positioning and value proposition," Gildenberg continued. "The other key elements that will kick in… are sustainability and plastics. You've got a window of opportunity to run cost models on less plastic-intensive solutions. Take advantage of that now. Sustainability has to be a bigger part of how brands go to market because consumers are going to demand it."
Nearly three-quarters of consumers (58 percent) say sustainability is important when looking at apparel they plan to purchase, according to the 2022 Cotton Incorporated Lifestyle Monitor™ Survey. Apparel retailers might note that the majority of consumers say cotton clothing is the most sustainable (76 percent), highest quality (71 percent), and lasts the longest (59 percent) compared to manmade fiber clothing.
"It's hard, the system," Gildenberg said. "The one we've all been engaged in for the last 24 months is tiring. And I think individuals are tired. But if you can rally the energy and really think through the behaviors you want to change, and think through how to reach people, you're never going to have a better opportunity to change the way people behave, how they think about your brand, how they use it. You're never going to have a better opportunity than right now. So this… this is it."