A classic scene in the cult movie classic "Party Girl" shows Parker Posey's character Mary parting with some of her designer clothes at a consignment shop to make rent. The owner offers her $50 for a Gaultier jacket, to which she replies, heavy on the enunciation, "It's Go-tee-Ay. It's a collector's item." Then, a half-dozen years ago, Macklemore and Ryan Lewis had a chart topper about how they were popping tags with only $20 in their pocket. While thrift shops and consignment stores may have been considered a novelty or last resort in the past, the resale market is now a very hot business.[quote]
While the traditional thrift store generally deals in donated items that they then sell for charity, consignment resalers are for-profit operations. The clothes are called pre-owned, gently worn and, sometimes, never worn. But they are never called used. A report from Coresight Research, formerly Fung Global Retail & Technology, done in conjunction with ThredUP, an online consignment store, says re-sale is growing 20 times faster than the broader retail market, and five times faster than off-pricers like TJ Maxx.
The Coresight/ThredUP report says the total U.S. apparel resale marketplace, including both brick and mortar and online sales, will grow at a CAGR (compound annual growth rate) of 13 percent from $18 billion in 2016 to $33 billion in 2021.
"Resale is the secret to buying brands names for less," ThredUP says in its report. "It's the shopping hack retailers don't want you to know about."
While about 3 in 10 consumers (27 percent) say they shop at consignment stores as much as they have in the past few years, according to the Cotton Incorporated Lifestyle Monitor™ Survey, 6 percent say they shop more often.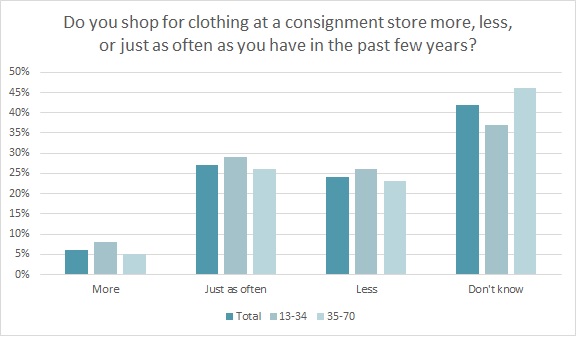 Overall, 40 percent of consumers have a positive view of consignment stores, according to the Monitor™ research. Those looking to take treasure hunt online have a number of sites to peruse, including ThredUP, Tradesey, Poshmark, LePrix, Vestiaire Collective, and The RealReal.
The RealReal is one of the leaders in luxury consignment. Rati Levesque, chief merchant, says the resale market is so strong now because the consumer mindset has changed.
"Luxury buyers are making purchases knowing they can earn back 60-to-80 percent of the original cost when they are done with them," Levesque says. "They have learned they can leverage the ROI on their luxury purchases, and take those earnings to purchase the newest styles in the primary market. Our job is to educate the consignor on what brands hold resale value (which can shift from season-to-season or year-to-year) so they are well informed when shopping brands in the primary market. It's the new luxury life cycle and a key driver of the circular economy for fashion, particularly for Millennials and Gen Z."
Giving new life to special garments holds a deeper appeal for some shoppers. The majority of consumers (72 percent) say they tend to shop at apparel brands and retailers that share their personal views or lifestyles, according to the Monitor™ research. Designer resale sites are most attractive to Millennials (30 percent) and "grandmas," those older than 65 (32 percent) according to the Coresight/ThredUP report.
"As two generations who grew up during economic recessions, Millennials and grandmas are mindful consumers who are making a confident and smart choice to shop secondhand," the report states. In the last 12 months, 30 percent of Millennials have shopped secondhand, and 21 percent say they will in the future. Also, 75 percent of these younger shoppers are more likely to be motivated by the environment when shopping resale; 2.4 times more likely than other consumers. Meanwhile, women over 65 are 3.4 times more likely to be motivated by value and savings.
Resale websites hold an appeal because they make the process of buying or selling an item easier than traditional shops, according to Levesque.
"Julie saw that traditional brick-and-mortars couldn't scale, either in customers or product," says Levesque, referring to the RealReal's Julie Wainwright, founder and CEO. "She wanted to remove the friction and difficulty of consigning, create a system that ensured all items were authentic, and be accessible to everyone, everywhere. She disrupted the old model by leveraging e-commerce and technology to create an experience that is seamless and trusted."
The online sites also made it easier to dispose of one's clothes. Instead of hauling bags of garments to a shop, those wishing to sell items can either ship clothes to the site or schedule a pickup. The site determines which pieces it will keep and returns the rest.
Sending clothes to a consignment site appeals to women who are intent on decluttering their closets. Coresight Research, in a separate report, cited The New York Times as saying consignment shops were seeing an increase in designer clothes as a result of "the Marie Kondo effect." Marie Kondo wrote a book called, "The Life-Changing Magic of Tidying Up: The Japanese Art of Decluttering and Organizing." Perhaps surprisingly, up to 70 percent of garments in a woman's closet go unworn each year.
But just because so many clothes go unworn doesn't mean women don't want something new. The Coresight/ThredUP report shows 78 percent of women say they "rarely find anything new or exciting when shopping at traditional retail stores." On the other hand,  63 percent say resale is "thrilling" because they never know what they'll find.
Judging by the most-wanted items at the RealReal, the product is thrilling.
"Our top designers are pretty consistently Gucci, Louis Vuitton, Chanel, and Hermes," Levesque says. "Gucci is hot in all categories right now, particularly handbags and apparel, and the perennial favorite in all categories is always Chanel. But, we have hundreds of designers at amazing values and we introduce our shoppers to new designers all the time, many for the first time."