The COVID-19 vaccine rollout is finally offering a glimmer of hope that the worst of the pandemic times are behind us. It may take a bit before things are back to "normal." But consumers will undoubtedly have a pent-up demand for new clothes. After all, children are always growing, people might begin heading back to their workplaces after working from home for almost a year and, like it or not, some will have to accommodate the pandemic pounds they put on while stress-eating their way through 2020.[quote]
A significant increase in apparel spending would be welcome news for the fashion industry. In 2017, the global apparel market was valued at about $1.38 trillion dollars and was expected to reach $1.65 trillion by 2020, according to Statista. However, after rising 4 percent in 2019, it was estimated the global fashion industry's economic profit would drop 93 percent in 2020, according to McKinsey's "State of Fashion 2021" report, written in partnership with the Business of Fashion.
As we begin the New Year, the McKinsey report also finds that the pandemic has turned more consumers into digital shoppers.
Mastercard Inc.'s Steve Sadove, senior adviser and former Saks Inc. CEO, agrees, saying the pandemic has hastened changes in consumer habits and values, perhaps permanently in some cases. For instance, he points out that even though consumers buy the majority (80 percent) of their clothes in a physical store, digital now accounts for about 20 percent of the total apparel purchases — and it's not likely to change.
"We shouldn't be writing off stores because stores are critically important," he told "Bloomberg Surveillance." "[However], a lot of the changes we're seeing are here to stay. It's the digitization of society. We're working differently. People are going to have a mix of working in their offices and at home. Restaurants will come back. Apparel will come back."
After 10 months of COVID misery, nearly 7 in 10 consumers (69 percent) say the experience of living through the pandemic will change the way they shop in the future, according to the Cotton Incorporated to Cotton Incorporated's November 2020 U.S. Coronavirus Response Survey, Wave 4. Since early fall, 45 percent of consumers say they're shopping online more than they did during the same period in 2019. And since the start of the pandemic (late winter/early spring) 44 percent of consumers started shopping online more.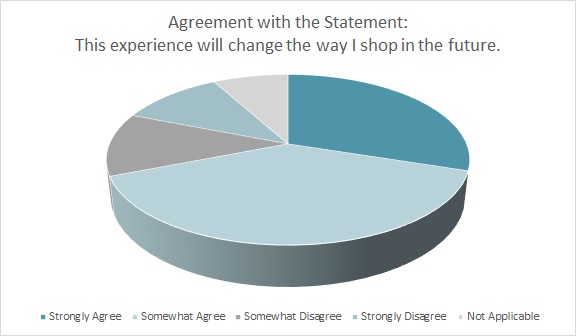 At the same time, Sadove says interest in fashion sustainability has grown significantly.
"It used to be just the Gen Z customer, but now everybody is concerned about social justice issues, environmental consciousness, what the brands stand for and how the products are made," Sadove said. "Those kinds of changes will stick with us."
The pandemic has prompted many consumers to think about their values and that includes "keeping my family safe" (59 percent) and health and wellness (53 percent), according to the September Coronavirus Response Survey, Wave 3.
At the Bloomberg Sustainable Business Summit Global virtual event, Eileen Fisher's Amy Hall, vice president of social consciousness, says the company has been working on circular solutions in an effort to drive profits while cutting down on waste.
"We've been taking our own gently worn Eileen Fisher clothes back from our customers for 11 years now and turning some of that into new product," Hall says, describing the Eileen Fisher Renew program. "We break it down in a number of different ways. We don't throw anything out. It's this idea of trying to keep our clothes in use for as long as possible and then finding new uses for the old clothes.
"There's also sort of a halo effect," Hall continued. "We bring in new customers through Renew and they become customers for our Eileen Fisher product, and vice versa. There's also this idea around the value of waste. It's something many of us might not realize has a value, yet we're turning the old clothes into something new. "
The McKinsey report says the consumer mindset was showing signs of shifting toward less waste and more sustainability before the pandemic. But the "quarantine of consumption" could accelerate "heightened expectations for purpose-driven, sustainable action."
The EPA reports that Americans generated 17 million tons of textile waste in 2018, sending 11 million tons to landfills. And the fashion industry itself creates 92 million tons of textile waste through deadstock and over-production, according to ShareCloth, an on-demand retail, and manufacturing solution.
Rather than continue down this inefficient and wasteful path, the National Retail Federation predicts 2021 will see an increase in on-demand manufacturing.
"To be fair, it's not new, but using on-demand strategies lets brands respond faster to changing customer demand, create products as orders are placed and keep minimal amounts of stock on hand," states Susan Reda, the NRF's vice president of education strategy. "All of that meshes with the ethos of today's shoppers. In addition, on-demand manufacturing improves sustainability and moves the needle closer to the goal of zero waste. It could even shift the pendulum a bit toward nearshore sourcing."