It's kind of funny/not funny how retail and personal relationships can seem so similar. This past year has been more than tough for both. Some managed to survive, even thrive, while others succumbed to cracks that were already there. With the uncertainty of 2020 continuing to cast its shadow, those stores still in the game are embracing all they can in an effort to keep their customers loyal. For that, both relationship tips and loyalty marketing can go a long way.[quote]
When Bustle gave readers "7 Little Ways to Build Loyalty in Your Relationship," it included practicing empathy, i.e., understanding where someone is coming from and performing acts of service for them. Also, included: being an active listener, communicating clearly in order to build trust, prioritizing your partner and planning mindful surprises for them. Creating loyalty, Bustle advised, came down to someone doing little things that "would mean the world to their partner."
WGSN, the global trend forecasting company, said loyalty marketing became a priority for brands in 2020, as consumers became "fickle, hyper-informed and resourceful" while trying to cope with the disruptive effects of the pandemic. Customers quickly migrated to ecommerce, forcing businesses to pivot from conventional loyalty programs that involved physical cards to digital strategies — such as blockchain-based rewards, as well as points for following, commenting, and submitting user-generated content on a brand's social media pages.
"As global markets become increasingly commoditized, adopting digital loyalty solutions is a key differentiator," WGSN states. "While enabling brands to leverage participating consumers' data to customize products, services and marketing campaigns, it also improves user experience by making it more seamless and secure.
Brands are building closer bonds with current customers using CRM (customer relationship management) systems and building out ecosystems that enhance user loyalty by improving service quality."
Whether shoppers are buying online or in-store, loyalty is harder to come by. Nearly half (47 percent) of all shoppers say they're less loyal to brands than they were just a couple of years ago, according to the Cotton Incorporated Lifestyle Monitor™ Survey.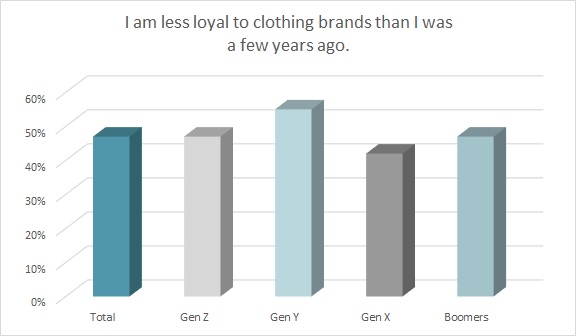 But now, the importance of connecting with ecommerce apparel shoppers is crucial, as nearly half (45 percent) say they're shopping online more now than they did early last fall, and 46 percent are buying online more these days than at the start of the pandemic, according to Cotton Incorporated's November 2020 U.S. Coronavirus Response Survey, Wave 4.
Additionally, about 7 in 10 consumers (69 percent) say the COVID-19 experience will change the way they shop in the future, according to the November Coronavirus Response Survey. Also, 69 percent of consumers say that, down the road, they will continue to buy more clothes online.
COVID-19 shook up not just how consumers shopped but how they came to feel about some of their favorite brands. In announcing Brand Keys Loyalty Leaders 2020, a study by New York-based Brand Keys, a research consultancy, apparel was described as a category that had been "vaporized" by COVID-19. Robert Passikoff, founder and president of Brand Keys, says brands like TJ Maxx, Old Navy, and Ralph Lauren were knocked out of the Top 100. On the other hand, Amazon retained its ranking at No. 1.
Passikoff acknowledges the rankings would have been different but "consumers either did not have access to or the immediate need" [for new clothes]. Of course, shopping would have been different "had the pandemic not been raging, if stores weren't forced to close, if unemployment wasn't so high and the 'new normal' wasn't so abnormal."
According to the November Coronavirus Response Survey, 72% of consumers say they are uncomfortable shopping for clothing in the physical stores due to the COVID-19 pandemic.
"For consumers, the critical questions were, 'who showed up' and who delivered when needed most?'" Passikoff says. "Even during these difficult times, consumers won't settle for a hearty, 'We're in this together' message. They won't settle for average. Consumers acknowledged brands that showed up and snubbed the no-shows."
That sounds very much like Bustle's advice about prioritizing the important people in your life.  Brands should also keep in mind that nearly half of all consumers (48 percent) say they are more loyal to clothing brands "who seem to share my personal interests such as giving back to the community, health and fitness, cooking, art, music, etc.," according to the Monitor™. In other words, brands need to be active listeners, as well as clearly communicate what they're about.
WGSN says apparel companies can "hyper-personalize" their marketing by using new technologies that are already being employed by other companies. For instance, Walgreens relaunched its customer loyalty program, allowing it to move its IT resources and on-premises applications to a cloud platform. And in China, Dyson collects registration information by labeling its products with QR codes that customers must scan to activate their warranty.
"Once processed, the harvested data then enables the company to segment its customers for analytics tracking, tailored loyalty and promotion campaigns, cross-selling, as well as granting personalized offers and product reminders," WGSN states. "The brand recently created a referral rewards campaign, offering users customized offers they can extend to friends and family members."
Digital Business Collective, a customer engagement initiative, says customers stay loyal "to companies that get them, the ones that take the time to listen and understand their customer." It advises brands to "look at every purchase, abandoned basket and website click. Use this information to give them personalized offers they can't get elsewhere and keep them purchasing from you. And 93 percent of consumers are more likely to make repeat purchases at companies with excellent customer service. The road to repeat purchase is paved with great customer service."
Passikoff says brands that connect emotionally and meet consumer expectations — especially in a crisis — can perform six times better than the competition.
"Brands that do it right, brands that show up, can be surrogates for comfort, support, and added-value," he says. "Brands that make loyalty and emotional engagement a priority appear high on our Loyalty Leaders List. More importantly, they show up on consumers' shopping lists too."