With the sheer abundance of social media sites, retailers have a variety of ways to connect with their shoppers.  But for those who truly want to engage with their customers, stores are going beyond Facebook, Twitter, and Instagram to create e-communities of their own.
[quote]Kantar Retail's Jahnia Sandford, apparel industry analyst, says such features are very important because modern retailers must be entertainment entities, as well.
"Any retail avenue that gives shoppers any more information about their brand is good because it provides an extension of that brand," Sandford says.  "It takes a lot more to sell shoppers on a brand these days.  So what Macy's has done with its MBlog and what ModCloth and [Victoria's Secret's] PINK Nation are doing with all of their engagement methods — from small to very big — all of it works."
While just 6% of consumers purchase clothing online, more than seven out of 10 consumers (73%) browse the Internet for apparel, up from 70% last year, according to the Cotton Incorporated Lifestyle Monitor™ Survey. Nearly six out of 10 consumers (58%) start their online apparel shopping at retailer or brand websites.  Perhaps surprisingly, shoppers spend nearly the same amount of time when they are buying apparel (100 minutes) whether they are in-store or online.
Retailers can use all this online time to better connect with their consumers.  HipSnip's Phil Woodward, co-founder of a London-based community platform provider, says although social media can alert customers to sales, promotions and new wares, it cannot help guide the customer through to a purchase.  On the other hand, he says, a retailer's community offers the benefit of content, conversion and customer experience.
"Apart from just having something to browse, content can help inspire shoppers and help them work out which product is right for them," Woodward explains.  "On-site communities can be woven into the fabric of the site in a direct way, contributing to conversion improvements.  And they can also improve the experience a customer has on site: seeing what others are shopping for, getting questions answered and better understanding a retailer's character."
Nearly one third of all consumers (32%) look online for apparel ideas, the Monitor shows. The great majority (87%) browses on their computer or laptop, followed by mobile/smartphone (44%) and tablet (34%).
But sometimes simply looking at pants, dresses or sweaters is not enough to sell shoppers on the product.
Stylus, a UK-based research and advisory firm, says engaging consumers online can have far-reaching effects, as fans become "vital brand advocates — not only serving to boost brand perception, but also offering invaluable insights that can transform buying decisions."  The Stylus team asserts consumers "want to be part of something," and an online community allows them to be more intimately involved with a brand or business.  Sites can maximize this relationship by giving shoppers a say, reflecting their culture and values, and letting them interact with each other.
For instance, Nordstrom's recent men's catalog features real-life wearers like designer Todd Snyder and chef Shaun McCrain with a bit of their background information.  Readers are encouraged to view full Q&As and shop their favorite styles at Nordstrom.com — a slice of omnichannel retailing that further engages its loyal customers.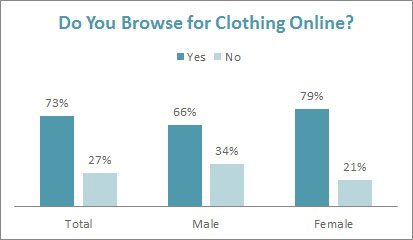 ModCloth is regularly named as a website that gets shopper engagement right.  It has its Story by ModCloth blog, and its "Be the Buyer" program that lets shoppers "Pick" or "Skip" potential ModCloth exclusive items. Shoppers can also post photos of themselves in real-life outfits and give "loves" to favorite looks.  A newer feature, Game Night, gives tips on what to wear and serve, as well as how to host the perfect party.
"At ModCloth, community is ingrained in their organization, so everything they do has that aspect," Sandford says.  "But every store is different.  Some may have two or three people blogging.  Others have a couple of people in marketing doing trend spotting or blogging. And what each retailer offers goes back to understanding their customer and giving them content they'll interact with. PINK Nation has a lot of games and interactive devices to grow their community.  Meanwhile, others like Banana Republic and Lands' End have periodicals that lend themselves to an older consumer that wants to read."
No matter how developed a retailer's online community, experts say a strong social media presence remains vital for broadening and driving traffic to the store's site.
Nearly half of all consumers (49%) shop online at chain stores, followed by mass merchants (45%), Amazon.com (44%) and specialty stores (35%), the Monitor shows.  More than eight out of 10 are "very or somewhat concerned" about apparel quality (82%) when shopping online.  A good 71% read product reviews on store sites and say they're "very or somewhat influential."
Woodward says community comes down to two key purchase drivers.
"One is affirmation — helping customers get affirmation that a purchase is right — and community support is a good way of achieving this," he says.  "The second is inspiration — inspiring shoppers to find the right piece, or combination of items. Seeing what others are buying, or getting suggestions from the retailer itself or their community is a great way to help this."