Spring means all things light and airy when it comes to warm weather apparel. But during the recent New York Fashion Week shows, cotton proved it isn't only the darling of warm weather clothes, as it made its presence prominent in a number of Fall/Winter 2018 collections, too. [quote]
Of course, there was plenty of cotton denim, as seen in jeans, dresses, skirts, shirts, and jackets. But there were also evening jackets and dress pants for men, and pleated dresses and poplin blouses with removable ruffles for women. And, of course, the ubiquitous fall fave: corduroy.
Mike Faherty, co-founder with brother Alex of Faherty Brand, a New York-based '70s surf-inspired label, says cotton continues to be his favorite fiber. Faherty showed its fall collection as part of the PROJECT Show during New York Men's Day, the kickoff to New York Fashion Week.
"Cotton continues to be my favorite fiber," Faherty says. He went on to list why the fabric works for him both personally, as well as the collection. "Unparalleled softness for the value. The color variation and texture possibilities are endless. The ability to wash it with different techniques to get unique, vintage-inspired looks. It has warmth but a great amount of breathability."
Because of this strong affinity for cotton, the fiber was featured prominently in Faherty's Fall 2018 assortment, which included shawl sweaters, ponchos, windowpane shirts, flannels, slub tees, twill pants, and ocean washed denim.
But Faherty isn't alone in his preference for the natural fiber. More than 4 in 5 consumers (81 percent) say cotton is their favorite fiber to wear, according to the Cotton Incorporated Lifestyle Monitor™ Survey. It eclipses every other fabric, as it's followed next by polyester at just 3 percent, silk (2 percent), and rayon, linen, and wool, which each garner 1 percent.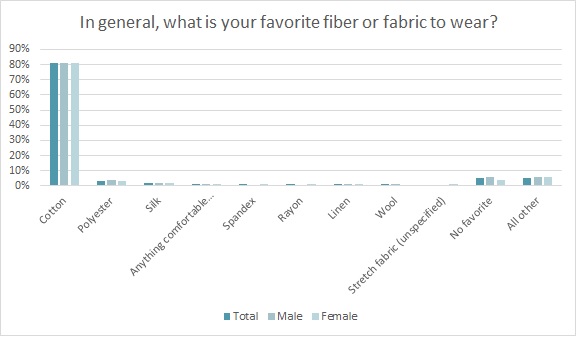 More than 9 in 10 consumers say terms such as comfortable (91 percent) and good quality (90 percent) aptly describe the attributes of cotton apparel, followed by soft (89 percent), durable (87 percent), and good fitting (86 percent), according to Monitor™ research.
The point of quality is not lost on Timo Rissanen, associate dean for the School of Constructed Environments at the Parsons School of Design. For environmental reasons, he has said we need to see a significant drop in polyester consumption in the near future, as microplastics are polluting the water sources, from oceans to drinking water.
"On a deeper level, we need to consume less in terms of numbers of garments," he says. "I would like us to spend the same amount of money on half the number of garments that we do. I would like to see the same amount of total fiber in half the number of garments. This halving in both cases is arbitrary, of course; the point is that we need to put more fiber into less things; a partial cause of the lower quality of fabrics today is that there is simply less fiber in them. We also need to buy less in numbers of items but spend more per item. And we ought to keep those items for longer."
Most people who spend more for high-end or designer fashions expect to get a lot of wear out of the pieces. It comes from the old, "You get what you pay for," school of thought. That compares with the attitude toward fast fashion, which was introduced to the U.S. market with prices so low that consumers had no qualms about wearing an item a few times before junking it. The retailers were able to keep prices low for a number of reasons, one of them being the regular use of synthetic fibers. Often, synthetics were substituted in items where consumers had come to expect natural fibers.
The majority of consumers say they are bothered that brands and retailers may be substituting synthetic fibers for cotton in their T-shirts (61 percent, up significantly from 53 percent in 2017), underwear (60 percent, up significantly from 54 percent in 2017), denim jeans (57 percent, up significantly from 52 percent in 2017), casual clothing (56 percent, up significantly from 46 percent in 2017), and activewear (50 percent), according to Monitor™ research.
"They [natural fibers] wash better, are more comfortable and the breathability is unmatched. Customization is better," Faherty says.
Gemma Hoi's runway show presented a full range of women's cotton and denim styles for Fall/Winter 2018 that were inspired by the 1940s uniforms of American female factory workers. Yet the silhouettes were completely modern. For example, dresses and skirts, while leaning toward the longer-lengths that are trending for fall, feature architecturally inspired multi-tiered hemlines, with edgy and strategic piecing for greater allure.
The Manhattanknights collection was streetwear-inspired, with cotton and vinyl hoodies, joggers, skater pants in cotton and velour, flannel shirts, and split tees in cotton and vinyl.
Cotton could also be seen throughout Michael Bastian's Gray Label presentation, in pieces like a Buffalo plaid shirt with denim collar, dark denim jeans, a military shirt jacket, skinny cargo pants, and a dusty pink corduroy shirt. Nicole Miller's cotton pieces included an orange boy's T-shirt that she paired with a faux fur bomber and camo mini skirt, matte zip-front hoodies, and black floral print cotton metal jacket and skirt. Luxury designer Zang Toi included cotton corduroy palazzo trousers, a cotton corduroy A-line trench, and a black cotton velvet dinner suit.
For Faherty's men's wear, Mike Faherty says the label's fall pieces are made with a heavier cotton yarn that is ultimately the most comfortable, easiest to maintain, and the best value.
"The key with the thicker cotton yarns is the finishing techniques, particularly with different sueding techniques," he says. "This really helps create a luxurious fabric. Especially with temperatures getting warmer, the days of thick wool jackets, with a dry handfeel aren't necessary. We can get the warmth we need with ultra-soft plied up cottons."