As the blue jean celebrates its 150th birthday on May 20, one wonders if the garment could serve as a master class in how constant reinvention is good for business.
The denim bottom started humbly enough, when San Francisco-based tailor Jacob Davis was asked by the wife of a local laborer to make a pair of pants that wouldn't fall apart. He came up with the idea to put metal rivets at the points of strain, such as the pocket corners and the base of the button fly. The pants were a hit, but to grow his new business, Davis realized he needed a partner. That's when he joined up with Levi Strauss, a dry goods merchant from whom he had purchased the cloth for his riveted pants. The two received a patent for the product on May 20, 1873.
The first denim bottoms were known as waist overalls until 1960, when Baby Boomers started calling them jeans. And from a single workwear garment, denim jeans have become a prodigious industry, expected to reach $20.7 billion in sales in the U.S. alone by 2026, according to Euromonitor International. Globally, sales of denim jeans are forecast to reach $95.2 billion by 2030, according to a report from Research and Markets.
It should come as no surprise that the denim market is expected to just keep growing, as consumers have embraced them for their versatility. The majority of consumers (70 percent) say denim jeans are their first pick for casualwear, according to Cotton Council International and Cotton Incorporated's 2021 Global Denim Survey. Nearly 8 in 10 consumers (79 percent) say they prefer to go places where they can wear jeans. And 36 percent of consumers say they expect to wear denim jeans more often if their workplace shifts to a more casual dress code, according to the Cotton Incorporated Lifestyle Monitor™ Survey.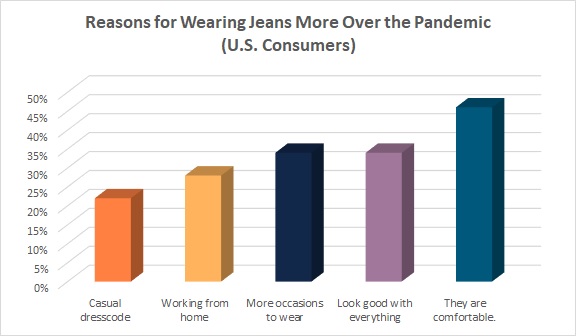 Because denim is pulled on for so many occasions, consumers say they plan to purchase the same amount (62 percent) or more (20 percent) in the next 12 months as they did in the previous year, according to Monitor™ research.
And in the coming seasons, shoppers will have so many new styles from which to choose. Take Levi's, for instance. Of course, the brand that started it all will continue to offer traditional styles like their 501 original fit jean. But the brand is also known for its collaborations, like the recent sold out collection with JJJJound and Nigo. There are also special collections like Levi's Pride, which not only celebrates but is represented by members of the LGBTQ+ community. Another is Levi's WellThread, a collection featuring fresh fits – like the "Baggy Dad Women's Jeans" – but made using low-impact manufacturing with the assurance that every material can be recycled at the end of the garment's life.
Despite being 150 years old, Levi's is using K-pop and TikTok to connect with Gen Z consumers. The granddaddy of denim has partnered with NewJeans, one of Korea's top K-pop groups. They'll be featured in Levi's social media content throughout 2023.
Making that connection with new shoppers is important as nearly half of all consumers (47 percent) and 45 percent of those age 13-to-34 say they're less loyal to jeans brands than they were a few years ago, according to the Monitor™ research. However, once consumers find a brand they like, most (76 percent) tend to buy the same brand.
So, what do consumers want when they're searching for a new pair of jeans? Fit and comfort (both 95 percent) top the list of features shoppers consider important to their denim purchase decision, according to Monitor™research. That's followed by quality (92 percent), durability (88 percent), price (87 percent), color and style (both 84 percent), includes stretch (81 percent), versatile enough to be worn for different occasions (81 percent), softness (81 percent), made of cotton (67 percent), brand (58 percent), and environmental friendliness (46 percent).
As a relatively new brand on the denim scene, Ética began with environmental friendliness in mind. Begun in 2019, the brand uses Better Cotton Initiative (BCI) cotton and its mills have earned certifications that include from OEKO-TEX Standard 100, WRAP (Waste & Resources Action Programme), and Cradle to Cradle. In a move to prove sustainability and fashion can work together, the company takes a directional approach to design and construction, offering premium fabrics, vintage-inspired washes and refined fits. Some of its best sellers this season include denim jumpsuits, split-ankle bootcut jeans, and a high-rise, barrel-legged style.
HNST is another newer denim label that began with sustainability at the heart of its brand. Started in 2017, the company's jeans are produced using 62 percent recycled denim fibers. Now offering five denim styles, each one unique in fit, flare and colorways, HNST denim is looking to meld sustainability, vintage styling and purpose-driven luxury. The company's denim retails from $175 to $200.
Just 7 percent of consumers spend more than $100 for a pair of jeans, according to Monitor™ data. On average, consumers spend $53.
Regardless of price, the clear majority of consumers (88 percent) say denim jeans will never go out of style, according to CCI and Cotton Incorporated's 2021 Denim Survey.
That's especially true if designers keep updating the category, like Madewell has this season with pieces like its low-slung cargo jeans, Harlow wide-leg denim trouser and colorful denim bottoms that come in a variety of summer colors. And like other denim makers today, Madewell is producing its new designs with an eye on eco-consciousness. To wit, 95 percent of its spring denim has at least one sustainable component and it recently launched Madewell Stovepipe Jeans, its first-ever pair using regenerative cotton.