The good thing about malls, city shopping districts and e-commerce sites is the bounty of retail choices they provide.  But such abundance makes it trickier for stores to differentiate themselves.  More and more, retailers are discovering they can distinguish their names — and improve the bottom line — with top-notch customer service.
Kit Yarrow, Golden Gate University consumer psychologist and author, Gen BuY, says people are yearning for service.  "But real service: merchandise knowledge, a willingness to listen and respond according to what the shopper wants, and a respectful attitude."
On average, consumers shop in stores about two times a month, and online once a month, spending roughly 100 minutes at each location, according to the Cotton Incorporated Lifestyle Monitor™ Survey.
Price is a factor for the large majority of shoppers (92%), the Monitor survey shows.  But beyond that, most shoppers (64%) know what they want.  So more and more, the outcome of the sale comes down to how well customers feel they are treated, whether in-store or online.
Envirosell's Paco Underhill, CEO, says retailers need to realize the modern consumer moves through her shopping experience with a clock in her head.
[quote]"When she casually wanders into a local department store for some shopping therapy, the clock is ticking softly," Underhill explains.  "But when she really needs something and is working on a short leash, the clock in her head is ticking loudly.  And if someone doesn't pay attention to her it's very frustrating."
The National Retail Federation surveyed 9,000 consumers asking which retailer they thought delivers the best customer service overall.  Apparel retailers in the top 10 are: Amazon, which held the top spot among both online and brick-and-mortar stores, L.L. Bean, Zappos, Overstock, Land's End, JC Penney and Nordstrom.
The fact that Amazon was rated first speaks to its customer service, as just 2% of shoppers typically start their online apparel shopping at their site, according to Monitor data.  Most, 64%, begin at retailer or brand websites, followed by search engines (31%), emails from retailers or brands (26%) and fashion trend sites (11%).
Jordy Leiser, CEO of STELLAService, a customer service ratings provider for online retailers, says companies with the best-perceived service really know their customer — and then over-deliver on what they want most.
"You can't be perfect at everything," Leiser says. "But the best businesses focus on things they know their shoppers care about most. Amazon stands out because it truly understands that its customer is shopping for all sorts of things amid a wide selection — and they want it all fast.  It's critical for Amazon to have lightning speed shipping and fulfillment. People love it because that layer of their service experience is unbelievable.  Their customer support reps don't need to have brand expertise in apparel."
Alternatively, Nordstrom's "designer specialists" are well versed in product detail, while flash sites excel in mobile and social media for their web savvy customers.
A recent study by STELLAService and the NRF shows 82% of 247 companies polled said customer service strategies would be their top priority for 2012, up from 75% last year.
In a separate study, American Express found two thirds of consumers would pay a premium for better service.
"If all else — product and price — is equal, American Express found consumers are willing to spend 13% more for better service.  That number climbs to over 20% for social media-savvy consumers who are constantly leveraging Facebook, Twitter and other options.  This means service-savvy retailers can charge that premium and generate added revenue."
But online shopping still poses some obstacles for consumers. Among the things that have online shoppers "very or somewhat concerned" are shipping costs (89%), return policy (80%), security of credit or debit cards (71%), personal information privacy (68%), clothing availability (67%) and shipping time (67%), the Monitor finds.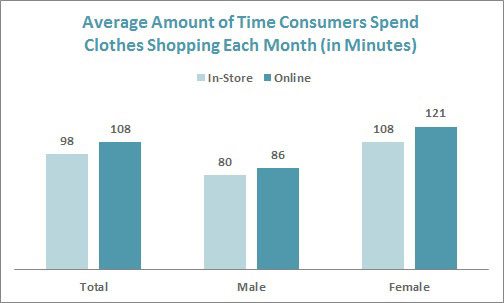 Retailers that do not stay ahead of customer complaints will suffer quickly, since the modern consumer has so many shopping choices.
"Many of us, particularly those over 40 years old, are willing to shop a cross section of retailers," Underhill says.  "The role of the Internet makes us more likely to be 'promiscuous' in our shopping. Meaning, if it's easy to switch loyalties, you do."
American Express reports that in the past year, 55% of consumers have had an instance where they decided to not make a purchase based on a poor customer service experience.
For online customers, that can translate to a page that takes too long to load, or a rude or ill-informed phone rep.  "These are two different sides of the house for retailers," Leiser says.  "One is tech driven, the other involves a call center.  Getting both sides right is challenging."
In stores, Yarrow says rudeness tops the list of poor customer service.
"It's not just subtly mocking customers shopping the sales rack, but also being left naked in dressing rooms while sales people ring someone up before returning with promised new sizes, or having to hunt down an associate to get a dressing room.  This will have a lasting effect that genuinely tarnishes a store's reputation. Service is the face of the store and will always be an important part of shopping."