The act of buying clothes can be considered either fun or a necessity, depending on the purpose. But the act can automatically be made more palatable to the American customer if the desired item is on sale. Years ago, consumers would wait for clothes to be marked down at the end of the season. But fast fashion retailers are stocking stores with new shipments on a weekly, if not daily basis, which has other merchants following suit — meaning at least some merchandise is always on sale. And that's something both retailers and shoppers are tired of — at least in theory.[quote]
Deloitte Consulting's Christina Bieniek, retail and distribution principal, says there is still confusion for retailers and customers over the cycle of sales, the number of deliveries, markdowns and items moving to clearance racks.
"We have a lot of clients who are trying to get smarter about what they're promoting," she says. "They're looking to see if they should make sales more personalized via emails that show more targeted items — so it doesn't feel like everything is always on sale. Or they're making it so their landing page has some kind of ad that's targeted directly to that customer. They're using personalization and loyalty when they're reaching out, so shoppers are more enticed."
Some stores are also shipping from their stores when shoppers buy online, or shipping between locations, so one store doesn't end up with a lot of excess.
"We're seeing play with inventory that's helping stores get out of that promotional mentality," Bieniek says.
While retailers are trying to break the sales cycle, it's not easy. The majority of apparel (51 percent) sold by key U.S. retailers was offered on sale in 2015, up from about 43 percent in 2013, according to the Cotton Incorporated Retail Monitor™ Survey.About 2 in 3 consumers (66 percent) say they shop for clothing on sale. And they don't really consider it to be a "good" sale until clothes are marked down 30 percent, according to Cotton Incorporated's Lifestyle Monitor™ Survey.
However, as much as shoppers seem to have an addiction to shopping on sale, they're also showing signs that they're ready for retail rehab. The Monitor™ data shows that 65 percent say they feel "a little overwhelmed" with all the sales, discounts, and promotions that are available when shopping today. And nearly 8 of 10 (78 percent) say they "wish clothing stores would just offer low prices and stop playing games."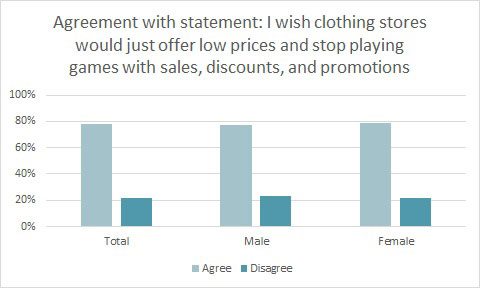 So, could JC Penney's former CEO Ron Johnson have simply been ahead of his time four years ago when he stopped having sales and coupons at JC Penney, and instead offered customers 40 percent lower prices every day? Did his real mistake lie in trying to change customer behavior cold turkey, rather than using a weaning technique?
In KPMG's 2016 annual review, David McCorquodale, head of retail, said, "Whatever the model, retailers and suppliers need more sophistication in their pricing strategies. Pricing needs to be considered as a strategic, rather than
tactical, capability. We all like a bargain but price need not be the sole determinant of that bargain."
So, what would compel consumers to look beyond the discounts and promo codes? The majority of consumers say they are likely to pay full-price for clothes that fit perfectly (73 percent), makes them look amazing (67 percent), can be worn for multiple purposes (66 percent), contains performance features that make it last longer (57 percent), and has a quality guarantee (57 percent), according to the Monitor™ data.
Then again, consumers might pay full price depending on the circumstances, like if it's something they really need or have an immediate need for (24 percent), an emergency or special event (10 percent), something they really want (8 percent), or something that's good quality (8 percent), the Monitor™ statistics show.
Deloitte's Bieniek says stores can consider leveraging their loyalty programs by giving shoppers points toward new items through the program. Another idea: exclusive product, even if it might be more difficult for a brand.
"If I know I can only get a certain piece from a brand or designer from one place, it does create a need," she says. "Obviously, you won't get there with a basic white tee. However, with more fashion-oriented pieces, you can get away with it. You want to think about your portfolio of product and how to play it in different ways. And as retailer, I would be thinking about it."
Consumers rate fit (74 percent), comfort (68 percent), and price (58 percent) as the top factors in their apparel purchasing decisions, according to the Monitor™. But 27 percent say performance features are very important, as well.
Until clothes can act as Bluetooth receivers or WiFi routers, retailers might consider promoting clothes that regulate body temperature, wick sweat, light up at night, or have hidden pockets to keep your devices dry in case of rain — or an impromptu dip in a pool.
Bieniek also points out that the delivery schedules for all of this apparel still doesn't always mesh with what buy-now/wear-now consumers actually want.
"Stores are still landing new deliveries earlier than the consumer needs them," she points out. "This is something in the industry that has not shifted. So if you need sandals in August, but the stores have all the new boots out, you'll end up looking for sandals on the sales rack. But if the delivery calendar was different, the customer wouldn't have to buy it on markdown."