When critics were bemoaning the fact that retailers were ruining "family time" by opening up on Thanksgiving night, they may not have factored in how much retail therapy people need after all that togetherness.   Shoppers hit the stores in droves over Black Friday Weekend, only to calm down and return to the more staid shopping patterns that have emerged from the Great Recession.
Consumers fairly leapt from their turkey feasts to ring up a record $59.1 billion in stores and online over the Black Friday weekend.  But by mid-month, just 11.3% of Americans had completely finished their shopping, according to the National Retail Federation.
[quote]Sure, the fiscal cliff discussion ruled the 24-hour news channels.  But most shoppers were not changing their spending patterns because of it.
WSL/Strategic Retail's Wendy Liebmann, CEO, says the fiscal cliff discussion became the white noise behind the holiday season.
"Like the stock market, we consumers know we have no control over something like the fiscal cliff," Liebmann says.  "It adds to spending cautiousness in general.  But that's pretty ingrained by now.  In our 'How America Shops' Mega Trend Report done in the first quarter of 2012, 80% of women then said their personal recession would last three or more years from this year. So there was already that level of caution being taken into account."
This holiday season, consumers continued the prudent shopping pattern they have perfected over the last few years — buying on sale, price comparing and showing more discernment in how much they purchase and spend overall.
On average, shoppers planned to spend approximately $568 on gifts this season, up 14% from $497 in 2011, according to the Cotton Incorporated Lifestyle Monitor™ Survey.  Compared to 2011, average spending plans were expected to rise the most among male gift givers (31%), those ages 25-to-55 (25%) and those making less than $25,000 per year (52%).
When all is said and done, the NRF is projecting overall holiday spending will have increased 4.1% from $563 billion in 2011 to $586 billion in 2012. That rate of growth is slower compared to last year (5.6% from 2010 to 2011), but slightly faster than the 10-year average of 3.5%.  The NRF also projects online holiday sales will grow 12% from 2011 to 2012, reaching $92-to-$96 billion.
The International Council of Shopping Centers is predicting a slightly slower pace, with increases of 3%, says Michael Niemara, ICSC vice-president of research and chief economist.
"It started softer than we expected, but we do envision December sales will pick up the slack," Niemara says. "Our prediction is optimistic in the sense that Hurricane Sandy and the fiscal cliff didn't change it.  But the underlying trend is weak, due to factors in November."
Niemara says Holiday 2012 is "a story about Mother Nature and Uncle Sam."
"Mother Nature got us off to a slow start in November, even though we had strong Thanksgiving week sales," he explains.   "And the fiscal cliff discussion gave people hesitation."
After the initial rush, consumers held back.  Niemara says the lull was consistent with past shopping behaviors, where consumers wait for last minute deals.
"The expectation on our part is that we'll see a strong finish, because consumers were behind in their holiday completion relative to past years," Niemara explains.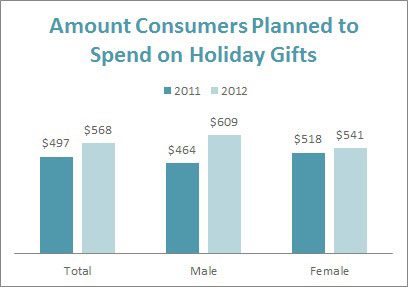 Gift cards were expected to be the top gift for two-thirds of shoppers this year, followed by clothes (49%), toys (46%), electronics (38%) and jewelry (26%) according to the Monitor survey.
On average, this season's gift givers were expected to spend $310 on electronics (down 3% from $319 in 2011), $226 on apparel (up 33% from $169 in 2011), $192 on gift cards (down 4% from $201 in 2011) and $173 on toys (up 12% from $155 last year), according to Monitor stats. Planned expenditures on apparel gifts are up 50% for women, 13% for men, 40% for those ages 35-to-70 and 16% for those ages 13-to-34.
Despite any concerns about the fiscal cliff, consumers may have been feeling freer to spend because of decreases in gas prices and unemployment, and solid increases in housing sales and prices.  Existing U.S. home sales increased 10.9% over 2011, while prices rose 11%, according to the National Association of Realtors.
Pooja Mehta, an officer with New York University's Social & Consumer Psychology Association, says rising home values allow consumers to give themselves permission to spend.
"It's a ray of hope that we've reached rock bottom and it's time to climb up," she says.  "It gives people a sense of security, and the feeling that they have a little room for spending.  It's a huge indication that the economy is poised to start getting better."
Liebmann says housing numbers are one more piece of the economic puzzle that can make consumers feel better.
"But shoppers are really taking a long view that it's not going to be the way it was pre-Recession," Liebmann says.  "They're just being cautious all the time, looking for deals and choosing wisely.   It's always interesting to see what last few shopping days are like.  Especially for retailers, who'll be ready to put their feet up and have a little extra eggnog."