Although numerous residents of New Jersey are still openly bemoaning the plastic bag ban that took effect in May, millions of people around the globe are participating in Plastic Free July, an initiative of the Plastic Free Foundation, an organization whose vision is "seeing a world free of plastic waste." Included in that waste is microplastic ocean pollution, more than a third of which stems from apparel made synthetic fibers.
A lot of people have been at home throughout the pandemic. They have had more time to think about their consumption patterns. We've seen a big change — in particular, in Western Europe and North America — in how consumers think about sustainability and what they demand from brands."

Achim Berg
Senior Partner, McKinsey
At this point, the majority of all apparel is made from polyester and other petroleum-based fibers. And their microfibers contribute to microplastic pollution as every time consumers launder their clothes, millions of tiny particles wash out with the wastewater and enter rivers, oceans, drinking water, and the food chain. Experts say it's high time for the fashion industry to start listening to not just environmental authorities, but consumers themselves.
"The planet cannot afford an industry that's not making progress," said McKinsey's Achim Berg, senior partner, in an episode of The McKinsey Podcast. "Consumers have become more demanding in that respect. A lot of people have been at home throughout the pandemic. They have had more time to think about their consumption patterns. We've seen a big change – in particular, in Western Europe and North America – in how consumers think about sustainability and what they demand from brands. Therefore, brands will have to do it all. It's not going to get any easier for brands in the whole industry in the next 18-to-24 months."
The majority of consumers says cotton clothing is the most sustainable (76 percent), according to the 2022 Cotton Incorporated Lifestyle Monitor™ Survey. Further, 40 percent of shoppers say sustainability is very important when looking at the apparel they plan to purchase.
The Plastic Soup Foundation, a non-profit marine conservation organization, has a goal of reducing synthetic fiber pollution by 80 percent in the coming years. It intends to do this by, among other things, exerting pressure on clothing manufacturers.
Separately, another institution says the "unsustainable trajectory of the modern fashion industry is alarming." The Changing Markets Foundation, a London-based organization formed to accelerate solutions to sustainability challenges, released a report earlier this year that claims 10 major certifications, labels and voluntary industry initiatives add up to nothing more than meaningless talk.
"It seems that instead of taking precautionary measures with regard to limiting microfibre [sic] release, a majority of brands are relying on TMC (The Microfibre Consortium), which, although tasked with developing a universal measuring method, has – after years of work – only released this to paying members and not to the public," the Changing Markets Foundation states in its "License to Greenwash" report. "Additionally, TMC seems to have a concerning bias in favour [sic] of synthetics, conspicuously ignoring the science suggesting that plastic microfibres are more persistent in the environment and cause more harm to health."
Beyond general sustainability, the majority of consumers (66 percent) says it's important/very important that the clothes they buy be made from materials that can biodegrade or decompose when the garment reaches the end of its life, according to Monitor™ data. A growing number of consumers (40 percent, up from 35 percent in 2021) are aware that microfibers from clothing are polluting the planet's oceans and waters. The majority of consumers (66 percent) who are aware of microplastic pollution knows that much of this is caused by washing apparel made from synthetic fibers. And nearly two-thirds (65 percent) who are aware of microfiber pollution say this awareness will affect their future clothing purchasing decisions.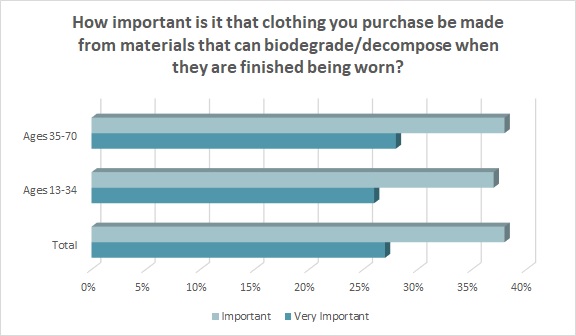 Coresight Research says sustainability is a key trend to watch in retail.
"Consumers are increasingly demanding that the brands and retailers they buy from improve sustainability and transparency; employees want to work for sustainable companies; and investors screen for ESG (environmental, social and corporate governance) to limit exposure to risks related to unsustainable businesses," Coresight states in a report.
Companies looking to be transparent with consumers while avoiding adding to the microplastic pollution in Earth's waters can turn to plant-based products like cotton fiber. While cotton garments also shed microfibers into waterways during laundry cycles, research indicates that cotton disintegrates dramatically in fresh and salt water, and degrades 76 percent after 243 days in wastewater. That compares to polyester, which degrades just 6 percent. This translates into cotton degrading 95 percent more than synthetic fibers in the same timeframe.
Since cotton's fibers are naturally occurring and biodegradable, 100 percent cotton fabrics can help reduce a brand's contribution to the growing microplastic pollution in oceans and waterways.
Eco-conscious consumers also say cotton apparel is the highest quality (71 percent) and longest lasting (59 percent) when compared to synthetic clothes, according to the Monitor™ research. Additionally, fashion designers and brands should consider most consumers are willing to pay more money to keep cotton from being substituted with lower-priced manmade fibers in a variety of apparel categories, including underwear and intimates (63 percent), T-shirts (60 percent), casual clothing (56 percent), denim jeans (54 percent), children's wear (51 percent), and activewear (51 percent).
The theme of this year's Plastic Free July challenge is 'Turn the Tide, one choice at a time' and celebrates the collective impact of millions across the world choosing to refuse plastics.
States the Plastic Free organization: "From governments and brands committing to design for a circular economy to individuals making choices in their daily lives, we know this groundswell of action is driving regulation and legislation at a global level."