The holidays are over so of course headlines are screaming "New Year, New You," with everything from the latest paleo diet book to fitness plans being foisted upon the public. But perhaps it's not consumers who need to change. Some would argue it's industries like fashion that need to be more body positive and inclusive both with their selection and presentation to appeal to today's shopper.
The message is, it's possible. I won't lie, it's a harder process. It's more expensive, but it's very possible. And I think the consumer would really appreciate and want it.

Gita Omri, size-inclusive designer
"Consumers are adopting a 'New Year, Be You' mentality," says Danny Goldstein, women's wear strategist for Fashion Snoops (FS), a leading trend forecaster, in an interview with Lifestyle Monitor™. "They're seeking brands that embrace inclusivity and allow them to feel accepted in their own skin. In order to appeal to these consumers, brands are expanding size ranges by consulting with body acceptance advocates and diverse fit models to create products that are comfortable and flattering."
The market for extended size women's apparel grew 21 percent to $34.3 billion in 2021, and was expected to increase 7.6 percent in 2022, as Axios detailed with a report from Coresight Research.
But stores and brands still aren't meeting customer demands. Currently, more than 8 in 10 consumers (83 percent) say they would like apparel brands and retailers to offer additional fits and sizes, according to the 2019 Cotton Incorporated Lifestyle Monitor™ Survey. And 70 percent would like the fashion industry to be more inclusive in their advertising and product offerings.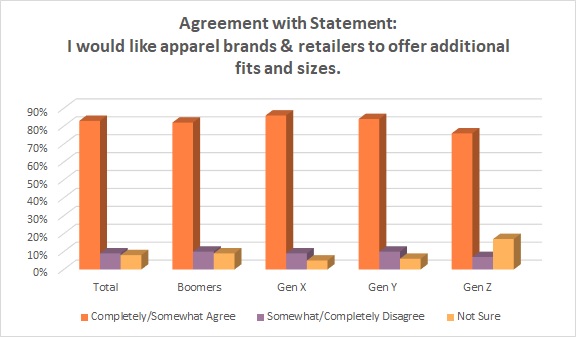 Gita Omri, a size-inclusive designer, says inclusive sizing is not synonymous with plus-size — it is synonymous with women's wear.
"I have three slim sisters. That was always a bit of a pain point growing up," said Omri, who admits she spent her life struggling with her body size. At her Spring 2023 New York Fashion Week show, Omri sent size 20 models down the catwalk side-by-side with size 4 models, both wearing the same outfit, in a nod to body positivity and size acceptance. In the interview with Lifestyle Monitor™, she added, "The message is, it's possible. I won't lie, it's a harder process. It's more expensive, but it's very possible. And I think the consumer would really appreciate and want it."
Valid point, considering the average American woman wears sizes 16 and 18, according to Neelam Vashi, MD, assistant professor of dermatology at Boston University School of Medicine. One report says this is up from an average size 14 two decades ago.
There are meaningful steps the fashion industry can take toward being more inclusive and body positive.
"Making size-inclusive products readily available and accessible is key," Goldstein says. "This can be achieved through prominent displays on retail floors with visible signage, or by offering size and fit guides on e-commerce platforms so customers can find the best fit for their body. Brands should also use inclusive imagery and language in their marketing efforts to show consumers that they are represented and valued. Consider sharing relatable stories from real people in advertising campaigns that promote body diversity."
Brands also need to keep in mind the needs and wants of this customer. Among women size 15+, comfort (96 percent) is the most important factor in their clothing purchase decision, according to the Monitor™ research. That's followed by fit (95 percent), quality (92 percent), and price (92 percent).
And when it comes to quality, the majority of consumers size 15+ (72 percent) says better quality apparel is made from all natural fibers such as cotton, according to the Monitor™ research. Further, 66 percent of them say they would rather buy clothes that are higher in quality than more fashionable. That compares to 55 percent of women size 0-to-14 who place quality over style.
Of note, the most sought-after categories for inclusive sizes differ among generations. Gen Z is looking mostly for denim jeans in extended sizes (31 percent), followed by activewear (29 percent) and, less significantly, dress clothing (27 percent), according to the Monitor™ research. Millennials are more evenly seeking denim jeans (36 percent), activewear (32 percent), and dress apparel (31 percent). Gen X is also pretty even in its search for denim (29 percent), and activewear and dress clothes (both 27 percent). Boomers, meanwhile, are mostly seeking expanded sizes for activewear (30 percent), followed by dress clothes (16 percent), and then denim (15 percent).
"There really should be no category that is off-limits for inclusive fashion," says FS's Melissa Moylan, vice president, women's wear. "After all, larger bodies have the same occasions to dress for as anyone else, and ASOS Plus Size assortments prove that trends are very much in-demand by bodies of all shapes and sizes."
But that doesn't mean simply adding inclusive sizes to one's assortment will bring the size 15+ customer.
"Compared to brands like Universal Standard, which has always been size inclusive, it's more of a challenge for straight-sized brands and retailers to attract the plus-size customer because they may feel as though they've been ignored for some time," Moylan says. "It becomes somewhat of a Catch-22 for existing straight-size brands, in that true size inclusivity cannot be fully realized without all sizes being offered in all styles."
Moylan points to Old Navy as a bellwether for the inclusivity model. It launched inclusive sizes in August 2021 but had to scale back the initiative by May 2022.
"What Old Navy got right was bringing expanded size ranges to every single women's style with no price difference," Moylan says. "In essence, they very much democratized shopping in the value sector. However, what didn't work was the roll-out to each and every brick and mortar store." Currently, Old Navy maintains their size inclusivity online, while stores have scaled back expanded sizing.
"What we could learn from that is traditionally straight-sized retailers should proceed with caution when deciding what product and how much of each size is needed at individual locations. Online sales of extended sizes should be leveraged as a key indicator of physical locations, in which a retailer may want to offer more sizes," Moylan advises. On the other hand, she says, "New brands have the opportunity of providing size inclusivity from the start, which may fare better for consumer loyalty in the long run."