Just as clothing styles change each year, so do trends in home fashions. And home textiles are no exception. Colors, textures, fibers, and fabric development all play important parts in the development of home textiles, which include upholstery, bedding, bath, and window coverings.
The global home textiles market is forecasted to reach $165.7 billion by 2028, according to analysis from ReportLinker. And some key trends will help makers reach that prediction.
Influenced by the media coverage of environmental issues and the current cost of living, consumers are thinking of longevity and purchasing higher quality furnishing rather than low-value, fast-fashion items.

McAlister Textiles
"Two words encompass trends in color, texture and fabrics – sustainability and circularity," says Ajoy Sarkar, professor of textile development and marketing, and assistant chairperson at the Fashion Institute of Technology (FIT), in an interview with the Lifestyle Monitor™.
Sarkar says colors are inspired by nature and "hark back to our shared heritage." They can be naturally dyed textiles or dyed with synthetic dyes – but remind people of Mother Earth. Home textiles will feature soothing, neutral color palettes of turquoise, citrus, coral, rose (magenta), burnt orange, caramel, moss, and oak.
"Dye manufacturers are beginning to introduce biosynthetic dyes synthesized from non-edible agricultural wastes or upcycling pre- and post-consumer textile wastes into colors," Sarkar states. "Additionally, to appeal to Gen Z consumers, nature has to be presented in the metaverse – warm colors with digitally, reproducible quality."
And as far as texture goes, Sarkar says it will be in line with colors – "rustic, cozy layering to create depth, calm, and add interest such as seersuckers, and geometrical shapes such as ovals, circles and honeycombs."
Getting the mix right is essential as consumers are amping up their purchases of home goods. Half of all U.S. consumers purchased home textiles within the last three months, according to the Cotton Incorporated 2023 Home Textiles Survey. And two-thirds of consumers did so within the last six months.
Research shows shoppers had different reasons for making a home textile purchase. For instance, when they purchased bath towels, 44 percent say were replacing old ones, 26 percent were upgrading, and 24 percent "just wanted it," according to the Home Textiles Survey. Consumers also mostly bought sheets and bedding replacements (26 percent). But when it came to blankets, most (25 percent) bought them because they just wanted them. Another 19 percent were replacing old blankets and 18 percent wanted them for a new color, print, pattern, or style.
When consumers do set out to buy new home textiles, the majority (60 percent) say it's very important to know the fiber content, according to the Home Textiles Survey. Further, 70 percent are likely to look for textiles with the marketing term "100 percent cotton." Shoppers cite quality as the top reason they want to know the fiber content of both towels (78 percent) and sheets (79 percent) they are looking to buy.
Sarkar says natural and sustainable fabrics are extremely important right now. He refers to certified recycled or upcycled fabrics such as GOTS-certified (Global Organic Textile Standard) and BCI (Better Cotton Initiative) cotton, raw silk, wool, linen, and hemp, as fibers that are among the hottest trends.
To that end, J. Crew just introduced its latest, limited-edition home designs collection, made with cotton Liberty fabrics. The exclusive capsule of bedding and table linens features designs from the iconic British print house. A number of the products feature floral motifs, which Liberty has been known for since 1875. J.Crew says the collection reflects its investment in the BCI mission "to help cotton communities survive and thrive while protecting and restoring the environment."
The UK-based McAlister Textiles also says sustainability will be an important direction in 2023.
"This is a trend that is less design-led and more focused on our buying behaviors," McAlister stated in its 2023 interior design trends blog. "Influenced by the media coverage of environmental issues and the current cost of living, consumers are thinking of longevity and purchasing higher quality furnishing rather than low-value, fast-fashion items."
Not only do consumers recognize quality, but most of them (80 percent) are willing to pay a little more money to get higher quality linens and such for their homes, according to the Home Textiles Survey. The large majority (87 percent) say quality sheets and bedding can help them sleep better. That figure jumps to 91 percent among those aged 35-to-64. Additionally, more than 7 in 10 consumers (71 percent) say they want their home textiles to be environmentally friendly.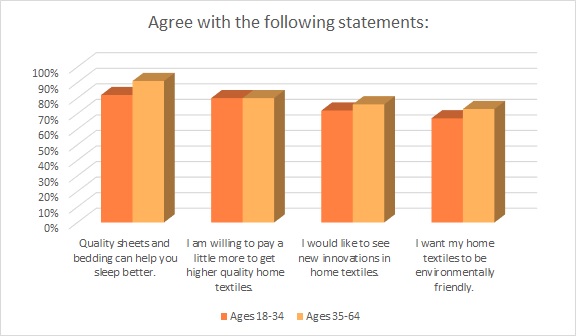 Sustainability is at the forefront of Cotton Incorporated's FABRICAST™ collection of fabrics. For instance, cotton and wool blends are used as alternatives to synthetic fleece. Virgin cotton and recycled denim combine to produce soft-hued heathered chambray. And jacquard designs in knit and woven fabrications feature an elegant sheen and rich textures for the home market.
Another take on sustainability has an old-fashioned quality about it. WGSN sees consumers covering both old and new furniture with "sweaters," to renovate, update, customize, and protect their pieces. Call them modern slipcovers.
"By covering old and new furniture with textiles and knits, consumers can bring color and tactility into interiors and maximize the life of much-loved products with minimal costs," states the WGSN interiors trend report.
The FABRICAST™collection also includes fabrics that have performance technologies like TOUGH COTTON™ technology for enhanced durability and STORM COTTON™technology for water resistance.
FIT's Sarkar says he sees performance technologies becoming more important in the home textile realm.
"In addition to water-repellency, stain resistance and insect resistance, which continue to be important, UV and fade resistance, odor control, anti-allergy and antimicrobial resistance (post-pandemic) have gained momentum," Sarkar says.