No sooner did camps start, and the coronavirus was shutting them down. Likewise, Major League Baseball started its season nearly four months late and within days, a COVID outbreak began its wretched domino effect on the playing schedule. Half of all U.S. employees worked from home during the shutdowns, according to the Brookings Institute. And many aren't returning any time soon. Google recently announced its employees will work from home until at least summer 2021. And reopening plans for schools around the U.S. are a patchwork of virtual and in-person classes, with half-day, every-other-day, or just once-a-week in-school attendance.[quote]
Never have people needed to be more flexible. And the same goes for their apparel choices. With the U.S. unemployment rate at 11.1 percent, consumers are being cautious in their spending. The need grows for versatile clothes that are comfortable at home yet suitable for the office or classroom. Denim appears to be emerging as the "old reliable" to get students, workers, and parents through this period.
Edited, the retail analytics firm, says products that are selling well for the Back-to-School (BTS) market prioritize comfort and necessity. In the heat of summer, shorts, sweatpants, and leggings are making up a higher percentage of sell outs within the bottoms category than jeans, states Edited's Kayla Marci. However, that is likely to change as the season progresses.
"Denim, generally a BTS big seller, is still gaining traction with retailers communicating stretch properties and soft hand-feel," she says.
A quarter of back-to-school shopping parents say their children's favorite clothing item to wear to school is jeans (25 percent), according to the 2020 Cotton Incorporated Lifestyle Monitor™ Survey. That's followed by activewear (15 percent), shirts/tops (13 percent), or shorts (11 percent).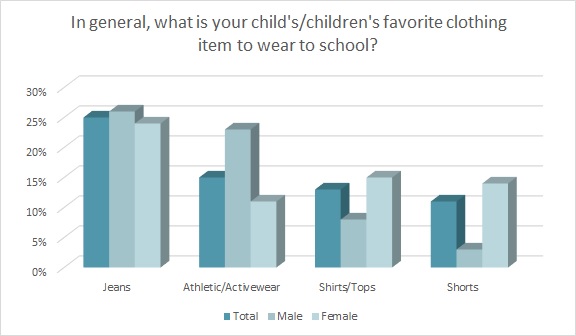 On average, Back-to-School apparel shoppers plan to buy four pairs of jeans, down from five pairs in 2019, according to Monitor™ research. But they don't plan to just buy fewer jeans; consumers are looking to cut back across all categories, intending to buy eight shirts (down from 11 in 2019), seven socks (down from nine), six undergarments (down from 10), four pants (down from six), and three activewear items (down five last year).
Marci says retailers are actively promoting kids' apparel that can be worn for learning both in the classroom and at home. And denim "continues to be a key communication story, particularly at retailers where the fabric is its bread and butter, such as Abercrombie & Fitch and GAP, highlighting again stretch and comfort capabilities," she says.
The National Retail Federation forecasts consumers will spend more this year than last for school- and college-aged students' Back-to-School needs. However, the expectation is more money will be spent on laptops and computer accessories to accommodate online learning. Parents with children in elementary school through high school say they plan to spend an average $789.49 per family, topping the previous record of $696.70 of 2019. The NRF forecasts spending will total $33.9 billion, up from $26.2 billion last year and breaking the record of $30.3 billion set in 2012.
The amount spent on apparel is expected to average about $340 per person (up 12 percent from $312 in 2019), according to the Monitor™ research. Parents planning to purchase Back-to-School clothes for their kids say they are most influenced by the apparel's quality (44 percent), durability (39 percent), what their kids already own and like (38 percent), school policies (30 percent), and trendy styles (29 percent).
"By any measure, this is an unprecedented year with great uncertainty, including how students will get their education this fall, whether they are in kindergarten or college," said Matthew Shay, NRF president and CEO. "Most parents don't know whether their children will be sitting in a classroom or in front of a computer in the dining room, or a combination of the two. But they do know the value of an education and are navigating uncertainty and unknowns so that students are prepared."
That type of uncertainty will, of course, affect consumer confidence. A study by Accenture find 85 percent of consumers in stabilizing markets and 86 percent in advancing markets are worried about the impact of the pandemic on the economy. Additionally, 69 percent of consumers in stabilizing markets and 80 percent of those in advancing markets are fearful for the health of others. This uncertainty has led to 35 percent of employees worldwide planning to increase the frequency with which they work from home.
This is where denim's versatility again comes into play. Nearly two thirds of consumers (60 percent) say they wear denim jeans or shorts at least three times a week, according to Monitor™ research. And during the weekday, the majority of consumers (57 percent) say they typically put on their denim jeans/shorts in the morning, to wear for the day.
For men, the most popular style continues to be relaxed fit (35 percent), followed by classic or regular fit (25 percent) and slim fit (14 percent), according to Monitor™ data.
Among women, the Monitor™ finds skinny/super skinny (25 percent) is the most popular fit. That's followed by relaxed (18 percent), classic or regular fit (18 percent), boot cut (14 percent), and slim fit (13 percent).
The majority of consumers say fit (76 percent), comfort (72 percent), price (59 percent), quality (57 percent) and durability (53 percent) are very important in their denim purchase decisions, according to the Monitor™ data.
Although sweatpants and leggings have proven very popular choices as COVID-19 forced people to work from home, Edited's Marci says denim jeans with comfort features have seen particular success. The majority of SKU sell throughs of women's stretch jeans rose 23 percent year-over-year, she says, making them a low-risk investment to "refresh your denim promotions during these uncertain times.
"While retailers' supply chains may be compromised as coronavirus continues to affect arrivals, it's essential to maintain an aura of newness to keep consumers engaged," she says. "Look to retailers such as J Brand, Madewell and Topshop who have highlighted comfort in their recent denim communications."