It's that time of year again, when people are hauling out the holly, Jack Frost is nipping at noses and – if expectations prevail – shoppers will be rushing home with their treasures.
Despite reports of lingering consumer concerns about inflation, Mastercard Spending Pulse expects U.S. retail sales to increase 3.7 percent this holiday season compared to last year.
"While the consumer of holidays past may have been a consumer trying to find footing in a rapidly shifting economy, the consumer of holidays present has taken their power back," said Michelle Meyer, U.S. chief economist, Mastercard Economics Institute. "We expect these individuals to impressively navigate the holiday season, making choices and trade-offs that best suit their lifestyles."  
Our forecast also reflects a decreasing pool of pandemic-era savings, both of which will weigh on retail sales and are reflected in our lower projected growth for the season.

Daniel Bachman, U.S. economic forecaster, Deloitte
To be sure, there's an interesting dichotomy going on with consumers right now. On the one hand, holiday shoppers say they plan to spend about $914 on gifts this year, which is a very significant 38 percent increase from last year's average of $661, according to the 2023 Cotton Incorporated Lifestyle Monitor™ Survey. On the other hand, many shoppers say they're watching their spending this year, with 18 percent claiming they plan to be stricter with their budget, 17 percent saying they will cut back spending due to limited funds and 17 percent saying they will cut back because "things are too expensive."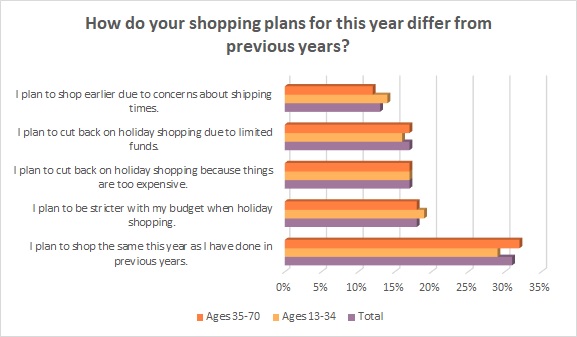 These budgetary intentions come after a summer of similar concern/spending. In their Axios Macro newsletter, Neil Irwin and Courtenay Brown report that Americans "can't stop, won't stop… spending money." From July through September, retail sales rose at an 8.4 percent annual rate.
"For all the discussion of headwinds facing consumers – recession worries, higher borrowing costs, the restart of student loan payments – the reality is that the unemployment rate remains extremely low, and wages are rising a bit faster than inflation," the pair contend in the Axios Macro newsletter. "That's a recipe for Americans to put those paychecks to work, even if the rip-roaring pace of the last three months is unsustainable."
Deloitte is also expecting healthy holiday sales, forecasting an increase between 3.5 percent and 4.6 percent this season. Further, it expects ecommerce sales to increase 10.3 percent to 12.8 percent.
"We expect healthy employment and income growth to keep the volume of sales growing for the 2023 holiday season," said Daniel Bachman, Deloitte's U.S. economic forecaster. "Inflation, which accounted for much of the increase in the value of retail sales last year, should moderate. This means the total value of retail sales will grow more slowly than last year. Our forecast also reflects a decreasing pool of pandemic-era savings, both of which will weigh on retail sales and are reflected in our lower projected growth for the season."
Last year, holiday retail sales grew 7.6 percent.
Although nearly 2 in 3 shoppers (63 percent) say inflation concerns will affect how much they spend on clothing gifts, the majority (79 percent) say they will be spending as much (57 percent) or more (22 percent) on apparel gifts this year as they did in 2022, according to Monitor™ research. On average, shoppers plan to purchase clothing gifts for about 4 people this season, the same as last year.
On average, holiday shoppers plan to spend $321 on clothing gifts, similar to the average of $323 last year, according to the Monitor™ research. They expect to spend $199 on gift cards, up from $169 last year, but down from $244 in 2021. Shoppers plan to spend $408 on electronics, which is up from $355 in 2022, but down from $428 in 2021. Spending on home textiles is expected to increase from $113 last year to $131 this holiday season. But the largest holiday spend is expected to go toward experiences. Shoppers plan to spend $492 in this category, up significantly from $201 in 2022 and $287 in 2021.
To spread out their spending and lessen the blow to their credit card statements come January, and to avoid some of the last-minute holiday rush, consumers have started shopping earlier for their holiday gifts. The Monitor™ research shows 1 in 3 (31 percent) plan to start their holiday shopping before October.
Almost 6 out of 10 (59 percent, up from 51 percent in 2021) plan to shop in stores on Black Friday, according to the Monitor™ data. Slightly more than one-third (34 percent, down significantly from 42 percent last year) plan to shop in stores the week leading up to Thanksgiving. Another 31 percent plan to shop in-store on Christmas Eve, up significantly from 20 percent in 2022). Small Business Saturday should see 27 percent of shoppers in-store, while 23 percent plan to take advantage of deals by shopping in-store on Thanksgiving Day and after Christmas (23 percent).
In a recent Coresight Research webinar, founder and CEO Deborah Weinswig pointed out to guest R.J. Hottovy, head of analytical research at Placer.ai, that holiday shopping gets earlier and earlier every year.
"I think the most recent data I saw said one-third of consumers have already completed their holiday shopping," Weinswig stated. "The entire fourth calendar quarter is now kind of defined as holiday. Halloween moves earlier to make room for holiday."
Hottovy agreed, while adding that there are swings in the fourth quarter – citing last November's soft period before sales began picking up again closer to the holidays. "It's interesting because if we kind of look back to last year on a year of over pre- versus post-pandemic basis, we were actually up most of October," Hottovy said. "Also, Halloween has become a bigger part of the overall holiday calendar. This 'pull forward/earlier/ spread out the holiday' season is going to benefit October. And I think the spread out holiday season is here to stay."