Retaining customer loyalty has been a concern for brands and retailers since, well, forever. But factors like online shopping and social media made things more complicated. And then COVID took a hammer to the idea of shopper devotion. That's why more companies are introducing innovative technologies to help retailers connect with consumers wherever they're shopping and adapt to their needs.
At the National Retail Federation's recent NRF 2023: Retail's Big Show, the Innovation Lab showcased more than 50 retail technologies that applied the latest advances in artificial intelligence, visualization, machine learning, facial recognition, data analytics, robotics, and more.
One such company was Syrup Tech, an AI-powered predictive software venture for inventory planning and optimization. It's backed by Google's Gradient Ventures. The idea is to empower merchandising teams to make informed, data-driven inventory decisions using predictive analytics. This is not only cost-effective, but it heads off over-production and waste.
"Sustainability is a passion of mine," states James Theuerkauf, co-founder and CEO of Syrup Tech. "The overproduction and excess inventory in retail is an enormous problem that Syrup is trying to solve, leveraging AI and data science. Syrup takes the guesswork out of inventory planning and allocation, and enables smarter and greener decisions about ordering, etc. Ultimately, AI can help make fashion, one of the world's most polluting industries, more sustainable by reducing overproduction and only producing what's needed."
That type of mindset can help brands increase loyalty, as nearly 6 in 10 consumers (58 percent) say sustainability/environmental friendliness has an influence on their clothing purchase, according to the Cotton Council International (CCI) and Cotton Incorporated 2021 Global Sustainability Survey. And nearly half (48 percent) say they're more loyal to brands that seem to share their personal interests; this despite 47 percent saying they are less loyal to clothing brands than they were just a few years ago, according to the Cotton Incorporated Lifestyle Monitor™ Survey.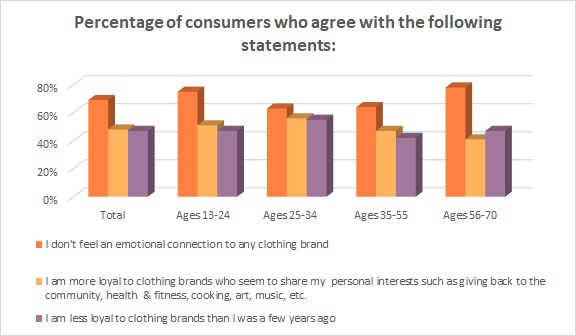 Of course, sustainability is just one factor affecting consumer purchasing decisions. Today, shoppers also care about ethics, personalization, price, product assortment, and convenience.
"As consumer demand has become increasingly fickle, being in-stock in the channels where consumers are shopping — be it online or brick and mortar — is more important than ever to delight consumers and not lose them to competition," Theuerkauf says. "AI-powered technology can help retailers pre-empt hyper localized demand and ensure they are in-stock to meet the consumers where they are."
Gathering this data can be tricky without using a specialized technology, as 76 percent of consumers say they do not like companies tracking them online, according to 2021 Lifestyle Monitor™ research. However, about half (49 percent) are willing to let companies they trust use some of their personal data gathered online at point of purchase for specific purposes that benefit them. And 42 percent are willing to let brands and retailers use their online browsing and purchase history to deliver personalized ads and shopping recommendations.
Stores and brands can capitalize on the fact that consumers are already open to using online shopping technologies such as buy online/pickup in-store (27 percent), live chat customer assistance (24 percent), same-day product delivery (22 percent), virtual reality (8 percent), a virtual assistant to help choose products (6 percent), and live stream shopping events (5 percent), according to Monitor™ research.
Certain information gathered at point of purchase can help cut down on future returns, something that hurts every retailer's bottom line. Additionally, a poor return experience can damage a store's relationship with the customer. On the other hand, Shopify points out that a well-executed return can help shoppers appreciate a store's customer service, leading them to buy something new or at least build a more engaged consumer relationship.
ReturnLogic, a Philadelphia-based firm that specializes in return management software, was another company that exhibited at the NRF's Innovation Lab. The firm's technology helps brands customize their returns portals, free up their customer support teams, automatically process warehouse team returns and accept warranty requests on purchases made inside or outside their e-commerce sites.
"With over $816 billion worth of retail merchandise returned last year, ecommerce retailers are looking for ways to reduce operational costs and improve their bottom line. Investments in intelligent returns management technology are pivotal to protecting retailer profitability and an optimized reverse supply chain," said ReturnLogic's Peter Sobotta, founder and CEO. His company's technology gives retailers the opportunity "to manage their post-purchase and reverse logistics challenges as they scale."
Other companies at the NRF Innovation Lab focused on personalized shopping experiences. The firms included Dresslife , Crossing Minds, and Fit:Match. Dresslife is a personalization engine that predicts the probability of a customer liking and keeping a piece of apparel. The intention is to increase a brand's revenue while reducing returns, help customers more quickly find clothes they want and that fit, thus making shopping more sustainable. Crossing Minds is a behavior-based recommendation technology that leverages on-site actions instead of personal or demographic data. This allows businesses to give individualized recommendations to anyone – "even new and anonymous users." Meanwhile, Fit:Match uses augmented reality to come up with an online shopper's 3D body shape. It then makes personalized recommendations based on which products fit the shopper's "digital twin."
Other firms at the Innovation Lab, like Reflaunt, Eon, and Olive, focused on resale and sustainability. Reflaunt helps traditional retailers participate in the resale or secondhand market. Eon helps brands create digital IDs for every item. As the NRF Supply Chain 360 described it, this technology "helps brands bridge the gap between digital and physical while also helping them deliver on sustainability, transparency and circularity goals." The technology also lets brands turn their products into personalized media channels "that invite customers into a world of information – including an item's authenticity, origin, design and services." And Olive is a sustainable delivery packaging company that provides a 50 percent reduction in returns shipping costs and delivers orders in "well-designed, reusable packaging," perfect for connecting with those eco-conscious shoppers.
These companies are out to prove if connecting with consumers is a retailer or brand's top priority, they have the right tech to make it a reality.