When was the last time you went to a new restaurant without checking Yelp or Google reviews? The same held true for checking movie reviews. It used to be vital to check reviews before dropping double digits on a movie ticket. Now that we're buying so much online, we've reached the point where we want to know reviews for just about everything before we make a purchase. And that includes our clothes. [quote]
Natalie Luneva, vice president of marketing at Wiremo, a customer review software platform, says stores and brands that add reviews to their ecommerce sites can significantly increase their brand's efficiency. Product reviews, she says, have multiple benefits: they improve SEO — "this is a hidden gem so many people miss;" they're good for user-generated content via photos/videos and Q&A; they increase trust in a product and can increase sales considerably.
"Both positive and negative reviews will increase sales," Luneva says in an Ecommerce Tech webinar titled, "How to Leverage Product Reviews to Improve Conversion Rates." "There was a study done that explains that if a product has a couple of five stars and a couple of negative reviews, this is still increasing and improving conversion compared to zero reviews. So negative reviews are not necessarily just that. The likelihood for purchase of a product with 5 reviews — and no, I did not say five-star reviews — is actually 270 percent higher than products with no reviews."
Reviews can be used on home pages, social channels, product pages, even checkout pages, Luneva says, as they increase trust.
Most consumers (87%) read customer reviews when they shop online, whether it's every time (26%), most of the time (37%), or sometimes (24%), according to Cotton Incorporated's 2020 Coronavirus Response Consumer Survey (Wave 1, March 20-25).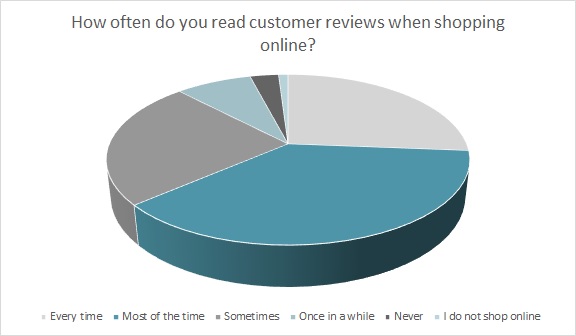 The majority of shoppers (61 percent) are reading reviews to find out the cons/negatives of a product, according to Cotton Incorporated's Coronavirus Response Consumer Survey (Wave 1), followed by 55 percent who are looking for a garment's pros/positive aspects. Another 53 percent read reviews to find out if a product meets expectations (does it match picture and description), while 51 percent want to learn specific things about a product (such as sizing, fit, durability), 41 percent want to compare products and decide which to purchase, 38 percent are interested in how a product functions during use, and 27 percent are concerned with shipping or customer service issues. Finally, 20 percent read reviews to judge the authenticity of the brand or retailer.
The National Retail Federation said TikTok proved to be a popular sales driver during the pandemic, as bored users with time on their hands scrolled through posts with the #tiktokmademebuyit hashtag and watched posters give their reviews of all kinds of products. A YPulse report found that Aerie's Offline Real Me High Waisted Crossover leggings enjoyed wild success thanks to TikToker @hannaschlenker. Schlenker, who has danced and lip-synced her way to more than 836,000 followers, wore the Aerie leggings last November as she grooved to Justin Bieber's "Drummer Boy." Her fans demanded details on the bottoms and, just like that, the item sold out. Soon after, others who actually scored a pair reviewed the leggings, which only help continue its popularity.
The majority of consumers (88 percent) trust reviews to give them helpful information about the products they buy, according to Cotton Incorporated's Coronavirus Response Consumer Survey (Wave 1). And nearly half (87 percent) rate online customer reviews as believable.
Consensus Advisors points out authentic reviews and ratings that use realistic photos and videos help bridge the offline-online gap and can be a strong resource in battling product returns.
Genuine reviews of fashion items are treasured by consumers, especially when it comes to how something fits. While more than 2 in 5 consumers (46 percent) say they check the detailed fit guide when shopping online, 42 percent say they use customer reviews to ensure they are getting the correct size, according to Cotton Incorporated's Lifestyle Monitor™ Survey (January 2021 Special Questions). That's why consumers think that, for believability, it's especially important that posted reviews are from verified purchases of a product (49 percent). Shoppers would also appreciate customer-submitted pictures or videos of the product (40 percent), users' personal experiences with the product (38 percent) and fewer bot/computer-generated reviews (36 percent), according to the Cotton Incorporated Coronavirus Response Consumer Survey (Wave 1).
Luneva says brands and retailers can help generate and grow their reviews by straight-up asking customers to submit a review of previously purchased merchandise. They can also gain consumer insight by exporting reviews from Facebook and Google. And when any customer support issues are resolved, she says companies should ask customers to leave a review, as they'll often feel motivated to do so at that point. She says consumers are often willing to leave a review just because they want to help others. But merchants can also offer discounts or a product sample to those who leave a review, photos, or videos. She also says it's vital that stores and brands respond to every review, whether it's good or bad, so as to acknowledge and appreciate the customer.
While reviews can be a real boon to merchants, a report from Forrester Research shows very few stores that have multiple locations provide location-specific information, ratings, and reviews. The report says customers use information about local stores to decide whether or not to visit a particular location.
"Roughly 60 percent of marketers in our study agree that what customers see on local rating, review and social sites has a direct impact on their customers' decisions to visit a store and make a purchase," the Forrester report states. "Locations that lack accurate information and don't appear well within major customer discovery channels will lose foot traffic and sales to their competitors."
Forrester says problems arise when brands don't have the marketing resources to maintain local sites across tens or even hundreds of stores. Its study shows 24 percent of multi-location businesses admit to struggling to "properly assign local questions, reviews, etc., to appropriate parties within our organization to be resolved."
Companies like Bazaarvoice can help manage rating and review programs. It offers multiple tools for brands to review user-generated content, insights into what customers like (or don't like) about a store or brand, as well as accounts that compare a brand with its competitors. Likewise, Wiremo helps brands collect and manage reviews from platforms like Shopify and Squarespace, provide feedback to customers and review shopper sentiment.
"Customers are obviously hungry for details," Luneva says. "When you respond to your reviews, you have a golden opportunity to market to your existing shopper. This is an amazing way to make your existing clients feel appreciated and they're much more likely to become good customers."