If you're like many and wonder why certain trends like "Y2K fashion" or "power bohemian florals" seem to blow up out of nowhere, you can thank social media. While it's great to realize where these trends originate, it might be harder to figure out how to harness online inspiration and channel it into actual fashion offerings.[quote]
As Fashion Snoops (FS), a consumer insight and trend forecasting company, recently pointed out in a webinar titled, "How to Track Trends Using Social Media," trends are increasingly dictated by consumers and influenced by multiple sources – from niche influencers and internet-first brands to celebrities and designers.
Social media can influence a trend at various stages of the lifecycle, sometimes reactivating or extending its relevance. There's normally a lot that's going on underneath that layer that's speaking to more of what consumers are feeling and what they're expecting or needing. From that standpoint, understanding consumer needs and expectations really helps to define a clear and predictive path."

Jenna Guarascio
Vice President, Content Strategy, Fashion Snoops
"Whereas the traditional adoption rate of a trend used to be somewhere around one to two years, today's trends can go viral in just a few weeks and have a varied shelf life of several years, to only a couple months or even a week," explained Fashion Snoops' Jenna Guarascio, vice president, content strategy. "Not only are brands now required to react differently, but they're also required to anticipate and interpret trends for future assortment. If you know where and how to look, social media can be leveraged to help you better predict your consumers' expectations and make more informed decisions at each stage of the product development process."
Guarascio advised brands to define and segment the different types of profiles they want to follow. For example, while it's important to track celebrities, it's also important to look at brands and people that are either ahead of the curve or are more niche and outside a mass market sensibility. It's also important to know what to track in order to identify whether a brand is at the peak of its popularity or whether it could be used for future assortments or brand strategies. But the most important factor, she says, is knowing why these trends are happening.
"How are consumer expectations changing and why are they driving that new product desire?" Guarascio asked. "The answer is what we at FS call cultural sentiments, which we identify at the beginning of each seasonal forecast to really set the pathway of what to expect from a product and design perspective. The sentiments are just the starting point, as there are various sources and influences that follow and define a trend throughout its lifecycle."
Sentiment around social media's influence on style varies, too. When asked for their fashion inspo sources, 33 percent of women and 26 percent of men cited social media, according to the Cotton Incorporated 2022 Lifestyle Monitor™ Survey. That percentage leaps to 50 percent among consumers aged 13-to-24, and remains high at 40 percent of those aged 25-to-34. It dips to 25 percent among the 35-to-54 year olds, and drops to 9 percent among those aged 56-to-70.
Among the younger sets of consumers, social media is the second-most popular influence behind what they already own and like (67 percent), according to Monitor™ research.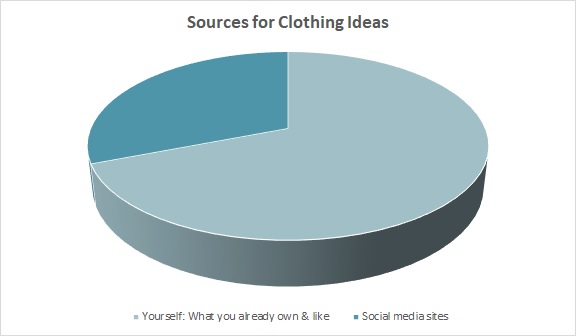 The most popular sites for fashion ideas are Instagram (73 percent), TikTok (52 percent), Facebook (49 percent), YouTube (45 percent), Pinterest (42 percent), Snapchat (23 percent), Twitter (22 percent), and Tumblr (5 percent), according to the Monitor™ research.
Among Gen Z consumers, Instagram is the favorite (78 percent), followed by TikTok (71 percent), Pinterest (49 percent), YouTube (40 percent) and Snapchat (23 percent), according to Monitor™ research. Facebook comes in at just 17 percent, followed by Twitter (14 percent), and Tumblr (3 percent).
Interestingly, YPulse, a Gen Z- and Millennial-focused market research firm, found the fashions that are trending on TikTok's For You Page aren't always what's worn in in real life. More than half of 13-to-39 year olds told YPulse they have worn an outfit purely to take a picture or video for social media. Nearly two-thirds (61 percent) say their style on social media is how they want others to perceive them. And quarter of young people say they have worn comfortable clothes to a location only to change their outfit for a social media shoot.
YPulse also discovered that although younger generations "may seem like their shopping decisions revolve solely around the latest #core, their go-to style remains pandemic-chic: casual and comfortable." Nearly half (47 percent) say their social media style is different from their day-to-day. In fact, comfort continues to rule their everyday wardrobe choices, "which is why mom jeans and sweats continue to be offline uniforms." Most of those surveyed (74 percent) say their everyday style is ruled by comfortable "basics," and two-thirds say they would consider their favorite sweats part of a dressed-up look if it was styled correctly – continuing the relevance of loungewear.
A further heads up for brands: Consumers aren't likely to purchase directly from social media. So far, about 20 percent of all consumers have bought a product off social media by clicking a link or image, according to the 2020 Monitor™ data. Those aged 35-to-55 are mostly likely to do so. Looking forward, just 30 percent say they're likely to buy an item directly from the social media platform where they first spotted it.
After Guarascio explained the genesis and lifecycle of a fashion trend on social media – such as Barbiecore, defined by a range of pink hues in clothing and accessories – it became clear some of these "viral" trends have actually grown over time, with a legion of influences bringing them to the fore. Additionally, the weight of a hashtag can give legs to a look that has already been around (think coastal grandmother). And pop culture can accelerate a trend although it's not typically the initial manifestation.
"Trends are no longer linear," Guarascio said. "They're a multi-layered ecosystem. Social media can influence a trend at various stages of the lifecycle, sometimes reactivating or extending its relevance. There's normally a lot that's going on underneath that layer that's speaking to more of what consumers are feeling and what they're expecting or needing. From that standpoint, understanding consumer needs and expectations really helps to define a clear and predictive path."