For teens, there is no shortage of venues to find celebrity news, hair tips and apparel inspiration.  From TV shows and movies to Huff Post Teen, style messages are ubiquitous.  And while teens admit to giving more credence to their friends' opinions when it comes to buying new clothes, there is no doubt that star power can create the kind of buzz that separates one product from the rest of the pack.
That is one reason why Cotton Incorporated has signed Hayden Panettiere, 23, a TV and movie actress currently starring on ABC's "Nashville" — as well as a veteran of more than 50 TV commercials — to the latest The Fabric of Our Lives® campaign.  Shot on location in Nashville, the 15- and 30-second spots feature cotton apparel from Missoni, Valentino, J. Brand, Ralph Lauren Denim and Anthropologie.
The NPD Group's Marshal Cohen, chief industry analyst, says instant recognition is critical when trying to establish a relationship with teens.
[quote]"If I want to connect with younger consumers, I have to create an association with a celebrity who has the ability to take the brand high immediately," Cohen says.  "It's a much different pace when not using a famous name."
While 59% of teen females age 14-to-18 say "people they see regularly" are a source of apparel ideas, they also cite the Internet (43%), fashion magazines (33%), TV shows (25%), celebrities (24%), and commercials and ads (19%) as sources of apparel ideas, according to the Cotton Incorporated Lifestyle Monitor™ Survey.
Fuse Marketing, a Vermont-based youth culture agency, says celebrities serve the purpose of attracting significant attention to a new product launch or brand, but it is "critical" to ensure the partnership is the right fit.
Says Fuse's Ara Finlayson, insights director, "When teens do embrace a product endorsed by a celebrity, it is because they relate to them, aspire to be them and see them as a reliable source."
Following the five-year tradition of The Fabric Of Our Lives® campaign, Panettiere sings a variation of "The Touch, The Feel of Cotton" song.  The actress was chosen for her "all-American, girl-next-door quality," says Ric Hendee, senior vice-president of consumer marketing for Cotton Incorporated.  "Hayden had the look and crossover country sound we were looking for."
Hendee adds that the commercial celebrates American originals — like country music, denim and U.S. cotton growers, who are the top exporters of the fiber to the global textile industry.
While teens appreciate a celebrity endorsement, most say a glowing product review from a friend counts more, the Monitor shows.
However, as Cohen points out, "If you ask them, 99% of time teens say their friends have more influence than celebrities, even though the friend might be influenced by celebrities."
Tom Kolovos, a Chicago-based stylist and editor-in-chief of "A Controlled Substance," says consciously or not, there is a symbiosis between a star and the shopper.
"If you like a celebrity and they endorse something, you might endorse it next," Kolovos says.  "It's like trusting a friend.  You identify with them."
Fuse's approach is that "a brand's success or failure lies in its ability to leverage a celebrity in its marketing efforts online, at live events, in broadcast media, and ultimately at retail."  A longer-term, multi-faceted strategy is more likely to yield lasting relationships and results.
Panettiere's endorsement builds on the celebration of America's style that was showcased at Cotton's 24 Hour Runway Show in Miami in March.  The historic rise in cotton prices and subsequent erosion of market share due to synthetic substitutions in traditionally cotton-dominant apparel partially influenced the wardrobe selections of the day-in-the-life vignettes of Panettiere's commercial.
"Going back to 2008, the campaign has highlighted cotton as an ingredient in high-end designer apparel," Hendee says.  "With Hayden's spot, we're also reminding consumers real denim is made from cotton; an idea that suited Hayden's individual tastes and the contemporary country style of the music."
Aside from influencers, when it comes to making an apparel purchase, female teens say top purchasing factors are fit (98%), comfort (92%) and price (91%), according to the Monitor.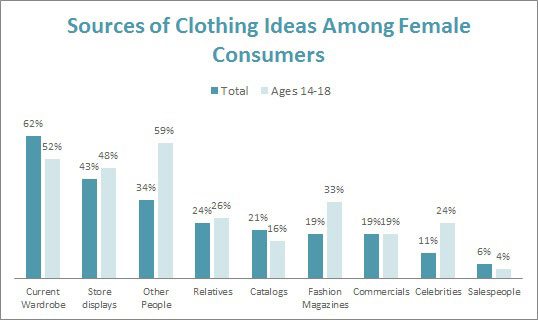 "Value still plays a big role and they're looking for bigger value since the recession," Cohen says.  "That's why you see celebrities involved in value brands like Kohl's, Target, etcetera.  It's hard to find jobs so money comes down to Mom and Dad.  Teens start saying, 'I'll go to Target for some of my clothes, but then will you let me get this at Abercrombie?' It's a negotiation."
Among young shoppers, the Monitor finds a 33% say apparel worn by celebrities is "very or somewhat influential" in their own wardrobe choices.  And 25% say it is "very or somewhat important" that new apparel purchases are endorsed by someone.
Meanwhile, the majority (56%) of young shoppers like to stay on the cutting edge of fashion, the Monitor finds.  And the fastest way to establish a trending brand or style is by linking with a celebrity.
"If I created a brand called Suzy Q, what does that mean to the market? Nothing," Cohen says. "But if I have a celebrity associated with the product, I now have instant recognition."