It's kind of funny/not funny how the fashion industry still considers single-digit sizes the norm just because that's the way it's always been. After all, the pandemic brought on stress eating that had most people packing on excess pounds. And that's on top of the fact that most Americans were already overweight. While some brands have figured out how to cater to the extended sizes market, there remains a lot of room for growth.
Shoppers want to feel understood by brands and fit is the single most important connection the brand can make from first purchase…Brands that get the size and fit experience right with their customers will earn long-term loyalty.."

Jessica Murphy
Co-Founder & COO, TrueFit
The plus-sized market continues to be underserved, said Nadia Boujarwah, founder and CEO of Dia & Co, a styling and ecommerce platform for sizes 10-to-32. She spoke during a recent Glossy podcast.
"One of the perils of the plus-size market is that because it's so underserved, it's easy to think that it will be easy to have a business in that category," Boujarwah said. "It must be that if we have a product, the customers will appear and the business will be successful. And the truth is that it's just not easy in any way."
Globally, the plus-size market was valued at $48 billion in 2019, according to Allied Market Research, and is expected to reach $69.6 billion by 2027. The firm found casual wear represented the largest share of plus apparel in 2019.
Boujarwah said brands that want to succeed in the extended/plus-size market must first invest in product development to get the fit right. Then they need to invest in inventory so product is available both online and in-store if they have brick and mortar locations. Finally, they have to let plus customers know they offer product in their sizes.
"Customers in our sizes are extraordinarily ad blind to brands that are speaking to them for the first time," Boujarwah said. "It's not that they haven't seen those ads before. They just intuitively believe that it's not for them. We believe that what's required here is more shopping experiences, better shopping experiences, true access to style and fashion for all women. The more that can be true, the more present this customer is in the experience — and, therefore, the more the category can grow."
When consumers are shopping for women's apparel in sizes 15 and up, certain features factor highly into their purchasing decisions, such as comfort (96 percent), fit (95 percent), price (93 percent), quality (91 percent), durability (89 percent), and style (83 percent), according to the Cotton Incorporated Lifestyle Monitor™ Survey. This is very similar to the purchasing decisions for standard size clothing.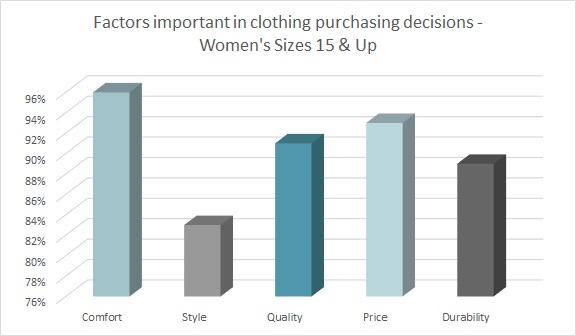 Since durability is a factor for this consumer, makers and retailers should keep in mind that 73 percent of extended-size (size 15 and up) consumers think better quality garments are made from all natural fibers such as cotton, according to the Monitor™ research. Additionally, 54 percent of these shoppers are willing to pay more for natural fiber apparel.
However, when citing their item of choice to shop for, just 24 percent of extended-size consumers listed clothes, according to the Monitor™ research. That is significantly less than those who are size 0-to-6 (41 percent), size 7-to-11 (30 percent) and size 12-to-14 (28 percent).
Edited has found price and style disparities may be at play in the extended-size category. For instance, cut-outs in dresses, tops, bottoms, etc., are very popular now. However, Edited found just 34 percent of cut-out products have styles in extended sizes. And of those that do, the selection is mainly in the XL-to-2XL range, serving the mid- to smaller-end of the plus-size market. Another example: micro mini skirts are a throwback to Y2K dressing. But just 19 percent of retailers offer any in extended sizes in micro minis. And matching sets, Peter Pan collars, and cardigans that reflect the "twee aesthetic" are limited in larger sizes. Those that were found were priced higher than comparable styles sold to non-plus customers.
Among brands that are dedicated to plus and extended-size consumers, Destination XL, Torrid, and Ashley Stewart experienced increased foot traffic every month for the last six months of 2021, according to Placer.ai, a foot traffic analytics platform. All three also outperformed the nationwide apparel average in January and February of 2022. Placer.ai also found that although Lane Bryant reduced its number of doors by 150 in 2020, its remaining locations saw foot traffic increase by double digits almost every month last year, leading to a 23.2 percent Yo2Y increase in average visits per venue. The trend continued into this year, with foot traffic up in both January and February.
"These metrics reveal that there is still a healthy demand for physical Lane Bryant stores," Placer.ai states. "If the brand succeeds in sustaining another year of 2021-level visit per venue growth, Lane Bryant may even consider adding a couple more stores."
Currently, extended-size consumers shop for clothes in-store about 1.8 times a month, according to the Monitor™ research. That's comparable to the number of times they shop for clothes online each month (2.1).
Recent data from TrueFit, an AI-driven size advisor, finds Old Navy, Nike and American Eagle are among the favorite fitting brands in the U.S. TrueFit's Fashion Genome connects preferences and attributes from 89 million active members to data across 17,000+ brands within its global network. TrueFit shoppers selected Old Navy as their favorite fitting brand in 2022, followed by Nike, American Eagle, Levi's, and Gap. Old Navy came out on top as it committed to offering plus-size apparel across its entire range.
Unfortunately for in-store shoppers, Gap Inc. recently announced it's scaling back the inclusive sizes offered in-store at its Old Navy locations. Calling it "a realigning of store inventory," Old Navy is removing extended sizes from 75 U.S. stores and 15 Canadian locations. The product, ranging in size from 0-to-30 and XS-4X, will still be carried online.
True Fit's Jessica Murphy, co-founder and COO, says the future of sizing is label-free, "where shoppers no longer need to be guided to the men's wear, women's wear, plus, juniors or petites departments."