Although women may want to head home and relax after working all day, very often they are pulled into extending their day, whether with colleagues, children, or significant others.  Retailers looking to jump start the still-sluggish women's business need to present day-to-night apparel that works as long and hard as its wearers.
Belk's Arlene Goldstein, vice-president of brand merchandising and fashion direction, says the store recognizes women are not looking to totally get undressed and start over for each of her day's events.
[quote]"She doesn't want a one-trick pony.  People say, 'If I want to buy something, I really want it to make a difference in my wardrobe.  And if it's versatile, too, that's even better.'  Often, it's just about accessories or a completer piece. Throw on an embroidered cardigan or a jacket with a great pair of earrings and you're good to go."
Nearly 7 out of 10 women (69%) prefer to wear one outfit all day for several activities rather than change clothes for each event, a preference that has been consistent over the past few years, according to the Cotton Incorporated Lifestyle Monitor™ Survey.
Talbots' Lizanne Kindler, president, agrees that versatility is key for its customers.
"We truly believe that the key to our success is about providing our dedicated customer with an assortment of dresses, pants, knits and specialty tops," Kindler says.  "Our assortments will always be classic in nature while also incorporating current fashion details and trends.
Talbots, which was acquired for $391 million by Sycamore Partners in August, has seen significant growth in its dress category over the past two years, a potential indicator its customer is looking for more day-into-evening outfits, Kindler says.
"We provide her with dresses; sheaths in particular are big sellers for us — like the one Janna Ryan wore a few weeks ago to the Republican National Convention," Kindler says. "Specialty tops, blouses, sweaters with embellishment, knits with feminine details, beautiful jewelry and scarves also dress up her outfits."
Although stores seem to have the right stuff, women need more inspiration to buy.  For 2012, Euromonitor International projects U.S. women's wear will grow just 0.3% from $139.0 billion in 2011 to $139.4 billion in 2012.   Meanwhile, men's wear, although a smaller category, is projected to experience stronger sales: up 2.6% from $94.5 billion in 2011 to $97.0 billion in 2012.
Bertrand Pellegrin, author, columnist and founder of San Francisco-based B. on Brand Consulting, a brand development and retail consultancy, says the difficulty facing the women's business is not necessarily an apparel issue.
"The market definitely has plenty of great merchandise," Pellegrin says. "It's just how the stores are displaying it," Pellegrin says.  "For a long time now, a lot of merchants have been thinking in terms of category, not lifestyle.  Visual merchandising is key to explaining the versatility of certain garments."
Although most women (65%) get their apparel ideas from what they already own and like, nearly half (49%) look to store and window displays for direction, the Monitor shows.
"Most women don't feel that comfortable asking for a personal stylist at the store," Pellegrin continues.  "So they're trying to make these decisions on their own, and the majority buy straight off the rack or display.  Many aren't stylistically courageous or simply don't know how to put together an outfit themselves."
Oftentimes, women want to wear new styles: the Monitor shows 40% say they stay on the cutting edge of fashion or adopt style changes quickly.  But creating a new outfit with all the in-store choices can get complicated.  Without proper guidance, they either walk out empty-handed or pick up pieces here and there.  Nearly two-thirds of Monitor respondents (66%) say they are more likely to buy separate pieces at different stores than an entire ensemble at one store, up significantly from 56% in 2008.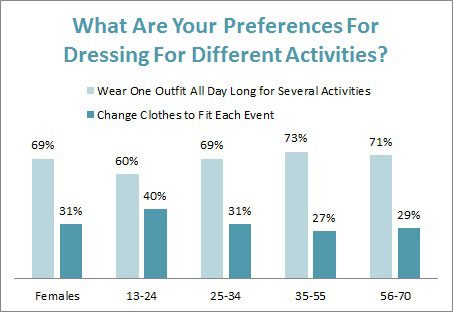 "Visual merchandising is so key to telling a story — the story of how women would like to believe they could live," Pellegrin says.  "It also explains the versatility of certain garments.  Magazines do features on that and stores should be doing it, as well.  It would actually demonstrate the versatility of the garments and accessories, instead of compartmentalizing it by category."
Nearly two-thirds of all women (65%) plan their apparel purchases, up significantly from 59% in 2008, according to the Monitor.  Added guidance could come from displays and videos, as well as better product placement close to the outfit being presented.
Belk has seen its revenues grow by 5.3%.  Strategies that have proved successful include its "Most Wanted" list of trends, which is available online, in-store, in the catalog and look book.  It also created video shorts for its web site that show women how to choose and wear various items — like an ankle boot — in different ways.  And Goldstein herself goes out and stumps for the company.
"I do a fashion PR tour in our top markets and meet with bloggers, tweeters and reporters to give them a look at our seasonal catalog — and they get the word out there.  It's fun, but it's also about showing women the freshest and most versatile ways to wear what's hot this season."