Perhaps credit goes to the hipsters, but consumers are showing an increased interest in products that are local, sustainable, curated, hand-crafted and the like. And a number of websites are stepping in to help bring such items to everyone — not just the urban tastemakers.
Scoutmob champions unique merchants in the user's individual area. Daily deals and editorial content encourage "socially active city dwellers — some might call them hipsters," to explore their town, says Jarod Jones. It launched Shoppe by Scoutmob in July 2012, so users could go online to buy from the small, independent makers in their city.
"We soon found that these makers and their inspired goods were highly desired by people everywhere, not just their local neighbors," says Jones, head of merchandising and marketing at Shoppe by Scoutmob. "In just a month after we launched, we began giving all of our customers access to buy any product from any maker and we've seen tremendous growth since then. Not only did it allow us to share these goods with a wider audience, but it also allowed us to work with fantastic makers and crafters outside of the 13 cities where our local deals service is active."
To date, Shoppe by Scoutmob has featured more than 1,000 makers and over 10,000 unique products. It unveils 15 new makers each week for a total of 150 new products.
The qualities that draw consumers to these "small batch" designers — craftsmanship, sustainability, durability, quality — are appreciated by many consumers. In fact, 95% of all shoppers cite quality as a feature that's important in their apparel purchasing decision, according to the Cotton Incorporated 2014 Environment Survey. Other important features include durability (93%), whether the item is made in the U.S.A. (58%) and environmental friendliness (50%).
Zady was launched seven months ago in fall 2013 by Maxine Bédat and Soraya Darabi.
"We began with a grand vision," says Darabi. "We wanted to combat fast fashion with a destination where shoppers could go to discover high quality, timeless style, and items made by experts of the highest quality material. We found it odd that it was hard to find this in 2013. We also believe in full transparency so we say where the raw materials come from, where it's designed and manufactured. That information is completely unveiling what has traditionally been a mysterious and elusive process."
This information is valued by consumers: when it comes to terms that influence a purchasing decision, 77% of shoppers cite "100% cotton," according to the Environment Survey. This is followed by "Made in the USA" (68%), "natural" (61%), "sustainable" (57%), "environmentally friendly" (53%) and "fair trade" (51%), as well as "ethically sourced" (48%).
Zady works with 60 brands, reviewing data insights daily to tweak the offerings. Darabi said she and Bédat trekked many a tradeshow, asking vendors where the garments were made and 90% of the time, the answer was a vague "overseas."
Darabi says 60% of Zady's product is U.S.-made, with the rest supplied by smaller, independent designers from places like Denmark, Peru, Mexico, Italy and the U.K.
"The first step is making sure it's expertly crafted, made to last, stylish and sustainable," Darabi says. "And then we send a certificate for brands to sign authenticating that what they say is true. It's a global site, but the thread is expert craftsmanship, transparency and paying workers fairly."
Cuyana kicked off in June 2013, the effort of co-founders Karla Gallardo and Shilpa Shah.
"The market was being dominated by two polarizing options: high quality yet exorbitantly priced pieces, or affordable garments that weren't made to last," Gallardo says. "We believed we could create a different type of company: one that focused on timeless, meaningful and high-quality products offered at attainable prices."
Cuyana also works with suppliers from around the world, many of whom are small, family-owned businesses that "have centuries of knowledge" on how to handcraft their products, Shah says.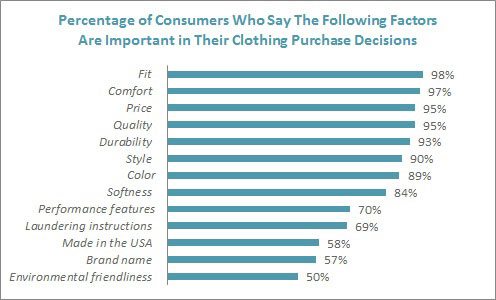 "Rather than focusing on specifically 'local' or 'sustainable' — though we have been able to invigorate local economies around the world where our suppliers are based, and all of our pieces are made in the most ethically responsible way possible — the philosophy of social change that we are trying to impart has more to do with 'fewer, better things.'
Darabi says this smaller fashion movement is akin to the slow food movement, "or what our grandparents called 'food'.  We can have fewer items in our wardrobe and ultimately have what our grandparents called 'fashion.'"
The Environment Survey finds 57% of consumers practice environmental activism by reducing their consumption of goods. Meanwhile, the champions of smaller-batch design will continue their mission: supporting indie makers who love what they do.
"It ultimately comes down to the story and the process, the passion that these individuals have for their craft, whether they're a scarf knitter or a pizza maker," says Jones.  "They love what they do and that's what makes their craft awesome; now people everywhere can share that story and that experience."