The average person doesn't really think about buying underwear because once the clothes go on, it's an out-of-sight, out-of-mind situation. But some manufacturers are looking to make a name for themselves — or gain a larger share of the intimates market — by emphasizing underthings that are sexy and evocative, sure, but also soft to the touch, and even healthy for the body. And they're using cotton to get there.[quote]
At American Eagle's Aerie brand, cotton is part of the company heritage, says Jen Foyle, global brand president.
"Aerie began with a cotton underwear table in our American Eagle stores and has grown into its own lingerie brand that appeals to girls of all shapes, sizes, and ages," Foyle says. "Our customers gravitate to cotton for everyday wear in their underwear choices. They love how soft, easy and comfortable our underwear are for both care and wear — and also, the prints and feminine details that we offer."
Aerie will be celebrating its 10-year anniversary this back-to-school season.
Meanwhile, Shira Wheeler started newcomer Oddo with the idea that sexy form could meet natural function.
"Doctors recommend that women wear 100 percent cotton underwear because it contributes to optimal vaginal health," she says. "I wondered why something so important for our health couldn't make us feel sexy as well. 100 percent cotton underwear certainly exists in the U.S., but not in flattering styles. So, 100 percent cotton is a very important differentiation for us. Not only is cotton important to us, but we're exploring what makes women feel sexy, who and what has defined that distinction for us — and furthermore, why health and sexy are currently considered sort of mutually exclusive."
Wheeler's take would appeal more than half of all consumers (54 percent) who say they're "very or somewhat concerned" that their intimates may be made from manmade fibers, according to the Cotton Incorporated 2015 Intimate Apparel Survey. More than 8 in 10 consumers (83 percent) buy cotton and cotton blended underwear most often.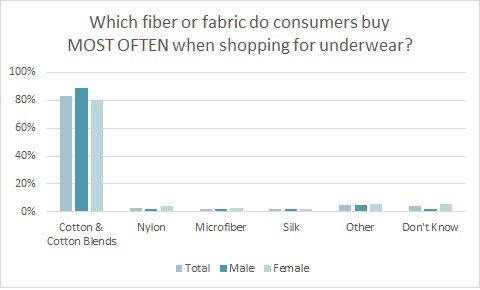 Overall, however, consumers are rather uninspired about shopping for underwear, with the majority (63 percent) saying it's "okay but not their favorite" item to shop for, according the Intimate Apparel Survey.
But gaining a foothold or growing one's innerwear business stands to be quite lucrative. The intimates apparel market stands at $11.2 billion here in the U.S., according to The NPD Group, and more than $110 billion globally, according to the Euromonitor.
Naked Brand Group started using more cotton in its men's and women's mix when founder and president Joel Primus and CEO Carol Hochman realized the market was saturated with synthetic fabrics.
"Admittedly, Carol opened my eyes to cotton by the fabrics she selected," Primus says. "With their drape, breathability and lightness, we made beautiful cotton undergarments. I think it sets us apart. Cotton is the majority of our product now. We have Pima group, a cotton spandex group, a gauze group — and that speaks to the depth, variety, and ability to play with the fiber. We love what we can do with it."
Naked product is available online, as well as at better stores like Nordstrom, Bloomingdale's, Hudson's Bay, and Holt Renfrew. Primus says the brand is appealing affordable luxury customers who want something timeless, sophisticated and elegant in their drawers.
And that might just be the ticket to reaching younger consumers. The Intimate Apparel Survey finds Millennials shop more often for underwear and spend more on purchases than their counterpart. On average, Millennials shop for underwear every 4.7 months, versus every 6.8 months for Gen Xers and 8.8 months for Boomers. And Millennials spend, on average $15 for underwear, versus $13 by Gen X shoppers and $9 by Boomers.
And while customers say they don't care that much about shopping for underwear, they would reward a retailer with their business if they offered them product with a quality guarantee (72 percent) and made from natural fibers (68 percent) the Intimate Apparel Survey data shows.
Oddo will be fully launching its product soon. It used a Kickstarter campaign to get off the ground. Wheeler says the customers that have been wearing Oddo report, "wearing Oddo makes them feel like they have nothing on," she says, adding that they also say the briefs make them feel fresh and, "They're surprised how nicely they fit to their form without pinching. We've found that 100 percent cotton underwear brands will typically make up for a lack of stretch and recovery in their fabric by using very taut elastic, which ends up pinching, often at the waist. We spent a lot of time finding material that was knit in a way that had adequate stretch and recovery."
That ability to hold up is important to consumers. The Intimate Apparel Survey finds comfort (91 percent) is the top purchasing factor, followed by fits well (88 percent), stays in place (82 percent), and holds up wash after wash (74 percent). And when it comes to performance factors, shoppers say easy care (57 percent) would motivate them to choose certain underwear, followed by shrink resistance (43 percent), odor resistance (43 percent) and stretch (35 percent), according to the Intimate Apparel Survey data.
Primus says Naked has a seamless collection that will be introduced later this month.
"Cotton is a fantastic fabric, and we can do things to fabrics that make them even better than they are in their natural state," he says. "We can add stretch for better recoverability and treatments for odor control. And the consumer benefits from all of this."