After enjoying a strong holiday season, economists are predicting a slowdown in 2023 amid concerns about a recession. And they want retailers to be prepared.
But first, the good news. Mastercard SpendingPulse reported U.S. retail sales excluding automotive rose 7.4 percent year-over-year in December. The company pointed to apparel (up 5.4 percent) as a key driver for the growth. Besides gifts, the report found get-togethers fueled December's increase, as both restaurants (up 14.5 percent) and fuel and convenience (up 11.9 percent) saw strong growth over 2022. In-store sales were up 6.7 percent while online saw an increase of 9.7 percent.
Consumption is relatively strong. Consumer confidence is on the mend. The unemployment rate is at a six-year-low. We're still growing in terms of jobs.

-Jack Kleinhenz, chief economist at NRF
"This holiday retail season looked different than years past," said Steve Sadove, senior advisor for Mastercard and former CEO and chairman of Saks Incorporated, in a release. "Retailers discounted heavily but consumers diversified their holiday spending to accommodate rising prices and an appetite for experiences and festive gathering post-pandemic."
Morgan Stanley's Sarah Wolfe, economist, said "people showed up" for holiday 2022. She spoke at a press briefing during the National Retail Federation's Big Show 2023 at the Jacob Javits Center in New York.
"It was softer compared to last year," Wolfe said. Mastercard SpendingPulse reported retail sales grew 8.5 percent in the 2021 holiday period. "I think there was more of a focus on experiential gifts than home goods — they spent less on gifts and more on their Christmas vacations. Also, retailers were seeing heavy discounting this year. We had our own survey that found 70 percent of consumers were going to wait until stores started discounting 20 percent or more to start shopping."
That consumer restraint is likely to spill into 2023, as shoppers anticipate the economy's impact on their purchasing. Half of all shoppers (50 percent) say they expect to make fewer impulse purchases, according to Cotton Incorporated's 2022 Inflation and Supply Chain Survey (Wave 4). Around 3 in 10 consumers (33 percent) say they will do more research to get the best value, 42 percent say they will make fewer shopping trips, and 17 percent plan to buy higher quality/longer-lasting items. A quarter of all shoppers (25 percent) say they will buy "less stuff" and more experiences and 29 percent say they will buy more second-hand items. Another 24 percent say they will buy lower-quality discount items while 16 percent expect to purchase more on credit or layaway.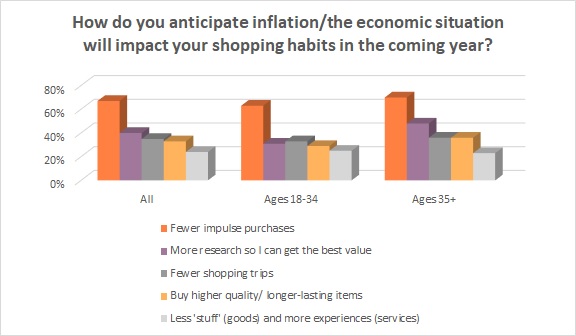 These changes in shopping behavior reflect the fact that half of all consumers (50 percent) say inflation and the economy are a top concern for 2023, according to the Cotton Incorporated 2023 New Year Survey. That figure increases to 55 percent among those over 35 years old. Economic concerns are followed by personal finances (47 percent), physical/mental health (38 percent), work/life balance (31 percent), climate change and the environment (22 percent), politics/political division (19 percent), COVID-19 continuing (19 percent), crime/public safety (17 percent), a new public health threat/pandemic (15 percent), and social inequality (8 percent).
Despite these concerns, the majority of consumers (62 percent) are very hopeful that 2023 will be better than last year, according to the New Year Survey research.
Perhaps that's why economists who spoke at the NRF press briefing seemed to hedge their predictions about a recession.
"I can tell you we'll have a recession. But recessions are normal. I'm hoping that we can get through this year without being disappointed," said the NRF's Jack Kleinhenz, chief economist. "Consumption is relatively strong. Consumer confidence is on the mend. The unemployment rate is at a six-year-low. We're still growing in terms of jobs. Another point of reference is the Federal Reserve raised interest rates 425 basis points last year (from near-zero to the current 4.25 percent-to-4.50 percent range) and the economy is still doing okay."
Still, Kleinhenz said, "It will be a challenging 2023. I do expect a meaningful slowdown."
Wolfe said Morgan Stanley does not see a recession in its outlook, but it does have growth slowing to about 2 percent-to-3 percent in 2023.
"People are becoming increasingly concerned about the labor market outlook this year. Even though layoffs have been very concentrated in the tech sector, and it's a very small share of the U.S. economy, people see the headlines and become nervous," Wolfe said. "As the labor market slows, people are going to become more cautious spenders. But overall, the consumer is what will pull us through in 2023."
KPMG's Kenneth Kim, senior economist initially said his firm sees the U.S. economy entering into a recession is the first half of 2023. But as he spoke, he amended his statement to say, "We don't know whether [a recession] will be within a couple of months or it could still be a year out. But we do expect a negative GDP in both Q1 and Q2. But in the second half, we do expect a recovery."
Kim said KPMG expects inflation to trend downward from December's Consumer Price Index annual rate of 6.5 percent to 3.5 percent by December '23. That consistent decrease should help to improve consumer mindset as the year plays out. Already, consumers say they're hopeful about a number of things, including their ability to improve their physical/mental health (45 percent), according to the New Year Survey research. Another 41 percent say they have a hopeful outlook for 2023 because they "always feel hopeful at the beginning of the year" (41 percent). Consumers say they are also hopeful because they believe the economy/inflation will improve (29 percent), they think the pandemic will be put behind us this year (25 percent) and they hope to feel more comfortable doing in-person activities (25 percent) and socializing more (24 percent).
The NRF's Susan Reda, vice president of education strategy, made a number of retail predictions for 2023, among them investment in the metaverse, advances in the Web3 platform, more stores and brands launching their own retail media networks, more smaller footprint stores – and the recognition that consumer shopping behavior will determine if 2023 is a good year for stores or not.
"Experts believe that if recession fears grow, shoppers will buy fewer things, but no one expects them to compromise quality, value and durability," Reda predicts. "The desire for inspiration from brands and retailers continues to hold sway with shoppers – particularly as they experience a constant stream of new interactions from media and technology. Bottom line: The customer is still king, and the retailers' job is to serve shopper royalty."