E-tailers may have saved the 2013 holiday season, with online holiday sales increasing 10.3% year over year, according to IBM's Digital Analytics Benchmark report.  Despite the strong growth, e-commerce remains just a small piece of the retail pie — which is prompting some online stores to jump into the old school brick and mortar arena.
[quote]Bonobos, the e-commerce-driven men's wear retailer, has been expanding beyond its dot com "flagship."
"When we launched Bonobos on the Internet in 2007, we thought online-only provided the best shopping experience for customers," says Erin Ersenkal, vice president of the Bonobos Guideshops and planning.  "What we learned recently is that the offline experience of touching and feeling clothes isn't going away; people still want to try stuff on.  So for a brand like ours that's built on fit, we want to provide that."
Bonobos now has a multi-channel approach to retail.  Of course, there's bonobos.com.  For customers who would like to see the clothes first, the company has eight Guideshops showrooms located throughout the U.S., for trying on apparel before ordering it online.  Bonobos also has a partnership with Nordstrom.  The department store made an investment in Bonobos, with product to be carried in 117 locations.  And Bonobos has launched seven print catalogs to date.  "So," says Ersenkal, "we're kind of redefining what offline means in an online driven world."
On average, consumers shop for clothes about twice per month in-store and once per month online, according to the Cotton Incorporated Lifestyle Monitor™ Survey.  Generally, consumers spend about 100 minutes shopping for clothes in-store and online.  More than 7 out of 10 consumers (74%) browse the Internet for clothes, up significantly from 71% last year, according to Monitor data.
Among nine major categories, the apparel and accessories group is the fastest growing in online sales, according to a study by eMarketer.  It expects apparel and accessories will grow 17.2% through 2017 versus 14% for e-commerce overall.  Through November 2013, the U.S. apparel market rang up $218 billion, according to the Department of Commerce, a 3.7% increase over last year.
While apparel is one of the strongest selling items online, merchants recognize that the average consumer wants to see and feel the clothes they would like to purchase.Consumers spend a lot of time looking online before heading to stores, says ShopperTrak's Bill Martin, founder.
"Lately, online gets all the headlines, but the reality is 90% of all commerce takes place in brick and mortar stores," Martin says.
That inspired Piperlime, owned by Gap Inc., to create a storefront in Manhattan's SoHo neighborhood last year.
"Today's customers demand accessibility to their favorite brands across multiple channels," said Toby Lenk, president of Gap Inc. Direct, the division that houses the Piperlime brand when the store opened. "The benefit of being part of one of the world's best multi-channel retailers is the ability to leverage the resources and experiences that have gone into creating the company's unique and beloved shopping destinations, both online and in stores."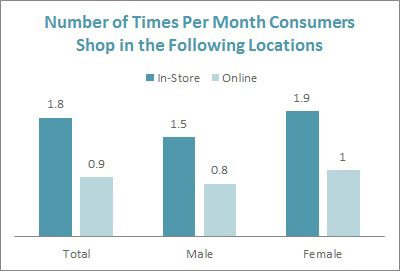 Consumers hesitate to buy online for a number of reasons, including having questions about apparel quality (82%), apparel availability (76%), and not being able to try on (72%) or physically touch (61%) the clothes, according to the Monitor survey.
To address such concerns, other online retailers like Jewelmint and Birchbox have also made the leap to offline stores.  But it doesn't always translate.  The hot online site Karmaloop tried the brick and mortar route, but it didn't resonate with consumers, and within five years the company returned to concentrating on its web business.
But for those sites that would like to dip their toe in the water before diving straight into a full-scale B&M shop, there is a short-term solution: the pop-up shop. San Francisco-based TheStorefront.com connects artists, designers and retailers with short-term spaces through leases that can last from a day to a number of months.  The space can be on a busy street, in an art gallery or within a shopping center.   Mall giant Westfield has worked with Storefront to bring new brands to its San Francisco Centre.  And Made in NYC worked with Storefront to bring 11 brands together for a Holiday Market at Ludlow Studios.
Such retail matches are a boon to the small label, especially since 78% of consumers say they buy from brands and retailers they know and trust rather than those they've never heard of when shopping online, the Monitor shows.
Another San Francisco online-to-offline success story lies with Beta brands.  The e-tailer is home to a whole host of brands, including Cordarounds and Sons of Britches.  Customers can co-design and crowd-fund new pieces in a matter of weeks.  The clothes are sold online or in the Betabrands storefront, located on Fog City's Valencia Street.
For Bonobos, the retail path has been anything but traditional — even if it's now combining innovation with convention.
"A customer will get a more comprehensive brand experience on Bonobos.com and in our Guideshops," Ersenkal says.  "The assortment at Nordstrom is representative of Bonobos signature products that the company is renowned for. Partnering with them was an easy decision for us as we have a shared commitment to quality and service. We're thrilled to have aligned with Nordstrom and look forward to focusing on this relationship."