Yes, it's true. It's January once again. A time when consumers perform the annual ritual of blowing cobwebs off their scales muttering, "This time will be different." Exercising and losing weight is a perennial New Year's resolution, and it inevitably leads to people investing in activewear that inspires — inspires them to get outdoors, workout harder or simply become more consistent in an effort to reach their fitness goals.
Consumers want to know where materials come from, how products are made, and whether the people involved are treated fairly. In response, more and more companies are expanding their sustainable assortments and working to boost the sustainability of their supply chains."

State of Fashion, 2022 Report
McKinsey & Company
In a market report from Edited, with contributions from retail analysts Krista Corrigan and Karis Munday, the firm posits that heading into 2022, a lot of consumers will still be seeking versatile activewear pieces.
"Activewear and loungewear stockists are recognizing the opportunity that lies within the category as consumers adopt healthier lifestyles post-lockdown," Edited's team states in a recent market analysis report. "Even more demand is stemming from the need for hybrid apparel that can transition between working from home, exercising and running errands on the weekend."
Seeing as Covid continues to upend daily life, such versatility will remain important for the foreseeable future.
Cotton Incorporated's Jenna Caccavo, senior trend forecaster, says she sees activewear taking on a "freeform," that has no hard lines or set definitions. "It is weightless and experimental," she says. "Psychologically, it's a reflection of our desire to break free from the time we've spent confined to our spaces, under strict regulations and structures. The result is a 'dreamy technical' interpretation in the activewear market that is rather abstract and surreal―yet still performance-oriented when it needs to be."
Think current offerings like Blanc Noir's traveler jacket, Heroine Sport's mesh hoodie, BuffBunny's Crysalis tank, even Lands' End's moisture-wicking, UPF 50 sun protection tunic.
Today's consumers are all about wearing comfortable clothes that have flexible end uses. Nearly 7 out of 10 consumers are wearing comfortable clothing more often (68 percent) during this past year, according to Cotton Incorporated's Coronavirus Response Consumer Survey (Wave 8, October 2021). That compares to 34 percent who say they are dressing up less often over the last year.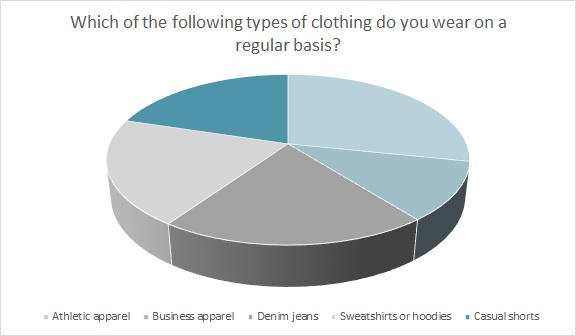 The NPD Group reported activewear revenues increased about 20 percent in Q3 2021 compared to 2020. Women's products grew in the mid-single digits, while men's grew by more than 20 percent.
"Highlighting key categories, sweatshirts and pants sales slowed in Q3, only growing in the high teens," stated The NPD Group's Matt Powell, vice president, senior industry advisor, sports. "Outerwear tops declined in the low single digits. Knit shirts grew by about 25 percent and socks were up by more than 20 percent.
When working out, nearly half of consumers (46 percent) say they mostly or only wear apparel that's isn't designated specifically as activewear or they wear a mix of athletic and clothes not specifically designated as activewear, according to the Cotton Incorporated Lifestyle MonitorTM Survey. For example, 70 percent of consumers own 5 or more T-shirts that they use for exercising. More than half (51 percent) own 5 or more tank tops or sleeveless shirts and 54 percent own 4 or more pairs of pants or capris (excluding compression-wear) for working out. And 60 percent of consumers have four or more sweatshirts/hoodies they use for exercising.
Edited's analysts stated that despite a more saturated market, demand for activewear "remained undeterred with nearly every apparel category experiencing an increase from the previous two years. Focusing on more eco-friendly ingredients is one tactic to help the environment while also off-setting costs in the process."
A greater emphasis on eco-friendly fabrics would appeal to consumers who, according to McKinsey & Company's State of Fashion 2022 report, are embracing sustainability more than ever before.
"Sustainability is dominating consumer priorities and the fashion agenda," the McKinsey report states. "Consumers want to know where materials come from, how products are made, and whether the people involved are treated fairly. In response, more and more companies are expanding their sustainable assortments and working to boost the sustainability of their supply chains."
Brands and retailers should consider that when it comes to eco-conscious activewear, most consumers (78 percent) say clothes made primarily from cotton are the most sustainable or environmentally friendly, according to MonitorTM research. That compares to significantly smaller portions who cite polyester (8 percent) or rayon (13 percent).
Makers might also keep in mind that consumers strongly prefer their activewear be made of cotton or cotton blends (52 percent) versus polyester or recycled polyester (11 percent), poly blends (9 percent), nylon (4 percent), rayon (3 percent), and other synthetic fibers such as microfiber (4 percent), according to the 2021 Cotton Incorporated Activewear Study.
The penchant for natural fibers meshes with the growing consumer interest in outdoor activities. WGSN Spring/Summer '22 Women's Trend Toolkit report states this growing interest in the Great Outdoors will put a focus on properties like breathability, performance/tech and waterproofing, as consumers seek both protection and sustainability.
"A renewed focus of the outdoors pushes consumers to embrace a modern twist on outdoor dressing…." their report states. "Performance-driven tactile materials and details promote sustainability while offering a sporty take on spending time outside."
Cotton Incorporated's trend forecast for 2023/24 says future, sustainable activewear will include options like dreamy technical fabrics, such as a puff pigment print on lightweight cotton voile, "wavy baby" jacquard terry fabrics with undulating patterns and "super natural" cotton blends that weave in micro-quilted 3D patterns and stretch. These materials work well for numerous exercise categories, depending on how they're designed and styled. Cotton Incorporated has also developed performance technologies that include wicking, quick drying and water repellency — applications that enhance the fiber's natural properties and elevate cotton to a true performance fabric.
Of course, different activities require different levels of performance from the chosen activewear. Americans say their top regular sport or exercise activity is walking (66 percent), according to the Activewear Study. That's followed by cardio training (50 percent), swimming (39 percent), hiking/backpacking (37 percent), running (36 percent), yoga/pilates (36 percent), weight training/cross training (33 percent), and dancing (30 percent).
"From workleisure to the rise in outdoor living and activities, it's clear that wardrobes are becoming more flexible, offering plenty of multi-functional uses," states the WGSN Women's Spring Summer '22 Contemporary Toolkit report.
The same theme carries over to the men's side, too, as WGSN notes in its S/S '22 Men's Trend Toolkit. "As consumers prioritize time in nature, utility basics will become key to a transitional wardrobe. These simple silhouettes leave room for sustainability within textiles and usage."