If the last nearly three years have taught the industry anything, it's that change can happen in multiple areas very quickly — think pandemic, gas prices, inflation — and their effects can change customer profiles.
Recently, Euromonitor International held a virtual coffee chat to address who this "new consumer" is and where they're spending their money.
Consumers are now spending more time with creator content than with professionally produced content, and both production and brand investment are following the eyeballs."

Chris Bruderle
Vice President, Research & Insights, IAB
"We have several big trends and they are affecting consumption in tandem," said Euromonitor International's Jana Rude, population and households research manager. Among the trends: aging populations, a growing appreciation for diversity and urbanization. And, of course, they're seeing consumers cutting back on spending.
"It's not just lower-earning households," said Euromonitor International's An Hodgson, head of consumer research. "This whole cost of living crisis means that already consumers are quite selective and mindful about their spending, about their purchasing decisions. All of us are. It's a kind of trading down and cutting back. We're all hunkering down for a prolonged period of high inflation and economic uncertainty."
Currently in the U.S., 67 percent of consumers are very concerned about the economy, according to Cotton Incorporated's 2022 Inflation and Supply Chain Survey (Wave 2). In comparison, just 33 percent of consumers are concerned about a new COVID surge, according to Cotton Incorporated's Coronavirus Response Survey (Wave 12).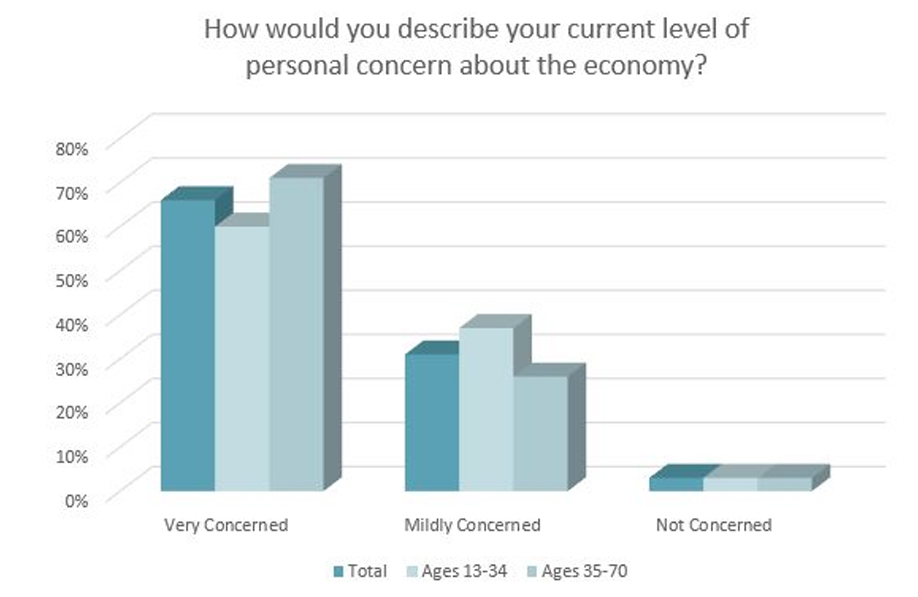 More than half of all consumers (55 percent) are anxious about the cost of gasoline, according to the 2022 Inflation and Supply Chain Survey. Another 53 percent are worried about prices on everyday goods such as groceries and household items.
This is influencing apparel spending. For example, from March 2022 to July 2022, spending on loungewear dropped significantly, from 51 percent to 41 percent, according to the Coronavirus Response Survey (Wave 12). Spending on T-shirts and denim jeans decreased 6 percentage points, from 53 percent to 47 percent and purchases of athletic apparel remained flat at 39 percent. Fortunately, consumers have increased their spending on casual clothes, from 22 percent to 33 percent, and dress apparel, up from 26 percent to 32 percent.
Back to those Euromonitor trends. Regarding aging, Rude says the number of senior consumers will grow 21 percent by 2040. She says as people live longer, they work and stay active longer – which will bring a demand for more products and services, especially those in health and wellness goods. As for urbanization, Euromonitor finds urban citizens are, on average, more affluent and open to the novel consumption of goods and services, and have higher discretionary spending. Additionally, global migration is leading to a diversity trend that includes religion, language and culture which, Hodgson says, businesses are embracing.
The way consumers shop is also changing. A new report from IAB (Interactive Advertising Bureau) discusses the evolving "consumer ecosystem." Here, consumers are taking part in "H-commerce," or hybrid shopping.
"Not to be confused with omnichannel, H-commerce is defined by the fusion of online and offline shopping," the report states. "Established and direct-to-consumer (DTC) brands are recalibrating their go-to-market strategies to meet the expectations of the H-commerce shopper. Brands are investing in technology to provide seamless H-commerce shopping experiences."
IAB says consumers are also turning to creators on YouTube more than traditional Hollywood shows. This means brand investment in creator content is growing faster than investment in TV and streaming content – and those creators are leveraging their power to build successful consumer product brands. And in a further tech twist, IAB says consumers will be shopping in the metaverse, so brands and retailers should be testing its potential now and preparing for shoppers who will be appearing in their virtual stores.
"The creator economy and the metaverse present some of the biggest emerging commerce opportunities for brands and retailers," says IAB's Chris Bruderle, vice president, research and insights, and author of the Brand Disruption Report. "Consumers are now spending more time with creator content than with professionally produced content, and both production and brand investment are following the eyeballs. Regarding the metaverse, if you cut through the hype, know one thing – it will be a shopping medium. As Web3 adoption continues to accelerate, we will increasingly see more brands create storefronts across the metaverse. The old adage, 'If you built it, they will come,' will ring true for this burgeoning category."
It only makes sense for retailers and brands to prepare for this evolving consumer marketplace because whether consumers are concerned about the economy or not, they will still need to buy new clothes at some point. As it stands, nearly 6 in 10 consumers (57 percent) spent the same amount or more on clothes this past month, according to the 2022 Inflation and Supply Chain Survey.
Euromonitor International's Hodgson said consumers will continue to embrace technology to shop, as well as select products that align with their values.
"It's not just about price," Hodgson said. "Yes, consumers want to pay the lowest price for the best quality, but they also want convenience, an experience, authenticity as well as diversity. Nowadays, consumers are very active and they critically engage with brands. So, they are willing to try out new things, but they also don't hesitate to abandon brands that do not offer good value for the money nor align with their values."
Rude said values are a big part of the new consumerism. Besides diversity, shoppers are concerned about the environment, climate change and they're looking for brands that are more sustainable.
Nearly half of all consumers (49 percent) say environmental friendliness is an important factor in their clothing purchase decision and the majority (78 percent) say cotton clothing is the most sustainable, according to the 2022 Cotton Incorporated Lifestyle MonitorTM Survey. Consumers are also paying attention to what they buy, and more than half of all shoppers (60 percent) say fiber content factors into their decision. Most (70 percent) say cotton is their favorite fiber to wear and 72 percent are willing to pay more for natural fibers like cotton.
"Businesses need to advise consumers and give them guidance on how to make better decisions," Hodgson said. "So, communicate with shoppers, align with their values but also educate them to help them make better purchasing decisions and buy better. And in order to make that bond with consumers, it is totally relevant to think ahead in terms of how consumers will evolve over time. Understand that forces such as demographics, economics and changing values all interact and drive consumers changes along the way."