Okay, slackers, time to get yourselves together. April 15th is coming and you know what that means: National Laundry Day. True, that's normally Tax Day, but officials must have realized the nation didn't need a giant case of the sads, dealing with both laundering and the IRS, so the tax-filing deadline was moved to April 17 this year. That leaves a full Sunday to devote to all things bright and, well, dark and white and dirty.[quote]
Rather than bemoaning that giant pile of awfulness that never knows an off-season, consumers might use National Laundry Day to learn a couple of new tricks for keeping their clothes looking fresh. And experts say their at-home tips won't take consumers to the cleaners. Literally.
"I think a lot of people think dry cleaning is best, but that's not correct at all," says Brian Johnson, director of education at the Drycleaning & Laundry Institute, based in Laurel, MD. "There are some materials that just aren't dry cleanable. But consumers get confused and worried they'll ruin their garment so they think the dry cleaner is the best move. Their biggest concern is life expectancy and how to make their clothes last as long as they can. Stain removal, shrinkage, color fading, and accidentally bleaching their clothes are all part of that."
On average, consumers do laundry about two days a week, according to the Cotton Incorporated Lifestyle Monitor™ Survey. On average, consumers do about four loads of laundry per week. About three of these loads are clothes, while one load is for home textiles.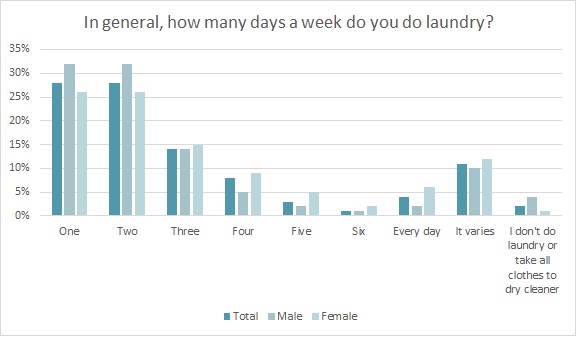 When buying clothes, nearly 2 in 3 consumers (62 percent) say laundering instructions are important in their apparel purchase decisions, according to Monitor™ research. And close to half of all consumers (48 percent) say they "always or usually" refer to care instructions before washing a garment. Among those who refer to care instructions before washing, close to a third do so to avoid ruining an item (31 percent) or so they know how to wash an item (31 percent).
DLI's Johnson says cotton apparel "by far rules the world. It's such easy care, it's very washable and there are little consequences compared to silk or wool. It's the most popular fabric."
That being said, every garment does not get washed the same way, and consumers could use some guidance in this department. Johnson says this is where the fashion industry could do more to help consumers in their quest to take care of their clothes properly.
"If manufacturers and designers would provide accurate care instructions, that would take all the mystery and guesswork out of it," he says. "Can I dry it? Should I hang dry it? People would have a better idea of what to if the care instructions were clearer. In 1997, they allowed the use of symbols for cleaning instruction. And that can lead to a lot of confusion."
Of course, like any industry, there are people who've turned doing laundry it into an art form. Unlike some people, these experts don't view laundry as a tedious chore or weekly punishment where an endless parade of unmatched socks can have seemingly normal losing their minds.
Taking laundering to the next level are experts like Gwen Whiting and Lindsey Boyd of The Laundress, a 14-year-old company the pair started that offers eco-friendly fabric care and cleaning products.
The Laundress offers specialized products, like Denim Wash, for those who want to wash their jeans but don't want to wash out the color or shape. If there's a stain on the jeans, the pair suggests pretreating it with their Stain Solution bar and working the treatment in with stain brush. If the denim is suffering from an odor issue, they recommend applying its Scented Vinegar, which, unlike off-putting regular white vinegar, has notes of bergamot, thyme, eucalyptus, lavender, and ylang-ylang.
The Laundress products are carried online, at its store in Soho, New York, as well as in stores throughout the U.S., including Mona Williams at the Mall of America. This apparel and gift store is owned by Patric Richardson, aka, The Laundry Evangelist. Like The Laundress' Whiting and Boyd, Richardson not only really knows how to take care of fine apparel, he seems to enjoy it and even makes it look easy. Go online and watch his YouTube video to see how he removes ink from a cotton handkerchief like he's part of a Vegas magic act.
But here's the thing: most Americans keep their laundry regimen pretty simple. Nearly 3 in 4 consumers (74 percent) typically use a top-load washing machine, according to Monitor™ research. On average, they do about four loads of laundry a week. And they use roughly 1.6 different laundry detergents: 58 percent use regular liquid detergent, 17 percent use liquid detergent with fabric softener included, 8 percent use powder detergent, 6 percent use pod detergent, 5 percent use liquid detergent with bleach included, and 4 percent use pod detergent with fabric softener included.
The American Cleaning Institute's Nancy Bock, senior vice president of meetings and education, says when it comes to keeping clothes looking new, consumers don't need to be laundry masters but they should read fabric care labels. Aside from that, "Bottom line is that we always recommend that you treat stains as soon as doable."
"Flushing fresh stains with cool water can minimize the lasting effects of even stubborn stain-makers like coffee or hot sauce," Bock says. "Reduce shrinkage by washing in cold water and air drying, or dry clean. Stain-resistant fabrics have a coating or infused compounds that cause liquids to bead up on the surface and roll off keeping a stain from penetrating the fibers. However, tough stains like heavy dyes and oil-based substances may not be repelled."
And at the end of the day, Bock says, "If you have any doubts, consult a professional cleaner."