With global recession fears, inflation worries, and drought conditions so bad dinosaur footprints are turning up in dried up rivers, it might be surprising to find small businesses and local retailers have been looking at 2022 as the year of optimism.
That was the consensus at the Connected Consumer panel discussion, "Key Trends Defining the State and Future of Local Retail," presented by Retail Touchpoints.
We're much more conscientious about the role that these businesses play in our community and that bears out in the consumer data."

Hally Pinaud
Vice President of Product Marketing, Podium
"There's so much optimism because people are getting back together with live events and it just feels like we're back to normal," said Dan Gingiss, author and retail thought leader. "I think one of the things that really came to light at the beginning of the pandemic was how unprepared most companies were for a major disruption in business. [Next] time around, no matter what comes at us, whether it's another pandemic, or whether it's an environmental disaster, or whether it's who knows what, I think you're going to see that companies are more prepared, because we've now seen what happens when we're not prepared. And it's pretty ugly. I think what probably lends to confidence, as well, is that now there's this feeling that we've got this. Even if times are tough ahead, we can handle it."
Podium's Hally Pinaud, vice president of product marketing, who shared the Connected Consumer panel, said her company conducted research that found there are five key trends when it comes to local retail. First, efficiency is the name of the game and retailers must work smarter, not harder. Secondly, consumers changed with a dramatic shift toward digital transformation. Third, convenience is the name of the game when it comes to getting repeat business and referrals from that changed consumer. Fourth, businesses are making tech investments to succeed. And finally, consumers have come out of the pandemic with a renewed appreciation for local businesses.
"I think a lot of us have really seen firsthand with friends and family the impact of this topsy-turvy past two years, on the businesses that we love and care about, be they retailers, restaurants, and everything in between," Pinaud said. "We're much more conscientious about the role that these businesses play in our community and that bears out in the consumer data."
Most consumers (70 percent) say the pandemic has changed the way they will shop for clothes in the future, according to the Cotton Incorporated 2022 Coronavirus Response Survey (Wave 12, July 2022). That number jumps to 67 percent among those customers under 25. The good news for neighborhood shops is that 25 percent of consumers say they're spending more at local businesses, according to Cotton Incorporated's 2022 Coronavirus Response Consumer Survey (Wave 10, March 2022). And nearly one-third (30 percent) say they plan to shop more at local stores such as boutiques for their apparel.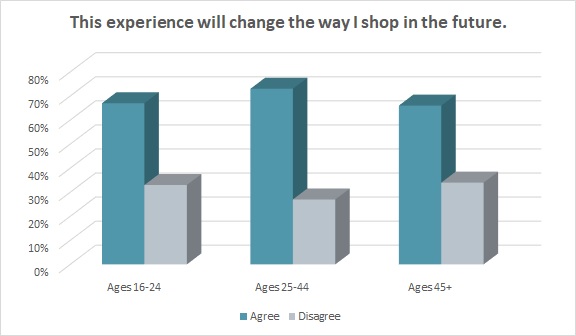 As for their digital transformation, the overwhelming majority of consumers (91 percent) say it is important that retailers offer online ordering with curbside or in-store pickup, according to the Coronavirus Response Survey (Wave 10).
Today's digitally savvy consumers have also learned to make use of live chat customer service (37 percent) and plan to use it in the future (17 percent), according to the Coronavirus Response Survey (Wave 10). They also plan to use product recommendations based on their browsing and purchasing habits (21 percent), as well as free returns so they can try on, feel and see clothes in real life — and then decide what they like and want to keep (25 percent).
A recent report from the National Federation of Independent Business (NFIB) said its Small Business Optimism Index rose four-tenths of a point last month to 89.9. Owners who expect better business conditions over the next six months increased 9 points from June to 52 percent. A source for this positivity includes the drop in gas prices to a national average of $3.89 as of this writing, down from $4.38 a month ago. Additionally, U.S. inflation eased slightly to 8.5 percent in July, thanks to the drop in energy and gasoline. Further, economist Ian Shepherdson told CNBC he expects to see a greater decrease in inflation.
"In the U.S., I'm quite happy to argue now that inflation is coming down – both headline and core," Shepherdson said on a recent episode of CNBC's "Squawk Box." "And the next few months are likely to see it drop pretty sharply."
The next few months will also bring retailers to the height of the holiday period. This presents an opportune time to lean into the goodwill that neighborhood shoppers have toward local merchants. But retailers can't just rely on a community's spirit of the season. Gingiss says they need to meet consumer expectations on today's playing field.
"The days of feeling like, 'People should do business with me because I'm the local business,' are over," Gingiss said. "That's not how customers feel anymore. Now, do they want to spend money with local businesses? Yes, they do. But there's still an expectation that it's a good experience in doing so. It's okay if you're not necessarily the cheapest option. But I'm coming to my local business because the owner is a member of the community, and the owner knows me and my kids. Or there's a level of community that you can't get by going online and ordering from an ecommerce place. That's part of what builds the experience of a local retailer. You think, 'I want to go down there because, man, I've been going to that same store since high school and they know me.' That's the stuff Amazon can't do, right? They know me from an algorithm, but they don't know me. They don't know me as a person. Whereas a local store does. So, I would be putting all my focus on experience. And if technology helps that, fantastic. In some ways, it definitely will. And in other ways, it's just about leaning into the fact that you are local and using that to your advantage. That is your advantage."