With the Big Four Fashion Weeks (New York, London, Milan and Paris) about to wrap up, it will likely be extremely disturbing to read that nearly three-fifths of all clothing produced ends up in incinerators or landfills within a year of being made. For any designer, that's a disheartening statistic, but the problem likely stems less from high design and more from consumers' addiction to fast fashion.
That eye-popping landfill statistic comes courtesy of a McKinsey & Company Oct. 2016 report titled "Sustainability & Resource Productivity." Further, McKinsey determined that the number of garments produced annually has doubled since 2000 and exceeded 100 billion for the first time in 2014: nearly 14 new apparel items for every person on Earth.
At his New York Fashion Week show, designer Marcel Ostertag said for there to be sustainability in fashion, clothes need to go beyond the latest trend.
"Last year, I met a client from Germany, and she bought one of the first trench coats I ever made," recalled Ostertag, whose first collection debuted in 2006. "And it still looks amazing. It still looks modern yet sophisticated in this time. That's something that's difficult to achieve in fashion, that it's not just a trend."
Consumers are quick to say they're concerned with apparel that is eco-friendly and sustainable, yet the fact is fast fashion stores proliferated by churning out new fashions at a dizzying pace, as often as twice a week. This has consumers either throwing out or donating clothes to charities, who receive so much that they sell the majority of their donations to developing nations or textile recyclers. Whatever isn't sold or recycled ends up in landfills. The Council for Textile Recycling reports that an incredible 85 percent of America's used clothes goes to landfills.
[quote]
However, not all apparel is created equal, nor does it break down equally in a landfill situation. While cotton can start decomposing in a matter of months, according to biodegradability studies published in 2010 by Cornell University and Cotton Incorporated, manmade fibers can take more than 200 years to break down.
Despite their fast fashion habit, just over three-fifths of consumers worldwide say that sustainability has a "moderate or great deal of influence" on their apparel purchases, according to Cotton Council International and Cotton Incorporated's 2017 Global Environment Survey. Concerns about environmental change and sustainability are strongest in China and Mexico (94 percent), followed by India and Italy (91 percent) and Germany (81 percent). Concern was lowest in the U.S. and the U.K. (75 percent).
Designer label Nicholas K also cited environmental concerns during New York Fashion Week, saying its Fall/Winter 2018 Peruvian-inspired collection reflects the brand's desire that "creativity should be an elevating force" and sustainability part of the company's "conscious design."
"Peru is rich with artisanal traditions, beautiful cottons and the luxury fiber, Alpaca Del Peru," stated the company, adding that the collection makes nods to the film 'Holy Mountain' by Alejandro Jodorowsky, thus intertwining "a modern edge and rebellious turn from destructive commercialism."
Some countries are more conscious of sustainability efforts when buying new clothes. Consumers in Italy, Mexico, China and India say they're as nearly concerned with sustainability/environmental friendliness (85 percent) as they are with quality (94 percent), fit (92 percent), comfort (94 percent) and price (90 percent), according to the Global Environment Survey. In comparison, the U.S., U.K. and Germany's emphasis on fit (90 percent), quality (88 percent), comfort (87 percent), and price (87 percent) eclipses concern for sustainability (60 percent).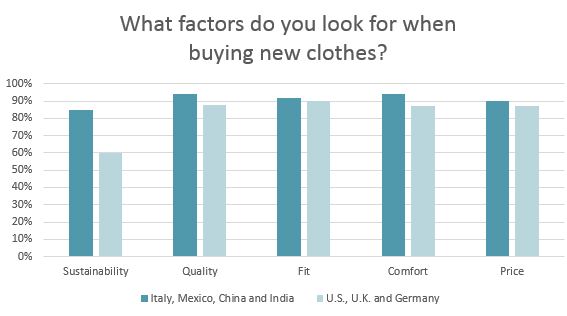 Also of note in the U.S., which generates 70 percent of its economic growth through consumer spending, just 55 percent of consumers reduce their consumption of goods and 65 percent recycle clothes or textiles as part of their environmental practices, according to Cotton Council International and Cotton Incorporated Global Environment research. That's lower even than those in the U.K., where 61 percent are reducing consumption and 73 percent recycle apparel. And it's far lower than Italy, India, Mexico and China, where 78 percent are reducing consumption of goods and 79 percent recycle their apparel.
In the U.S., Gen Z shoppers (16 percent) are the biggest proponents of buying clothes at fast fashion stores, according to the Cotton Incorporated Lifestyle MonitorTM Survey. That compares to 11 percent of Millennial, 2 percent of Gen Xers and 1 percent of Boomers. Additionally, 18 percent of Millennial Americans say stores like H&M, Zara, Forever 21 and Uniqlo best fit their current lifestyle. That is significantly more than Gen Xers (4 percent) and Boomers (1 percent).
While 15 percent of U.S. Latinos agree that fast fashion fits their lifestyle, according to MonitorTM data, consider that they purchase significantly less apparel than other countries. Here in the U.S., 88 percent of consumers buy clothes once per month or more, according to the Cotton Incorporated's Global Lifestyle MonitorTM. That compares to 49 percent in Italy, 46 percent in Europe, 27 percent in Mexico and 25 percent in India.
Regardless of their interest in buying sustainable apparel, most consumers globally cite natural fibers as a chief influencer in apparel purchases, according to the Global Environment research. Interest is lowest in the U.S. (67 percent) and the U.K. (57 percent). Natural fibers like cotton, wool and silk are most important in India (89 percent), Mexico (84 percent), Italy (83 percent), China (73 percent) and Germany (70 percent).
Ostertag cites production, sourcing and fabrics as touch points in his sustainability mission.
"I produce everything in Germany, I know all my tailors in person and fabric sourcing is a long project," he said. "I use only high-quality fabrics and materials. Also, I think it's sustainable if you design a collection that's timeless. I think you can take every piece of my collection that's coming out next season and wear it again and combine it with something new. That's the most important thing about fashion: if you buy something and you spend money on it that you can wear it forever and ever."