If the pandemic was hard on major retailers who have doors and customers nationwide along with a strong internet presence, small businesses weren't about to get a pass. And like the big box stores, the independent stores and micro chains had to learn to adapt if they wanted to stay alive.[quote]
"What we've seen is those merchants that lit up more of their digital channels were able to recover faster," said Dax Dasilva, founder and CEO of Lightspeed, a global provider of cloud-based, omni channel commerce platforms. His company, whose clients include Cynthia Rowley, Atelier New York and Ruti, works with retail, hospitality, and golf customers in more than 100 countries. "Our merchants actually grew total sales nearly 20 percent. So they outperformed the industry by recovering more than 20 times faster than their peers who that may or may not have had a digital commerce platform like Lightspeed."
Dasilva spoke at the National Retail Federation's NRF 2021 Virtual: Retail's Big Show – Chapter One. The NRF plans to resume its conference in New York with Chapter Two, to be held at the Javits Center June 6-8. Dasilva spoke about how independent retailers will drive the revitalization of cities and communities in 2021.
That would be welcome news for any small business. Opportunity Insights, a research and policy institute based at Harvard University, reports that as of last New Year's Eve, total U.S. small business revenue decreased by 31 percent compared to January 2020. And the number of small businesses that remained open from a year ago dropped by 30 percent. CNBC cited a report from Coresight Research that showed ecommerce sales of clothes and shoes increased 27 percent to $121 billion in 2020. Unfortunately, the total U.S. apparel and footwear market decreased -12 percent.
WGSN's Andrea Bell, director of insight, led an NRF virtual session on how consumer behavior has been affected by the pandemic. She referenced Deloitte's Economic Insight Report that found a U.S. recovery in discretionary spending isn't anticipated until late 2022 — even among consumers who are financially stable.
As of last November, the majority of consumers (65 percent) are very concerned personally about the COVID-19 pandemic, according to Cotton Incorporated's November 2020 U.S. Coronavirus Response Survey, Wave 4. This unease is understandable as, one year after the first U.S. Covid case was reported, more than 400,000 Americans have died and there have been more than 25 million cases, according to the New York Times coronavirus statistics. A little more than half of all consumers (53 percent) say they feel somewhat (26 percent) or very comfortable (27 percent) shopping for clothes in a brick-and-mortar location, where the whole transaction is completed in person, according to the November Coronavirus Response Survey. But significantly more (72 percent) say they are very (49%) or somewhat comfortable (23%) buying clothes online and having them delivered to their homes.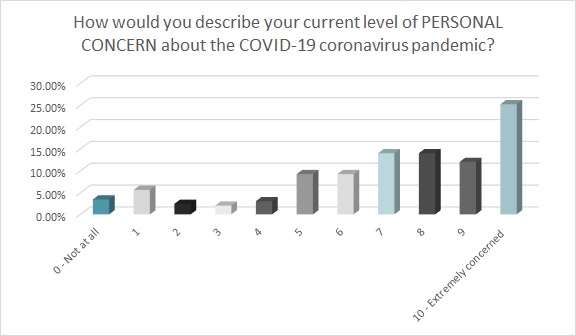 Dasilva says small businesses can use data to help with their supplier network, inventory management, omnichannel and payments.
"We've always been talking about experiential retail and you can use technology to create that," he said. "You can have new workflows that are powered by omnichannel like in-store or curbside pickup. There's going to be more contactless payment experiences — that will be part of the legacy of what's happened this year. Fewer banks lend to SMEs (small medium enterprise). So we're going to continue to build out financial services, because we really know these businesses, we see the transaction flow and we see their inventory flow needs for capital. And so, I think we're well equipped to be a partner, not just for technology, but also for some of their financial needs."
The U.S. Small Business Association (SBA) says alternate payment options will proliferate in 2021. Contactless payments through mobile pay or touchless credit and debit cards have increased 69 percent since last year. And it says among retailers that implemented contactless payments, 94 percent expect usage to increase over the next 18 months. The SBA says merchants should explore touchless payment options, as well as online payments with curbside pickup.
The SBA says small businesses should also expect ecommerce to grow and so should prepare for this shift in consumer spending by creating a seamless ecommerce experience that's also mobile friendly.
Compared to 2020, nearly half of consumers (46 percent) expect to shop online more in the next three months, according to the November Coronavirus Response Survey. And about 7 in 10 (69 percent) say they'll buy more clothes online in the future. But at the end of the day, the majority (69 percent) say living through this Covid experience will change the way they shop in the future.
Dasilva said the agility of small business owners can work in their favor right now.
"Making the link closer between supplier and merchant is ultimately going to make sure that stores do have the right product for the right customer at the right location," he said. "I think it's a huge optimization that's not been done for independent business. And it's something that we think we are unique in offering, putting us in a unique position to be able to do so."