Now that New York Fashion Week has wrapped, the city will be looking ahead to Climate Week NYC. And while the former event is full of glamor and glitz, the latter – taking place September 19-to-25 – will be calling on government officials, industry leaders, CEOs, and international decision makers to address and rethink the actions to be taken regarding climate initiatives.
In a DHL webinar earlier this year titled "Delivering on Circularity, Pathways for Fashion," DHL's Mirella Muller, president, global eRetail and fashion sector, detailed the part the fashion industry has played in the climate crisis.
It is about innovation, investment and making sure we have the demand for recycled and renewable fibers. The financial case for circularity is really high and very clear."

Shailja Dubé
Institute of Positive Fashion Lead, British Fashion Council
"So, 6 percent of global greenhouse gas emissions are coming from fashion and consumer electronics," Muller said. "And to be honest, this full percent of fashion (4 percent) is a very conservative estimate. If you compare it to the 3 percent of aviation, that's a big number. If we continue like this, fashion and consumer electronics will be at 20 percent by 2030. There's a clear call for action to take here."
Climate Week comes as the Western U.S. has seen unprecedented September temperatures that have soared over 110 degrees and threatened California's power grid. Flash floods have inundated state after state across America. Yet, nearly half the lower 48 states (46 percent) are experiencing drought as of this writing. On top of that, hurricane season is just getting started. And experts warn that warmer ocean temperatures and higher sea levels due to climate change will intensify each hurricane's force and impact.
Muller went on to say the main emissions from the fashion industry are coming from production.
"It shows how important it is to start talking about longer life and the second life of fashion products," Muller said. "We could probably save 55 percent-to-75 percent of these emissions. The second life models involve the five Rs: reduce overproduction; repair damaged products; resell products that are still of value for another owner; refurbish products with signs of usage for re-sale; and recycle products."
One hurdle for the "circularity" movement lies at the consumer level: The majority of consumers (68 percent) have never heard of circular fashion, identified as clothing that can be reused or recycled to new clothing, according to the Cotton Incorporated Lifestyle Monitor™ Survey. In fact, 11 percent of shoppers believe circular fashion means "styles that go in and out of fashion." Just 9 percent consider it to be fashion that has multiple uses/is recycled/is reused.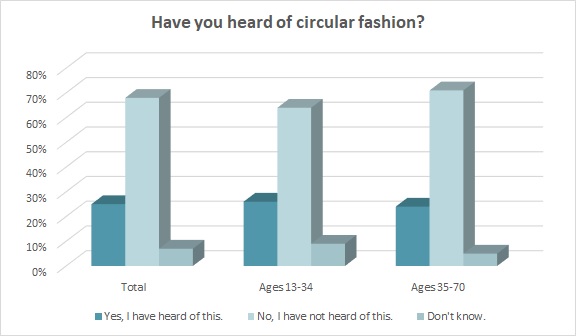 On the other hand, 75 percent of consumers say they are interested in apparel recycling as a sustainability initiative for the fashion industry, according to Monitor™ data. Further, 34 percent of consumers say they're willing to pay more for apparel that is produced via clothing recycling. And about a third (34 percent) say they are interested in programs that recycle old clothes into new garments or recycle old clothes into new products other than apparel (32 percent).
To Muller's point regarding "longer life fashion," brands might consider that most consumers (59 percent) say cotton clothes last longest, especially when compared to apparel made of petroleum-based fibers like polyester, nylon, and acrylic, according to the Monitor™ research. They also feel cotton clothes are the highest quality (71 percent) and the most sustainable (78 percent).
Going a step further, consumers say the term "sustainable clothing" means it lasts the longest (35 percent), followed by environmentally friendly (21 percent), renewable/reusable (18 percent), and is good quality (6 percent), according to the Monitor™ research.
Shailja Dubé, an Institute of Positive Fashion lead from the British Fashion Council, discussed during the DHL webinar a Council report that has 10 priority action areas and 30 recommendations for the fashion industry to meet sustainability targets.
"This is really a discussion about policy and legislation change," Dubé said. "It is about innovation, investment and making sure we have the demand for recycled and renewable fibers. The financial case for circularity is really high and very clear. The Ellen MacArthur Foundation found that the potential for this industry by 2030 could amount to $700 billion U.S. That represents about 23 percent of the global fashion market. So, these are not insignificant numbers."
Brands that make cotton part of their collections can feel good about their contribution to circularity. Virgin cotton is already natural, sustainable and biodegradable, and it can be reused and recycled in a variety of ways, ultimately decomposing when it is returned to the earth.
A beneficial side point: The cotton ginning process creates 2.5 million tons of biomass each year, which can be used to produce energy, aka, fuel. And cotton cycles carbon out of the atmosphere through the natural process of photosynthesis, during which carbon dioxide is absorbed and carbon is then stored in the plant. When crop residues are left on the ground and returned to earth, the stored carbon in the plant residue can increase carbon in the soil, acting as a carbon sink – which is vital to the ecosystem.
Cotton fabric can also be recycled as either pre- or post-consumer waste. Recycled cotton can find new life in products such as insulation, mop heads, rags, and stuffing. And this process contributes to an estimated annual diversion of 3.8 billion pounds of post-consumer textile waste from landfills.
Dubé pointed out that consumers need to be part of the climate solution, as well. There's really no point, she said, in making a perfectly circular product if the user does not know how to care for it, prolong its life through care and repair, or how to deal with it correctly at the end-of-life phase. She advises brands to empower consumers by making sure their businesses are transparent.
"We have an obligation to do business better, resolve inequality and really hand over a future fit world where everything is made in the right way," Dubé said. "Circularity is something that is absolutely going to be part of that future proofing when it comes to business, and we can address the challenges of climate change."