Consumers are more empowered than ever, and it's these unrestricted shoppers who will be driving the future of buying. At the same time, COVID-19 has proven the importance of being able to pivot quickly. As tired as businesses may be now, the industry needs to be prepared for the next cataclysmic event, and become accustomed to selling to customers everywhere they may be looking.
Big Commerce, an Austin, TX-based company whose software helps businesses launch ecommerce stores, says the next wave of retail will be conquered by those who connect the dots from these various customer touch-points and provide a cohesive experience that delights shoppers — no matter where they interact with a brand.
They're not the only ones telling retailers they need to work harder to connect with today's consumers.
"Consumers have become used to a complex mix of digital and physical — and demand that sellers offer fulfillment wherever and whenever they want it," advises Forrester in its report, "Vast, Fast and Relentless: Consumer Buying Enters a New Era."
Since the pandemic began, millions of consumers have been caught up in the swell of online shopping. Before COVID-19 hit, the majority of consumers (64 percent) preferred to go clothes shopping in-store, according to the Cotton Incorporated Lifestyle MonitorTM Survey in January.
But since mid-summer, most consumers (63 percent) say they've been spending either "significantly" (39 percent) or "somewhat" (24 percent) more time online, according to Cotton Incorporated's September 2020 U.S. Coronavirus Response Survey, wave 3. And that has affected their purchasing habits.
These days, just 17 percent of consumers are completing their entire clothes-shopping journey in a physical location, according to the September Coronavirus Response Survey. Another 20 percent are buying clothes online and having them shipped to their home. Nearly 1 in 5 shoppers (19 percent), buy online and pickup in-store (BOPIS) or curbside. Interestingly, 15 percent are shopping in a physical store but having the clothes delivered to their home.
To help guide retailers, Big Commerce has produced four key components for a successful omnichannel strategy — especially during the holidays. Firstly, it advises that if brands sell in online marketplaces, product titles should be clear and compelling, channels should be integrated with their own ecommerce platform and customer should be encouraged to opt into email newsletters or follow that business on social media. Next, it tells brands not to shy away from paid advertising, as one purchased boost can garner thousands of views, whether on Google, Facebook or Instagram. Third, inventory management has to be optimized or omnichannel isn't possible.
"Managing your inventory during the peak holiday season can be difficult, especially in a year with so many unknowns," Big Commerce states. "Inventory management can make or break your success amidst the holiday rush. To prepare, study sales data from previous holiday seasons to create detailed demand forecasts. Real-time inventory tracking will help you navigate supply and demand challenges."
Finally, Big Commerce emphasizes the importance of order fulfillment. They advise using a reliable shipping partner, creating a fun unboxing experience, leveraging brick and mortar locations and maximizing return strategies. A convenient return can help to earn loyalty, the company says, whether the purchase was in-store or online.
Forrester says brands will need "strong websites, digital marketing prowess, customer data and insights, and an appetite for price/offer matching to be best positioned to thrive."
That sentiment is especially germane to the holiday shopping period. This year, 2 in 5 consumers (44 percent) say they plan to shop for Christmas gifts in physical stores, 20 percent say they aren't planning to go in-store and more than a third (36 percent) haven't decided if they'll be doing any shopping inside brick-and-mortar locations, according to the Cotton Incorporated Lifestyle MonitorTM 2020 Holiday Survey.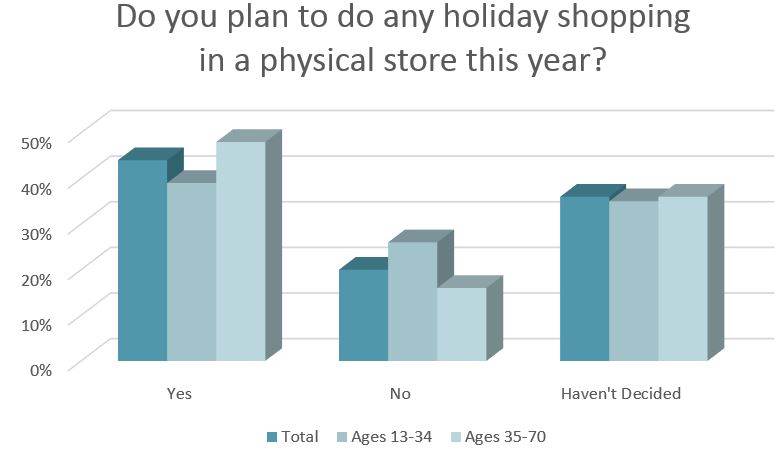 Retail consultant Bob Phibbs, known as The Retail Doctor, says brick-and-mortar stores need to remember that most customer journeys start online.
"Use video, updated business hours during Covid-19, and add a virtual store tour," he suggests. "Go even further, create posts on that page that announce your social distanced events, new products or promotions. And while it should go without saying, focus on getting more positive Google reviews, as they are crucial to winning the top of local search. In fact, 72 percent of consumers that did a local search visited a store within five miles."
The reviews always hold a lot of weight but especially now that so many shoppers are avoiding going in-store. More than one-third of consumers (34 percent) said reviews from customers who have bought a particular garment would make them feel more comfortable shopping online for clothes, according to Cotton's September Coronavirus Response Survey.
Forrester says it is now vital that retailers and brands make changes to their business models, so they can meet customers wherever they're shopping.
"Coupled with an intensely competitive business environment characterized by shriveling margins and emerging marketplaces, traditional commerce practices are untenable for long-term growth," Forrester states. "Brands must recognize these changing market dynamics and plan how to adapt to, rather than ignore or fight, the new environment."
To survive, Forrester says firms need to cultivate their relevance to customers and evaluate adopting multiple concurrent business models, including alternate revenue streams, like remarketing existing products; expanding partnerships that provide new distribution opportunities; and exploring new channels such as AR and VR, shoppable videos and voice assistants.
"Determine the appropriate constructs for building, distributing and selling offerings to your target buyers," Forrester advises. "Analyze the effectiveness of your current business model and its likely efficacy as market changes play out; consider the changes to the business required to maximize returns in the future; and decide whether you need one or multiple business models."